Donald powers up in Royals' intrasquad game
Non-roster infielder getting in swing of things after labrum trouble in '13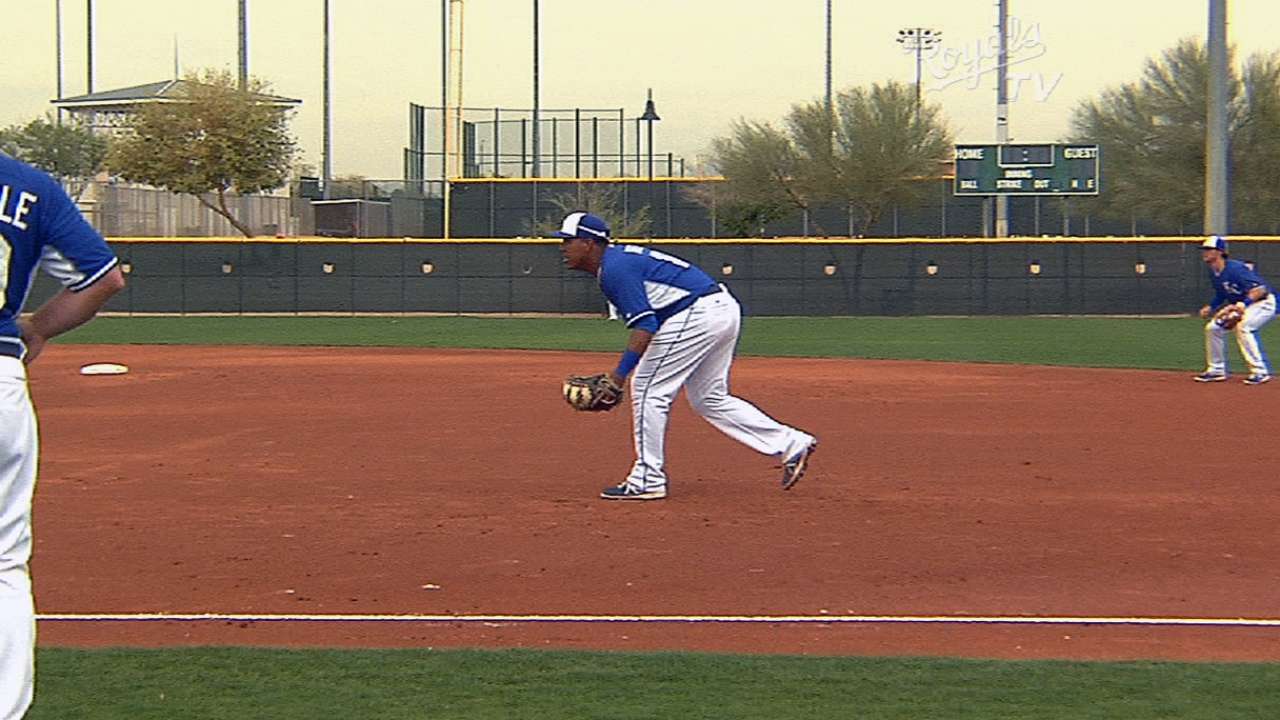 SURPRISE, Ariz. -- Jason Donald hasn't hit many home runs in his career, but he went deep with a game-winner on Tuesday in a Royals intrasquad game.
Donald, a non-roster infielder, belted a three-run homer off Sugar Ray Marimon to give the Royals' home team a 4-3 victory in a six-inning scrimmage at George Brett Field. Donald hit just two homers last year in the 78 games he played for the Reds' Triple-A club at Louisville.
The drive over the left-field fence was especially meaningful to Donald because he was bothered all last season by a torn labrum in his left arm.
"I think I initially did it during Spring Training and about three weeks into the Triple-A season it just got to the point where I couldn't lift my left arm over my head," he said.
"It's nice just to be able to put a clean swing on a ball, regardless if it's a home run or a base hit or a hard out."
Donald, selected in the third round of the 2008 First-Year Player Draft by the Phillies, was traded to the Indians the next year in the deal that sent pitcher Cliff Lee to Philly. Donald reached the Majors in three different seasons for the Tribe, batting .257 in 170 games.
"In my days with Cleveland, we played Kansas City a lot and I'm really familiar with the players here," Donald said. "I had an idea of how they did things and I heard nothing but great things about this organization so it seemed like a really good fit to sign here."
Donald's homer was the third of the game. Outfielder Melky Mesa led off the visitors' fifth inning with a home run off right-hander Michael Mariot and, after Pedro Ciriaco singled, catcher Juan Graterol followed with a two-run blast.
In two intrasquad games, the Royals hit five home runs -- Paulo Orlando and Carlos Peguero connected on Monday -- and all were by players who are long shots to make the club.
Starting catcher Salvador Perez had two hits on Tuesday and played three innings at first base, making a nice play on Mike Moustakas' sharp grounder down the line.
"He played all winter [in Venezuela] at first base, took ground balls there all last year, and played there the last game of the year so it's an option for us," manager Ned Yost said. "He's very sure-handed, very athletic, he can handle that over there."
No intrasquad game is planned for Wednesday and the Royals will have a relatively light day before beginning the Cactus League season on Thursday against the Rangers.
Dick Kaegel is a reporter for MLB.com. This story was not subject to the approval of Major League Baseball or its clubs.