Ventura firing on all cylinders in start vs. A's
Royals prospect impresses Yost with variety in bid for rotation spot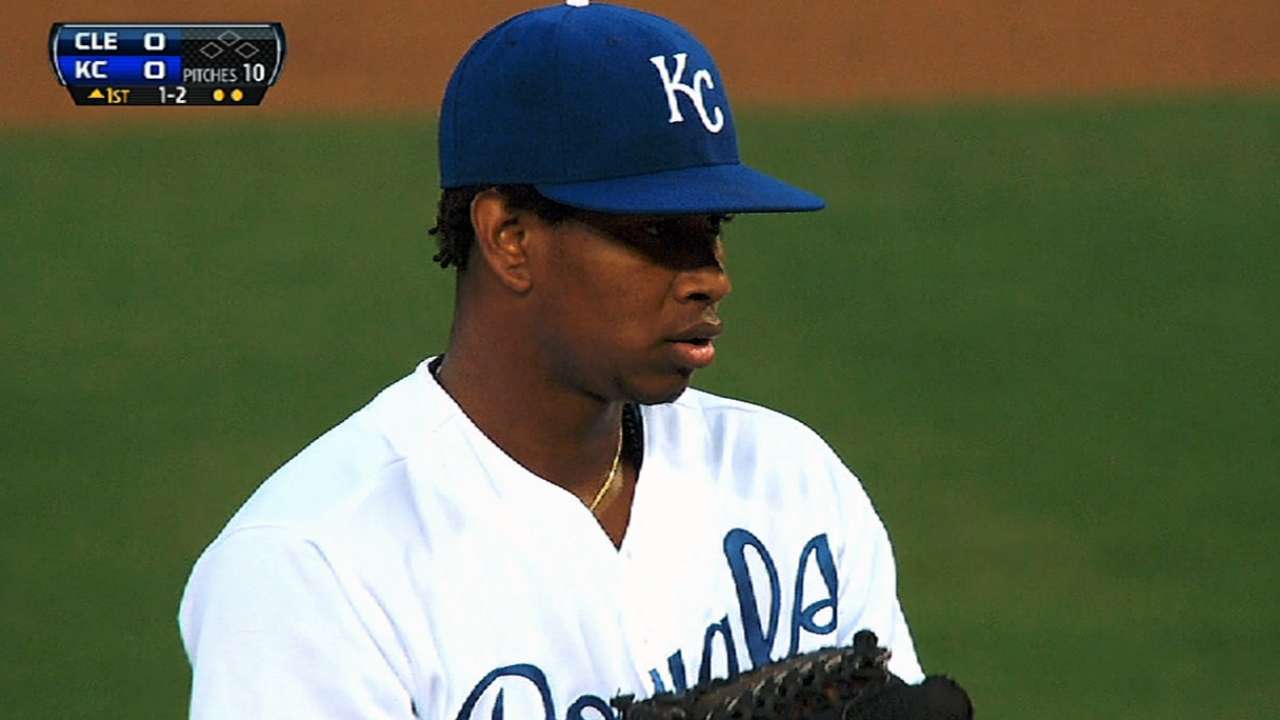 PHOENIX -- Right-hander Yordano Ventura strengthened his bid for the Royals' last rotation opening with a strikeout-studded performance in a 3-1 victory over the Athletics on Wednesday.
"He threw pretty darn good," manager Ned Yost said. "No walks and how many did he strike out? Six. Just pretty impressive stuff."
Ventura was charged with one run, which scored after he'd finished his 4 1/3-inning outing, and he gave up just two singles. His ERA is down to 2.89 as he duels with left-hander Danny Duffy for the starting job.
At 22, Ventura can throw 100 miles an hour or more, but is learning to scale back the speed in order to improve his command.
"I've been talking to [James] Shields and [Bruce] Chen about that to make sure I stay on point and not try to throw 100 miles an hour on every single pitch," Ventura said. "And I'm trying to work ahead in the count. That's what these guys are trying to teach me to do. But you know you have it [100 mph] when you need it."
Yost was impressed by another aspect of Ventura's performance.
"I liked his composure," Yost said. "The game doesn't speed up on him for a young player. He always seems to be in control of his emotions on the mound. [He has] the ability to make quality pitches time after time after time. He had a dynamite changeup today. His secondary stuff was really good. He was throwing it for strikes, his fastball was really jumping. He had a real good breaking ball, too."
The breaking ball, in Yost's view, doesn't need improvement.
"That's as good as it needs to be. It doesn't need to be any better than that," he said. "It has good, sharp, live depth to it. Where guys like him get in trouble is they try to make it better than that when it doesn't need to be."
Dick Kaegel is a reporter for MLB.com. This story was not subject to the approval of Major League Baseball or its clubs.