Pena makes impression on Yost, Royals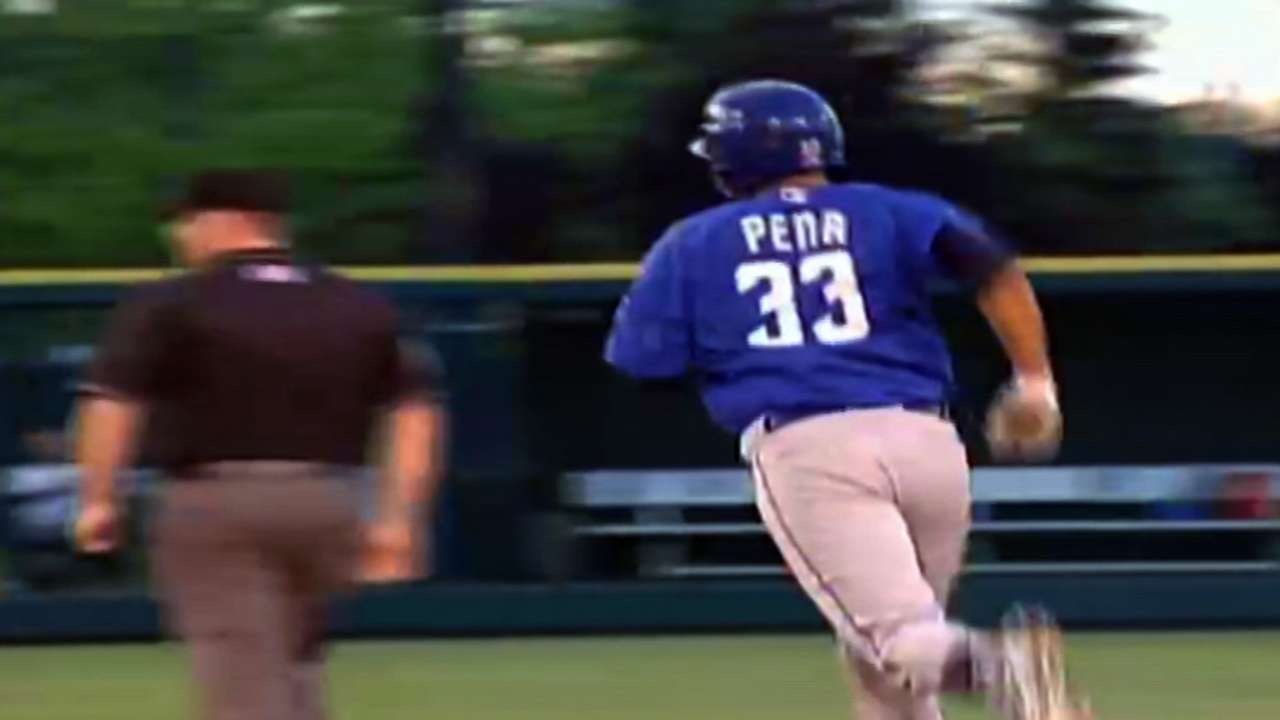 SURPRISE, Ariz. -- Francisco Pena was a smash success right to the end.
Pena belted a home run with two outs in the ninth inning on Friday to salvage a 9-9 tie with the A's for the Royals. A few minutes later Pena was in manager Ned Yost's office being told he'd been optioned to Triple-A Omaha.
The move pointed to veteran Brett Hayes as the likely backup catcher for Salvador Perez. The only other two catchers in camp are Adam Moore and Ramon Hernandez, both non-roster players, and Hernandez hasn't caught at all yet because of a sore knee.
Also optioned to Omaha were second baseman/shortstop Christian Colon and pitcher Michael Mariot.
Pena, son of former Royals manager Tony Pena, was signed after seven years in the Mets' Minor League system.
"I'm really proud of him," Yost said, noting that Pena came into camp with two goals.
"One was to make the team and the other thing was to come in here and really make a great impression, new to the organization, and he did," Yost said. "He made a phenomenal impression on all of us. He can catch, he can throw, he can swing the bat. Some of those blocks he made today were as good of blocks as you're going to see in a big league game.
"He's such a wonderful young man, he's got a great personality, he's got a great work ethic and he established that. He wanted to come in here and make a favorable good first impression and he did that. So we're really pleased and glad he's with us."
That wasn't the only awkward cut of the afternoon for Yost. Because starting pitcher Danny Duffy had a short outing, Mariot had to be rushed in to pitch the third inning instead of being used late in the game as planned. As a result, Mariot got his Omaha news early.
"So I had to tell him in the dugout," Yost said. "So that was extremely awkward, too. But I didn't want him coming up here [to the clubhouse] and waiting for 2 1/2 hours waiting for me to come up here, knowing what it was going to be about."
Mariot, a right-hander, was still hopeful of competing for the seventh and last slot in the bullpen. He gave up three hits and a run in his one inning on Friday.
Colon was one of the infielders seeking a backup job. He had an RBI single in his final at-bat on Friday, finishing at .296 (8-for-27).
Dick Kaegel is a reporter for MLB.com. This story was not subject to the approval of Major League Baseball or its clubs.