Shields stays in rhythm against Cubs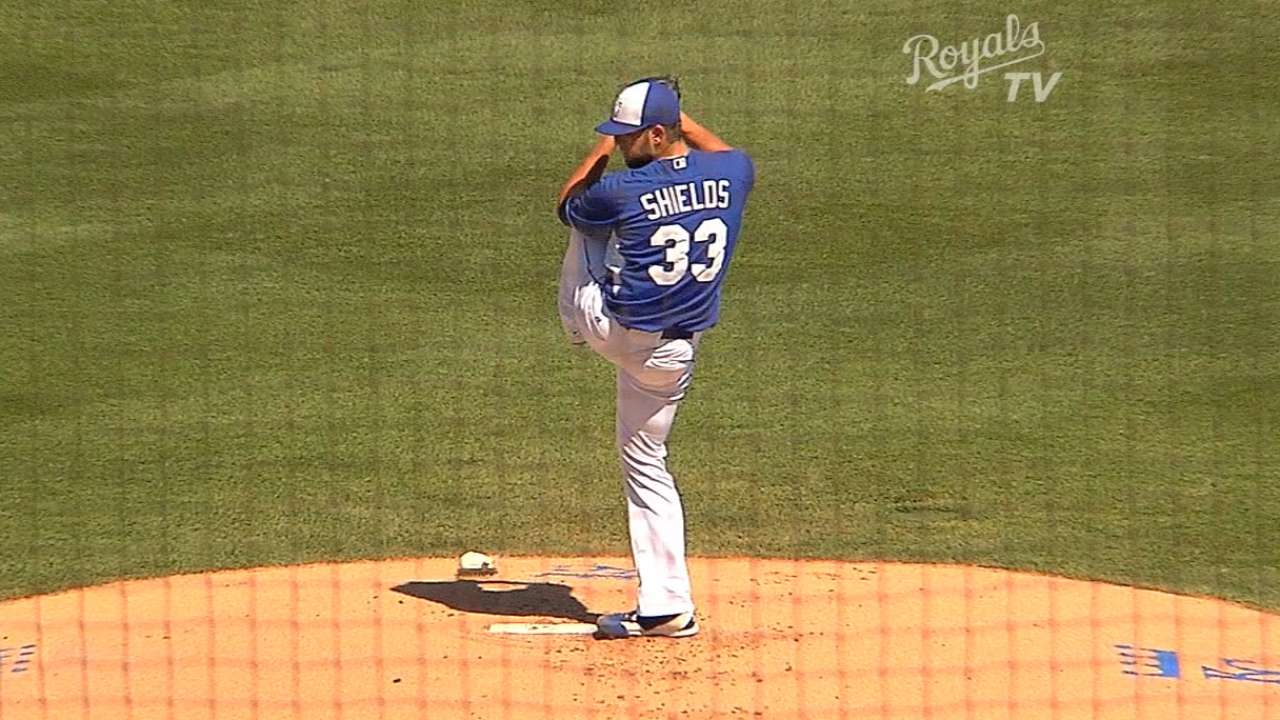 SURPRISE, Ariz. -- If it hadn't been for a ground ball up the middle that second baseman Johnny Giavotella couldn't quite corral, Royals pitcher James Shields might have had six perfect innings on Saturday.
As it was, Christian Villanueva got an infield single and was the only baserunner against Shields, who dominated a Cubs split squad with a 10-strikeout performance.
"I was giving Gio a little hard time in that inning. I said, 'If I don't give up a hit, it's all your fault, right?' " Shields said with a smile.
"I felt really good out there. Me and [catcher Salvador Perez] were on the same page the entire game, I hardly had to shake with him. When you get in a rhythm and groove with your catcher, you get in a rhythm on the mound and execute your pitches, so today went real well."
Shields has been working to refine his delivery with pitching coach Dave Eiland and it's apparently working well. He's allowed just one earned run in 14 2/3 innings for a 0.61 ERA.
"One of the things we talked about before Spring Training started is really honing in that delivery right out of the gate," Shields said. "I feel really good out of the mound. Obviously, the stamina part is not quite there yet, but that's just normal Spring Training stuff. Everything else is good."
Left-hander Tim Collins did not have a good day, giving up three runs in the ninth as the Cubs rallied for a 6-5 victory on a wind-blown afternoon.
"It was a combination of factors," manager Ned Yost said. "One was it's his first time back-to-back and the elements played [a role]. I mean, he's out of the inning if we catch a fly ball. It's one of those Arizona things."
Dick Kaegel is a reporter for MLB.com. This story was not subject to the approval of Major League Baseball or its clubs.