Bueno is likely part of bullpen after Rauch reassigned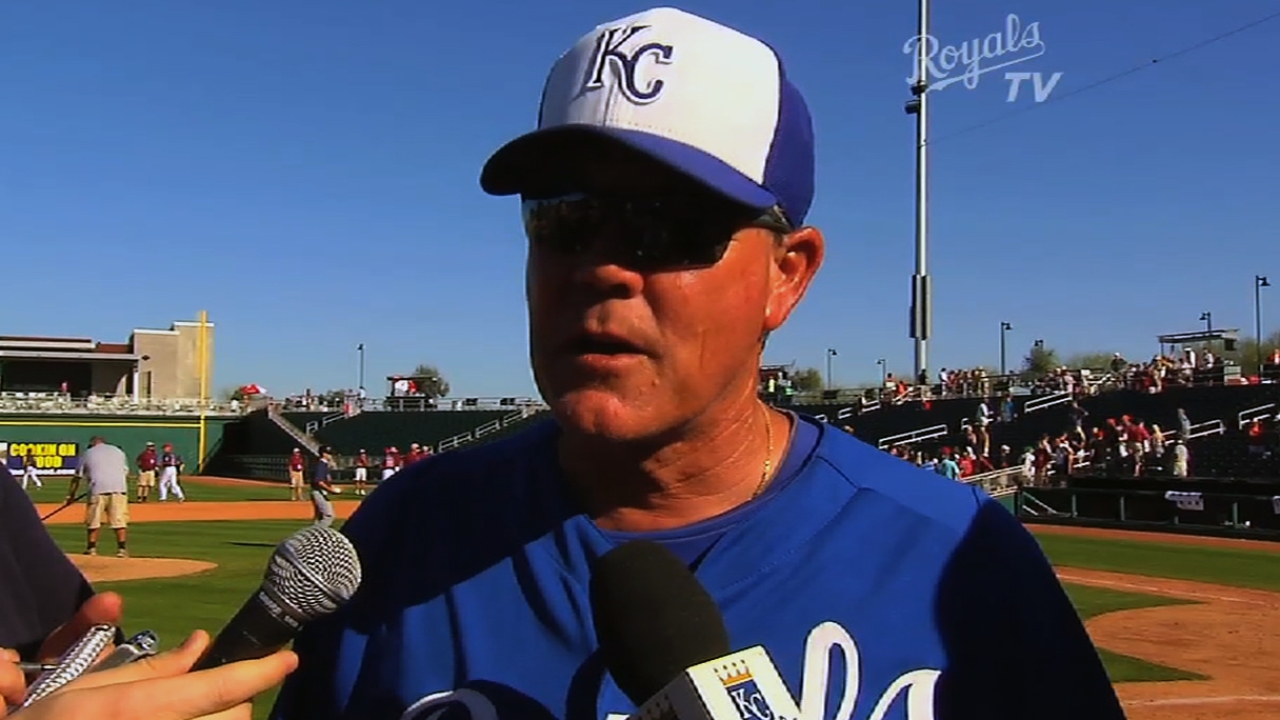 SURPRISE, Ariz. -- Left-hander Francisley Bueno might be the seventh pitcher in the Royals' bullpen.
The way was cleared on Monday when Bueno's rival for the spot, right-hander Jon Rauch, was reassigned to the Minor League camp.
The Royals made two other moves prior to Monday's game against the Rockies. Outfielder/infielder Jimmy Paredes was optioned to Triple-A Omaha, and catcher Adam Moore was reassigned to the Minors. That leaves 30 active players in camp.
Bueno has a 2.25 ERA in seven Cactus League games. In eight innings, he's struck out six and walked two.
"He's still very much in the running, but until our roster's set, it's not set," manager Ned Yost said.
The Royals' roster does not have to be made official until Sunday night for Opening Day at Detroit next Monday. In the meantime, there is always the possibility of injury or trades or waiver claims before the final 25 players are set.
Rauch, considered to be the tallest player in Major League history (6-foot-11), didn't pitch the second half of the 2013 season after being released by the Marlins. An 11-year veteran, Rauch has pitched for seven teams, mostly in relief. In 556 Major League games, he has a 43-40 record, 62 saves and a 3.90 ERA.
"He came in and competed well for our club," Yost said. "We just didn't have a spot for him."
In six Cactus League games, Rauch gave up nine hits and six earned runs with four strikeouts and no walks in six innings.
Bueno has pitched in parts of the last two seasons for Kansas City, with a 2-1 record and a 1.05 ERA in 25 games.
"He's done a very nice job. He fits everything we want," Yost said. "He's a strike thrower, he's got good stuff, he's fearless on the mound."
The addition of Bueno would give the Royals two left-handers in the bullpen. But neither Bueno nor Tim Collins is classified as a specialist against left-handed hitters.
Moore hit just .167 (3-for-18) in camp, but he is considered to be a good defensive catcher.
"He did a nice job for us," Yost said
The departure of Moore leaves the Royals with three catchers: regular Salvador Perez, plus Brett Hayes and non-roster candidate Ramon Hernandez. Hayes figures to be the backup. Hernandez was kept from catching until late in camp by a sore knee.
"You go down to the last minute because something can happen," Yost said. "[Hernandez] is still a Major League catcher, he can still swing the bat, he can play first base. He's a guy that a Major League club can use."
Paredes was claimed off waivers from the Orioles on Feb. 17. In addition to the outfield, he's played third base and second base in the Majors. In 18 Cactus League games, he hit .167 (5-for-30).
"I liked him. It was a good move for us, a good pickup," Yost said. "An athletic kid that can play multiple positions and a switch-hitter with plenty of room to grow."
Dick Kaegel is a reporter for MLB.com. This story was not subject to the approval of Major League Baseball or its clubs.