Hosmer earns a spring ejection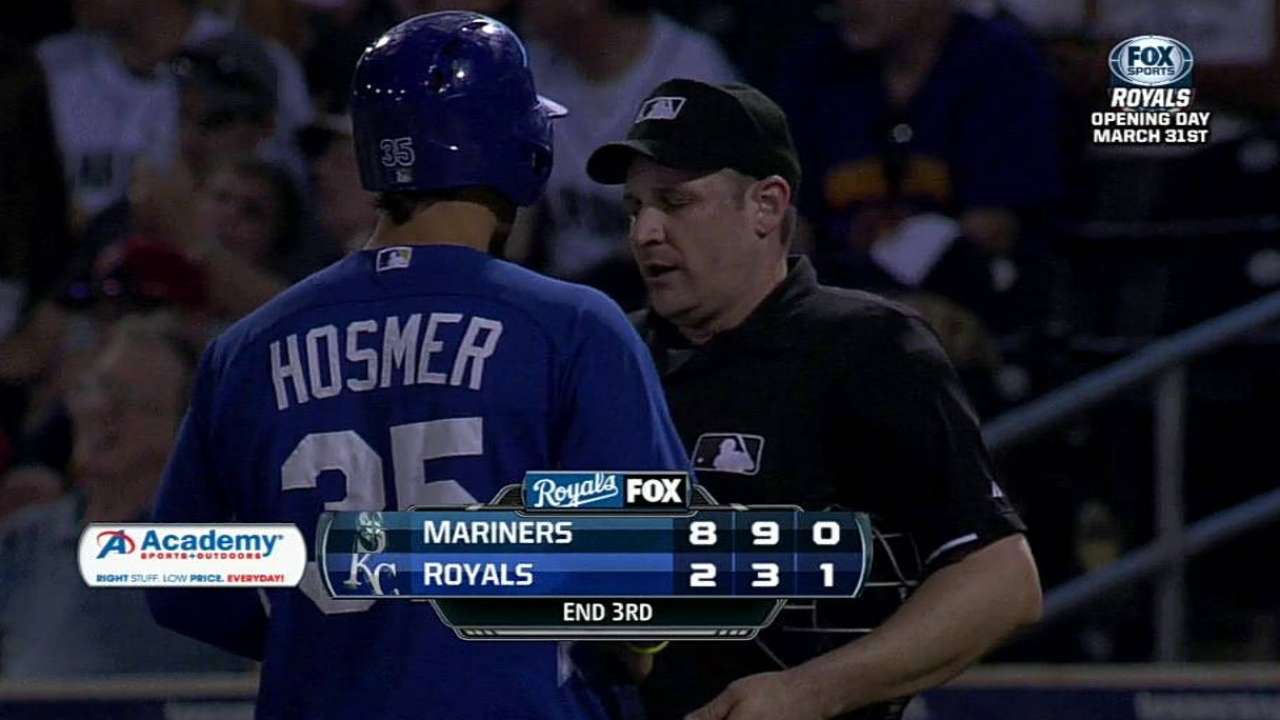 SURPRISE, Ariz. -- Ejections in Spring Training games are unusual, but Royals first baseman Eric Hosmer managed to get himself tossed out of Tuesday night's game against the Mariners.
Hosmer was clearly displeased when plate umpire Brian Hertzog called him out on a third strike against Mariners ace Felix Hernandez in the first inning.
Then, in the third inning, Hosmer thought Hernandez had thrown ball four and was about to trot to first base when Hertzog stopped him in his tracks with "Strike three!"
Hosmer exchanged words with the umpire along the first-base line and quickly was ejected. Manager Ned Yost came out and calmly joined the discussion for a few moments.
But Hosmer was finished and the umpires delayed the start of the fourth inning briefly while Hosmer, bat and equipment bag in hand, made his way to the left-field gate and the stairs to the clubhouse. Ramon Hernandez took over at first base.
The second at-bat was the deal-breaker.
"The umpire said I stared him down. So he decided to tell me where the pitch was again, that it was on the plate," Hosmer said. "I got a little upset because I didn't say anything to him and he said something to me. But he said I stared him down so that's the reason he said something. Then he asked me kindly to leave the park, and that's what I did."
Dick Kaegel is a reporter for MLB.com. This story was not subject to the approval of Major League Baseball or its clubs.