Finger injury could force Coleman to DL to start season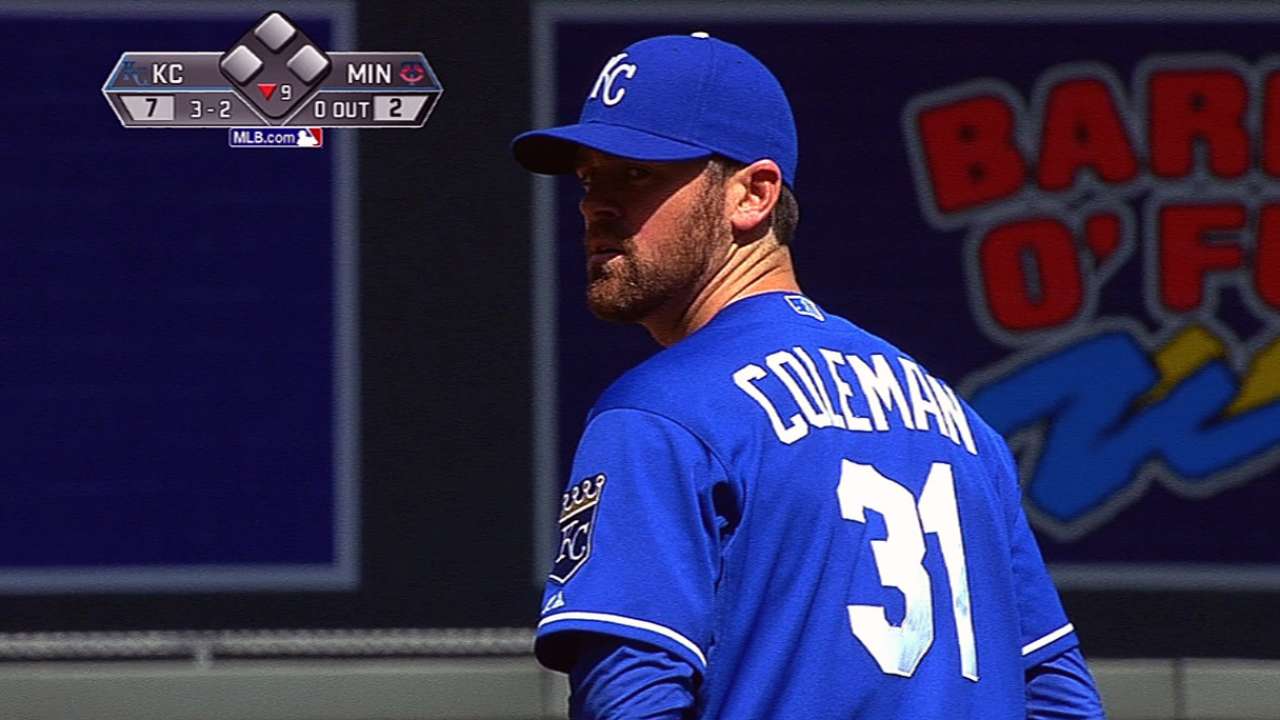 SURPRISE, Ariz. -- It turns out that second baseman Omar Infante's cranky right elbow isn't the Royals' only uncertainty for the opening of the season. Now, pitcher Louis Coleman's swollen right middle finger has re-emerged as a factor.
Coleman, a right-handed reliever, jammed the middle finger of his pitching hand in a fielding drill as Spring Training began. After a while, he resumed pitching and no more was said about the finger. However, it's continued to bother him, manager Ned Yost said on Wednesday.
So much so that Coleman's readiness for Opening Day is very much in doubt.
"It's been dogging him," Yost said. "It's getting better, but there's still some swelling in there. There's still a bone bruise in that finger. Actually, the last time he pitched, it felt as good as it did all spring long, but he couldn't command the ball."
Bottom line: Coleman could start the season on the disabled list and Yost could begin the year with only 11 pitchers instead of 12, using Coleman's roster spot for an infielder to back up Infante. Nothing's been decided yet, and if Infante isn't ready to play on Opening Day, that could further complicate matters.
However, Yost got a good report on Infante's five innings in a Minor League game on Wednesday at the Royals' camp.
"Really good report -- 2-for-5, five good innings, felt really good at the end of the day," Yost said. "He'll DH [Thursday] and if he feels as good as he did today, we'll hop him on a plane and get him to Milwaukee."
The final roster hasn't been announced, and won't be until probably Sunday, but third baseman Danny Valencia seems to be in as a backup infielder. That leaves Pedro Ciriaco and Jason Donald as the options for Infante's backup -- or even temporary replacement -- at second base.
"We haven't decided yet between Ciriaco and Donald," Yost said.
Ciriaco is on the 40-man roster but is out of Minor League options. Donald is a non-roster player on a Minor League contract.
"Right now, with Louis' finger situation and Omar's elbow situation, there are too many uncertainties now with what we're doing. The possibility of opening the season with 11 pitchers could be a possibility," Yost said. "And go day to day from there. But we just don't know yet."
Coleman will stay behind in Arizona to test his finger and undergo treatment while the club leaves for Milwaukee on Wednesday. If he has to go on the disabled list, his stay could be backdated to Monday, and he'd miss only about eight days of the regular season.
Yost explained that the middle finger of a pitcher's hand is a pressure point and that Coleman's finger became sore and swollen after 15 pitches in one game.
"He's been dealing with this all spring," Yost said. "The other day, he faced Texas' 'A' lineup and struck out the side. It's the worst his finger has felt all spring. Can he pitch through it? Yeah. But can he command the ball? That's the question."
The uncertainty of Coleman's ability to throw strikes is the unsettling thing.
"The worst thing as a manager, when you've got a really good team, is bring in a reliever [and] you don't what you're going to get in a tough situation," Yost said.
Team trainers told Yost that a bone bruise typically takes six to eight weeks to heal. Coleman's injury occurred about six weeks ago.
"Louis is a big part of our bullpen when healthy -- a big, big part of it," Yost said. "But Omar's a big part of our infield defense and our offensive lineup, and we have to have a guy who can play second base if [Infante] can't, to start the season."
That's why an infielder with experience at second base, such as Donald or Ciriaco, is still in the picture as insurance for Infante.
"That may happen, depending on how Louis is," Yost said.
Dick Kaegel is a reporter for MLB.com. This story was not subject to the approval of Major League Baseball or its clubs.