Two more rookies added to bullpen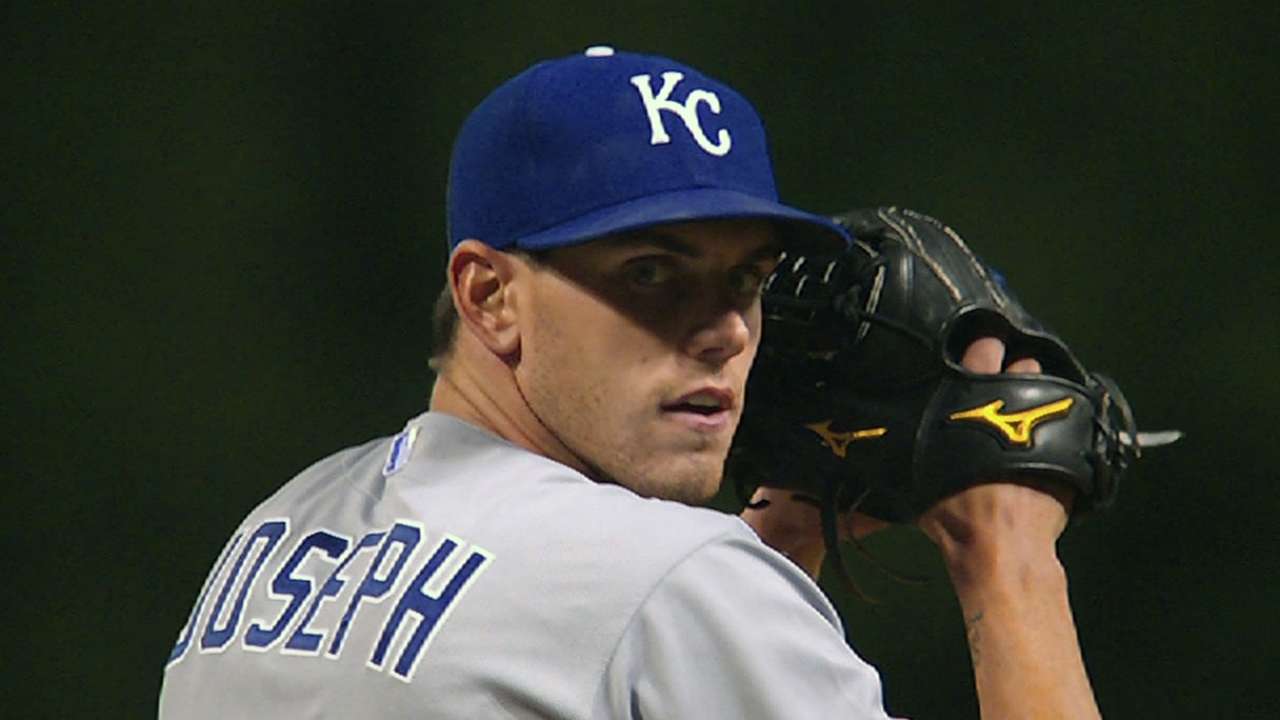 KANSAS CITY -- All of a sudden, there's a strong rookie tinge for the Royals' bullpen. There are three of them -- left-hander Donnie Joseph and right-handers Michael Mariot and Aaron Brooks, all called up from Triple-A Omaha.
Brooks arrived two days ago when the need for a seventh reliever arose. Joseph and Mariot checked in on Monday when left-handers Tim Collins and Francisley Bueno went onto the 15-day disabled list.
Like Brooks, Mariot arrived with no Major League experience. Joseph didn't have much -- just 5 2/3 innings in three different stints with the Royals last year.
"Even when I found out yesterday, it's like the first time every time," Joseph said. "You're excited, you're looking forward to it. Excited to tell your parents and friends. It never gets old getting called up to the big leagues."
Joseph is big on strikeouts -- and on walks. Example: last season for Omaha he had 84 strikeouts in 54 2/3 innings, along with 40 walks.
"That's always the thing on me," he said. "That's what Ned [Yost] was just telling me, to continue to pound the strike zone and work on your command. That's something I have to work on each and every time I go out there."
With Collins and Bueno going on the DL, Joseph is the only left-hander in the bullpen. He's known as an effective left-on-left specialist.
Mariot spent part of last season operating as a closer at Omaha, notching 11 saves. He also got the last five outs against Salt Lake when the Storm Chasers won the Pacific Coast League championship.
He and Joseph got the word Sunday from Omaha manager Brian Poldberg.
"I threw two innings yesterday and Poldberg called me into his office and let me know," Mariot said.
Was he shocked? "Yes, I was actually," he said.
"I've liked Mariot since I saw him last spring," Yost said. "Did a great job in Spring Training with us, closed a lot of ballgames out in Major League Spring Training. Has a good fastball, a good slider, was never intimidated by the situation."
Joseph's concerns with command are on Yost's mind.
"He's what you call one of those top-step guys, where you're always standing on the top step wondering," Yost said. "But he always finds a way to get out of it. He ended up walking four the other day but pitched 2 1/3 innings I think and did OK."
Dick Kaegel is a reporter for MLB.com. This story was not subject to the approval of Major League Baseball or its clubs.