Squirrel avoids contact in Royals-Indians tilt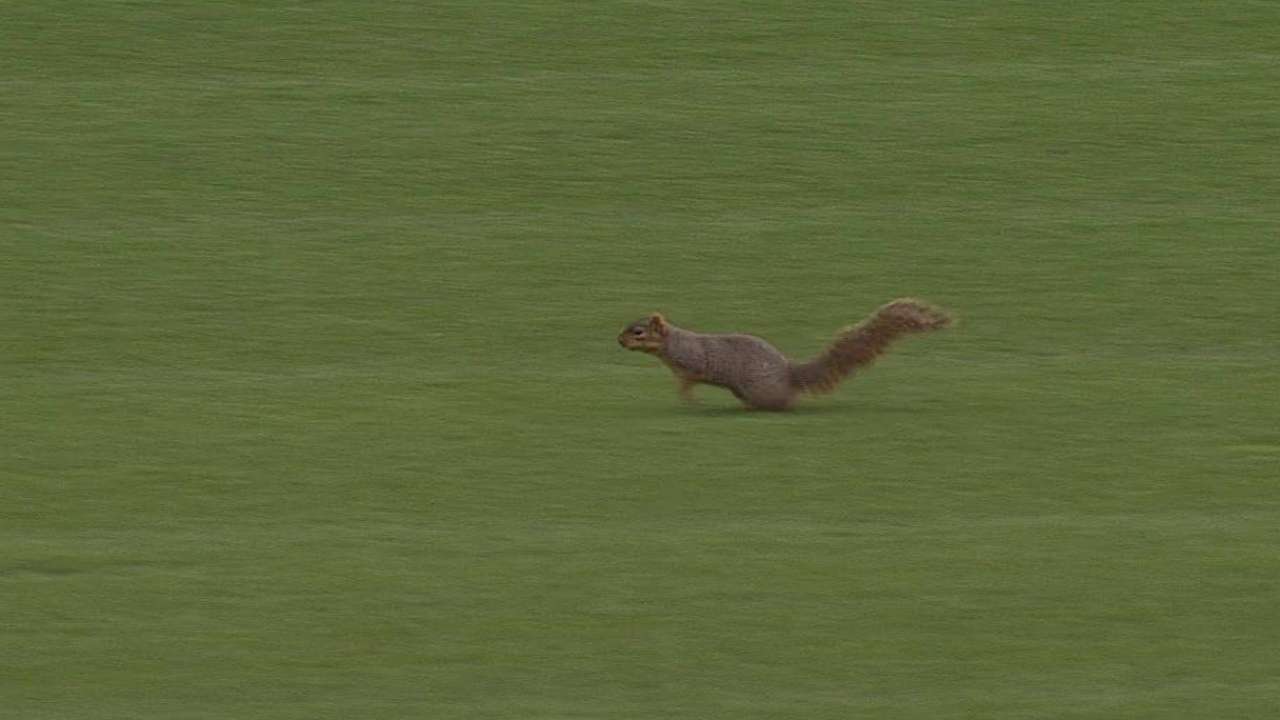 CLEVELAND -- At least no baseball struck the squirrel that cavorted on the field during the Royals-Indians game on Monday night. The same couldn't be said for a seagull that intervened in their game on June 10, 2009, at Progressive Field.
In fact, the seagull proved to be in play in that contest.
In the 10th inning and with the score tied at 3, the Indians had two runners on base against reliever Kyle Farnsworth when Shin-Soo Choo singled sharply up the middle. The ball went straight toward a flock of seagulls that were in center field pursuing bugs.
Choo's line drive kicked in the outfield grass, struck the bird, raising a feather, skipped away and rolled all the way to the wall. Mark DeRosa scored from second base for a 4-3 Indians victory.
Center fielder Coco Crisp raised his arms in frustration, but there was no arguing this play. Afterward, umpire crew chief Mike Reilly confirmed that any ball striking one of the birds in fair territory is in play.
"They're in play -- whatever it does off that bird," Reilly said.
So the game was over. Initially stunned, the bird flew away.
"Bizarre events, man," said Billy Butler, the only current Royals player who was there that day. "That was crazy because that one ended the game. The one today was just kind of a laugh."
After that, the Indians took to shooting off fireworks, sometimes between innings, to discourage the seagulls from coming around during a game. They took the hint.
Dick Kaegel is a reporter for MLB.com. This story was not subject to the approval of Major League Baseball or its clubs.