Royals shift things with Hosmer's bunt attempt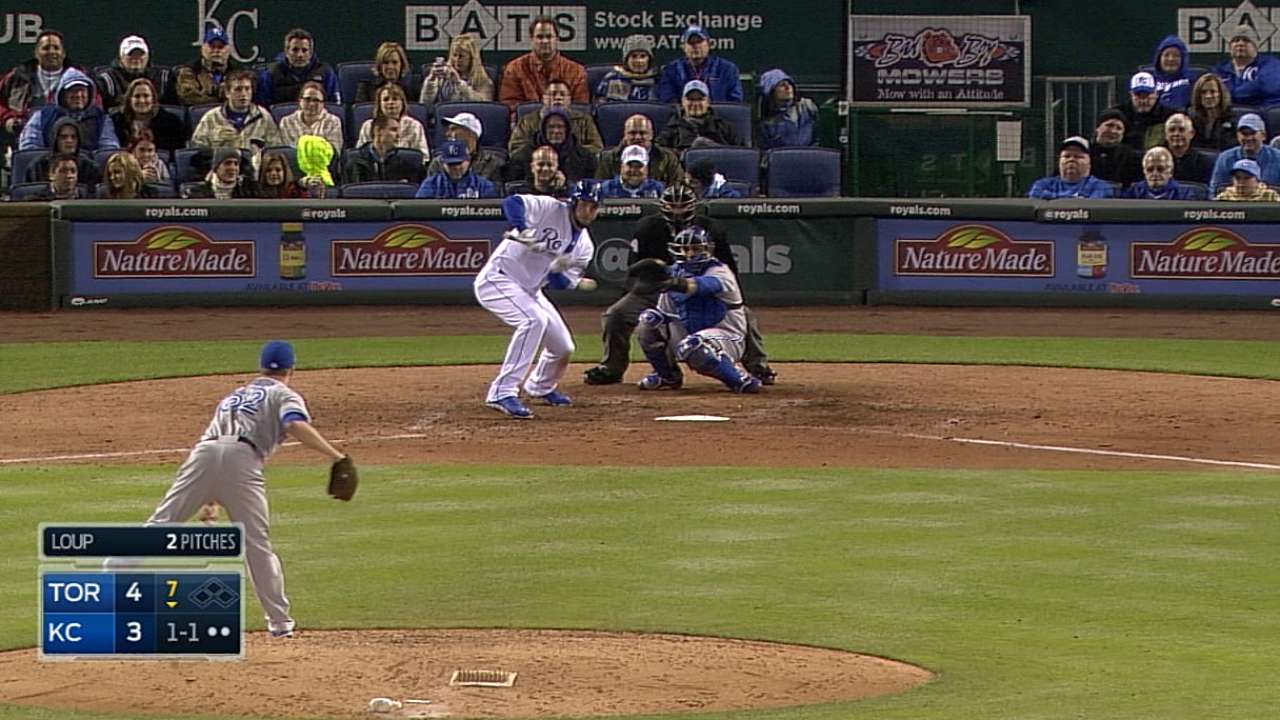 KANSAS CITY -- So why, with the Royals behind, 4-3, with two outs and nobody on in the seventh inning, was Eric Hosmer bunting?
This happened in Thursday night's game against Toronto. Hosmer bunted back to the pitcher, an easy out. There were two reasons for the attempt: The shift and pitcher Aaron Loup, who had just entered the game.
Loup is a sidewheeling left-handed pitcher and Hosmer, a left-handed hitter, was a very unlikely candidate to hit a game-tying home run against him. So Hosmer, on his own, tried a bunt.
"He's tough on lefties, obviously, because he comes from down low so I figured that's a better matchup for Billy [Butler]," Hosmer said. "Try and get the bunt down against the shift, get on first and, if Billy gets one down the line or in the gap, we've got a good chance to score and tie the game up."
The shift to the right side of the infield is being used more and more this year against left-handed hitters such as Hosmer, Mike Moustakas and Alex Gordon.
"There are more shifts throughout the league everywhere now. Everybody's shifting," manager Ned Yost said.
One way to stop the shift is to start dropping bunts down the wide-open third-base side. Do that enough and managers start thinking twice about the shift.
"We just tell 'em to push a bunt over that way," Yost said. "They're shifting our left-handed hitters and the whole left side of the infield is absolutely open. You don't have to make a perfect bunt. You just turn around and, boom, push a bunt. The only thing you have to do is get it past the pitcher and it's a free hit."
The kicker, of course, is that some power pull hitters are willing to try the bunt and some aren't.
"We identify who bunts and who doesn't against the shift," Yost said. "For the guys that will bunt, we'll keep our third baseman over to cover the bunt until there's one strike, then we'll move him over."
Hosmer, obviously, is willing to try the bunt from time to time.
"I work on it in batting practice and when the situation is right, they're giving you a free baserunner so you might as well take it," Hosmer said. "That was my whole thing on that -- just get on, get a good secondary [lead] and wait for Billy to put one down the line or in the gap and tie the game up."
The increasing use of extreme defensive shifts has grown with the vast amount of information gleaned from video and statistical analyses. Royals infield coach Dale Sveum invests hours and hours on developing defenses against hitters as does outfield coach Rusty Kuntz. The information banks are overflowing and baseball folks are soaking it up.
"Everybody's getting smarter but managers," Yost said dryly.
Dick Kaegel is a reporter for MLB.com. This story was not subject to the approval of Major League Baseball or its clubs.