Chen relegated to relaxing during KC games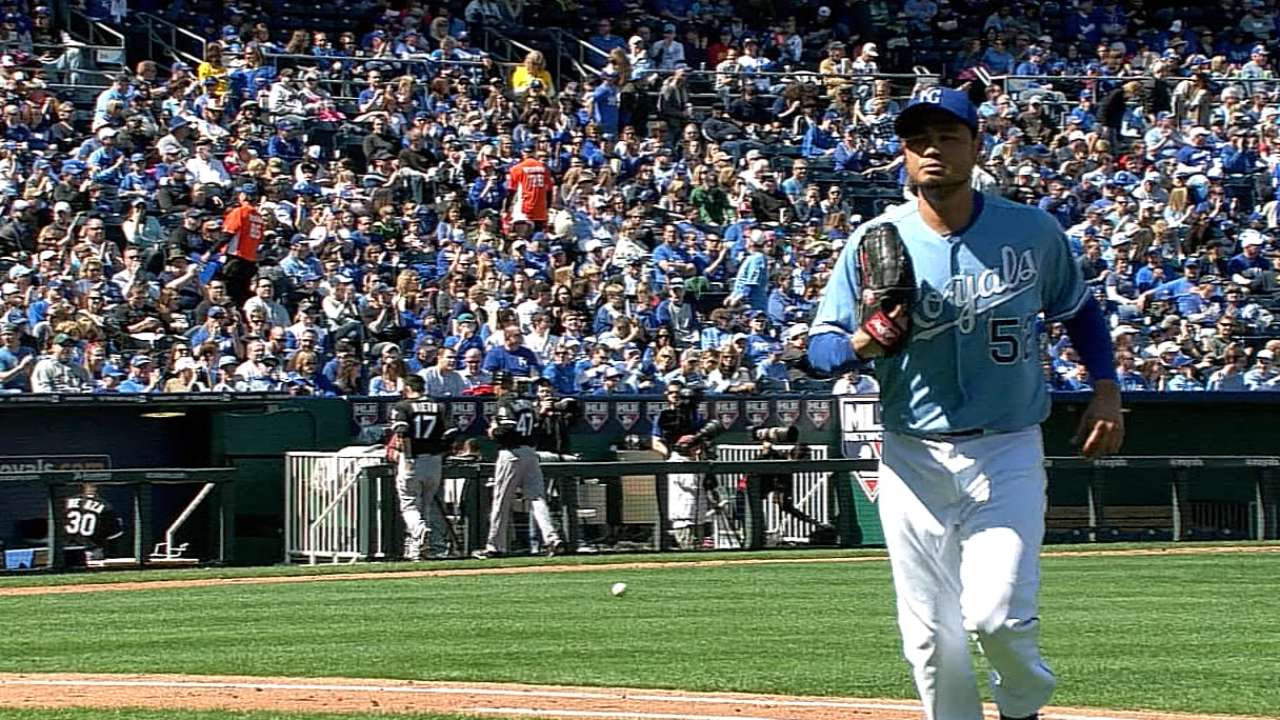 KANSAS CITY -- Left-hander Bruce Chen's back gives him so much trouble that the medical staff won't even let him sit on the bench during games.
Chen, on the disabled list with a bulging disc, instead spends time floating in the therapeutic pool in the training room and watching the game on TV.
"Which is nice, I can watch my teammates and see what's going on," Chen said.
But it's certainly not what Chen wants to be doing.
"The first time they made me do it, I was like, oh man, this is awesome, this is relaxing, this is good -- but it gets old," he said.
Except for light throwing to keep his arm active, Chen can't do baseball activities until the back pain settles down. He hasn't even been able to do his distance running that he normally does between starts.
"There's a lot of stuff you take for granted. I haven't been able to run for four or five weeks," Chen said. "I like to chase fly balls during batting practice or get ground balls in the outfield. It makes it fun."
For now, everything is on hold.
Chen had been feeling discomfort and pain for some time, but he continued to pitch.
"Obviously, you always have to look back and say: Am I helping the team, trying to pitch through this? Or is it better to just try to rest and be 100 percent so when I do try to pitch, I can help the team more?" Chen said.
"I've given it a good shot and I'm still not better, I'm still feeling it. Even if I throw my side [session], it's not going to be the right way, I'm not going to get the pitches I want, it's just going to be throwing to be throwing. So if it's not there to be thrown the way it should be thrown, it's not fair for the team, it's not fair for me, it's not fair for the fans."
Manager Ned Yost is looking at May 17 against Baltimore as a possible return for Chen. That's a date that would enable Yost to put Chen in the rotation lineup and separate him from similar-style lefty Jason Vargas.
"He'll be eligible to come off the 10th, but I won't need him until the 17th so we'll just take our time and get him healthy," Yost said. "If he feels good, he can go make a rehab start [before then]."
Chen has found that this back ailment is not something he can just pitch through.
"I've pitched through pain before but this is different," he said.
With arm stiffness or similar problems, Chen found he often could throw 10 pitches and be ready to go.
"This one ... it doesn't matter how loose you arm gets, it just doesn't go away. So it's just different," he said.
Dick Kaegel is a reporter for MLB.com. This story was not subject to the approval of Major League Baseball or its clubs.