Infante's back keeps him out of finale lineup
Royals start Valencia at second base in rubber game at Petco Park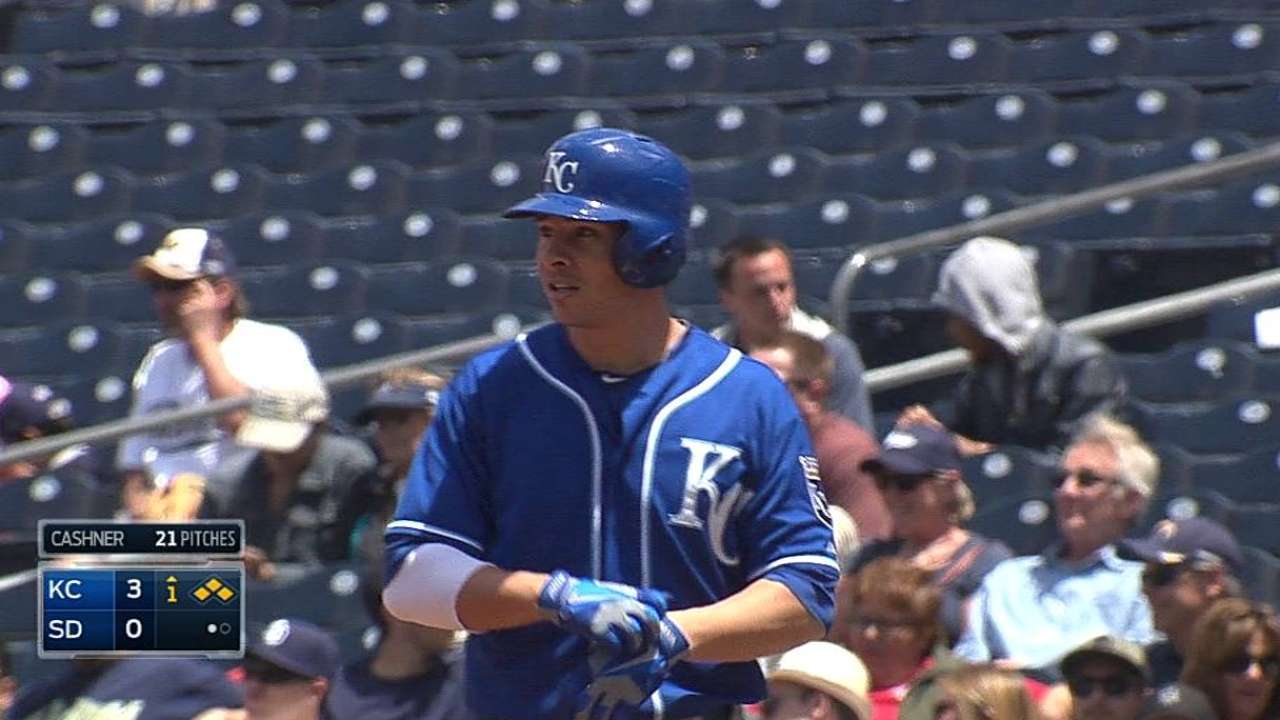 SAN DIEGO -- For a long time on Wednesday morning, no lineup was posted for the Royals.
"We're waiting on Omar," manager Ned Yost said, settling in the dugout as the Royals began batting practice.
That was second baseman Omar Infante who, it turned out, was having trouble getting his back loose after the two extra-inning games against the Padres.
"His back's a little stiff. He's trying to get good and loose," Yost said. "It got stiff after the game."
Yost was waiting for Infante to test his back with some batting practice swings.
But Infante never got loose enough for BP and couldn't go against the Padres. Instead, Danny Valencia got his second start at second base this season. Primarily a third baseman, Valencia's only other start at second came on April 8 against Tampa Bay, the day after Infante was struck in the jaw by a pitch.
Valencia played that day, but Johnny Giavotella was called up from Triple-A Omaha and started at second base the following day. After an open date, Infante returned to the lineup on April 11 and Giavotella was optioned back to Omaha.
But Yost indicated after Wednesday's 8-0 win that Infante could be back in the lineup as early as Thursday and he didn't anticipate having to call up a second baseman.
"His hips got out of line and he got back spasms, which happens from time to time. There's not a lot of concern involved," Yost said. "I look forward to him playing [Thursday], but if it's still tight, we'll give him another day."
Valencia filled in with a 3-for-5 game on Wednesday.
"Danny had three hits, played well defensively, and did a nice job," Yost said.
Dick Kaegel is a reporter for MLB.com. This story was not subject to the approval of Major League Baseball or its clubs.