Teammates confident Moustakas will be back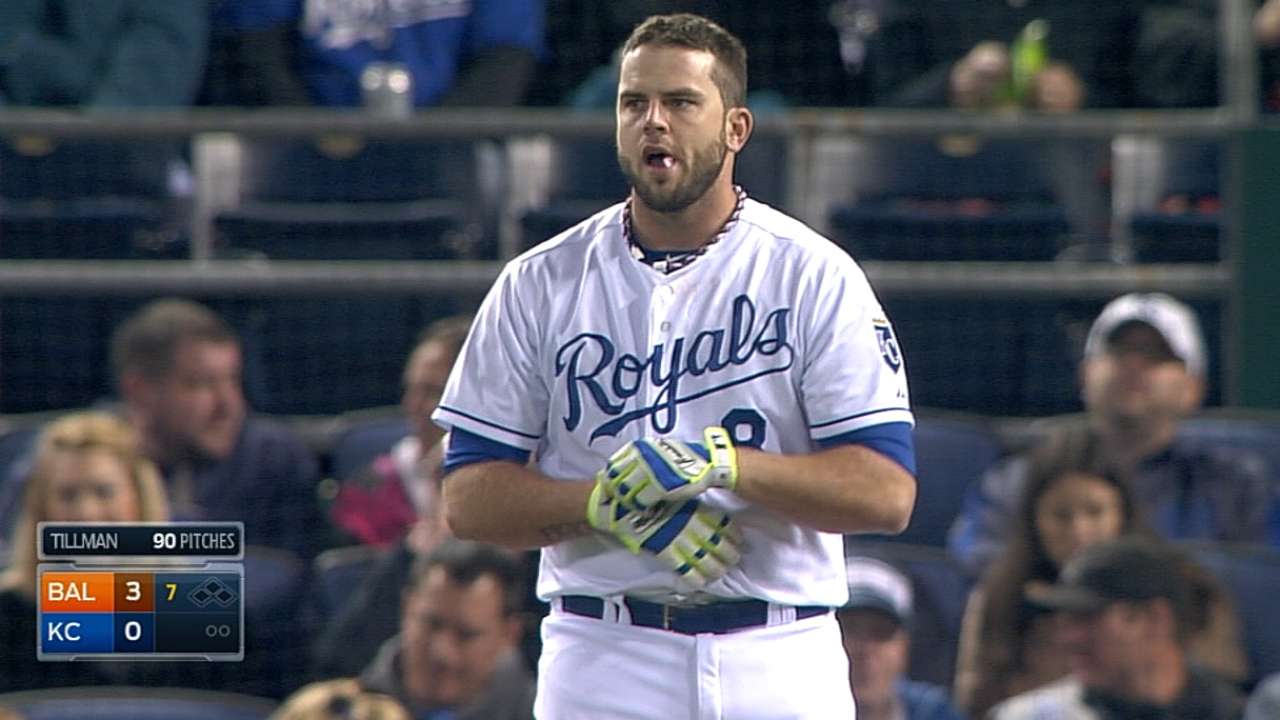 ANAHEIM -- The Royals arrived in Anaheim on Friday to start a three-game series without lefty-swinging power man Mike Moustakas, a Southern California native who was in his fourth season as their third baseman before his ongoing slump sent him to Triple-A Omaha.
His teammates said they know he'll be back. And, they don't think it will take long.
"The main thing is, he had the right attitude about it," first baseman Eric Hosmer said of the move. "He understood and agreed with it. We all have confidence in him. In the long run, it's the best thing for him, and for the team."
Moustakas hit .152 in 40 games, with four home runs and 17 RBIs, before he was told of the demotion after Wednesday's game. It wasn't announced until Thursday, an off-day.
"It's a tough situation." Royals right-hander James Shields said. "It's hard to struggle. It's hard to get out of your funk.
"But he's the kind of player who will take it well, try to get better and get back here. He definitely wants to get better: Every day, he's the first one in the cage, the first one on the field."
Hosmer, who predicted his friend Moustakas might get his game back together as quickly as in two weeks, added: "We need him out there for us to succeed, to be what we want to be, a team fighting for a playoff spot in September. He's a big part of the lineup.
"It's a time for him to get back on track, in a less-stressful situation, and clear his head mentally."
Manager Ned Yost said, "It's a tough move, but it's not a tough move. It was getting to the point it was time for him to do down.
"He's got to the point where his confidence was as low as I've seen him. So we put him back where he can catch his breath. Hopefully, he can get it going down there and feel good about himself again, and get back here."
Danny Valencia, who had been platooning with Moustakas at third base, starting against left-handers, will get an extended trial on an everyday basis.
Earl Bloom is a contributor to MLB.com. This story was not subject to the approval of Major League Baseball or its clubs.