Yost not stepping in Sveum's way with offense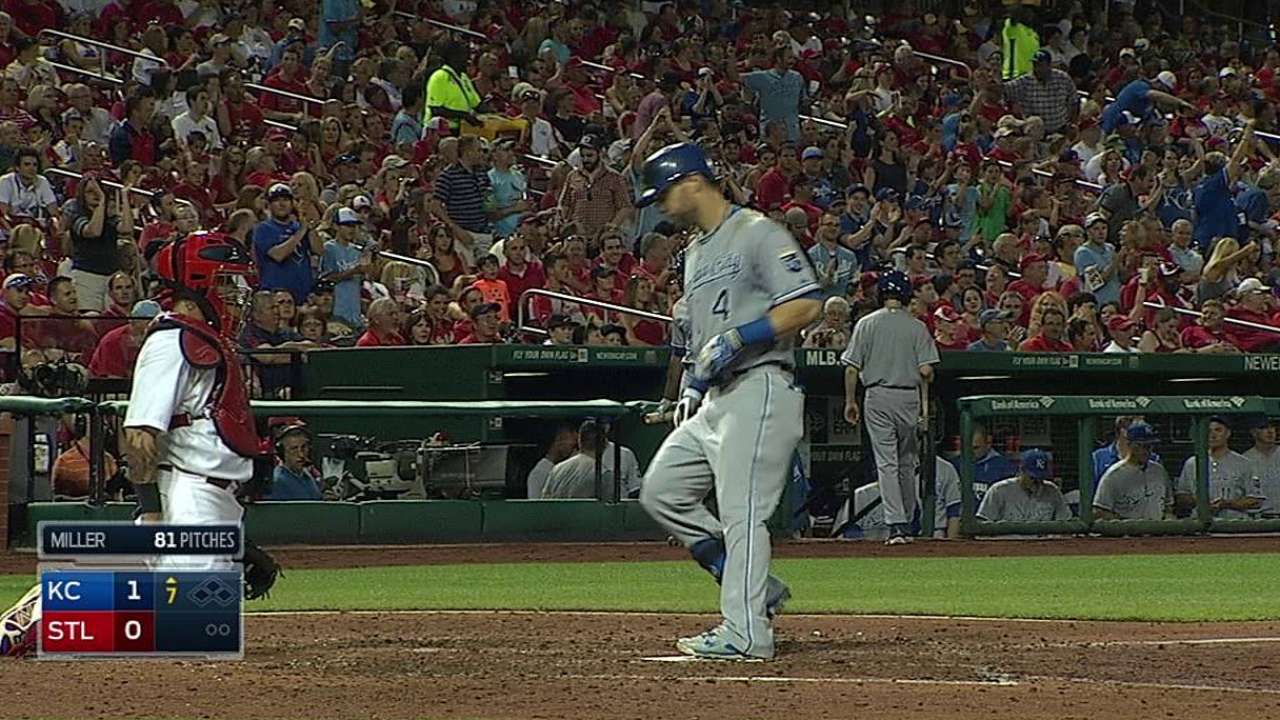 ST. LOUIS -- Royals manager Ned Yost was asked if he collaborated with his hitting coach, Dale Sveum, sort of like an NFL head coach with his offensive coordinator.
"No. I couldn't hit. I was a .212 lifetime hitter," Yost said. "I want freakin' homers and doubles, and I want to score runs, now take it from there, Dale."
Yost wasn't kidding. As a backup catcher for six years, his average was exactly .212 and he hit just 16 homers and 15 doubles in 219 games.
"It's a different world now. You can't even compare from when I played [1980-85] and now," he said. "We had no video, we had no reports. If you ever asked a hitting coach what you were doing wrong -- 'Nothing, kid, keep going. You're doin' fine.'
"There were no cages, there was no soft toss, there was nothing. We had to figure everything out for ourselves, and generally the ones that helped you the most were your fellow players. So you talked to other hitters about hitting. There was nothing of what we have today."
Sveum took over as hitting coach from Pedro Grifol just last Thursday, so to start measuring results would not be fair.
"It's too early to tell it," Yost said but added: "It's getting better."
From the outset, Sveum made it clear that he wants the Royals to wait on elevated pitches and pick on them in an effort to increase the long ball and therefore run production. There was an example -- Alex Gordon's home run in Monday night's 6-0 victory over the Cardinals.
"Dale's been talking about elevation, hunting pitches up and then doing damage when you get 'em. He's been talking to Gordy about: 'A good pitch for you to hit out of the ballpark is a fastball up and out over the plate, middle away a little bit,' and that pitch was exactly that," Yost said. "So we're getting better at what we're doing power-wise. I feel better about it."
Gordon agreed that he profited by waiting on that type of pitch from right-hander Shelby Miller.
"He likes his fastball, and when you get in one of those situations in the hitter's count and not much is going offensively, I wanted to try to do some damage," Gordon said. "I got a pitch away, I got extended and I was able to put a good swing on it."
So today's approach to the hitting science seems vastly superior to that taken by Yost in his playing days with the Brewers, Rangers and Expos.
"I never really thought about it much. I'd just get up there and swing and try to hit it somewhere," Yost said.
Most of the time, apparently, to the wrong somewhere.
Dick Kaegel is a reporter for MLB.com. This story was not subject to the approval of Major League Baseball or its clubs.