Royals find righty Blewett in second round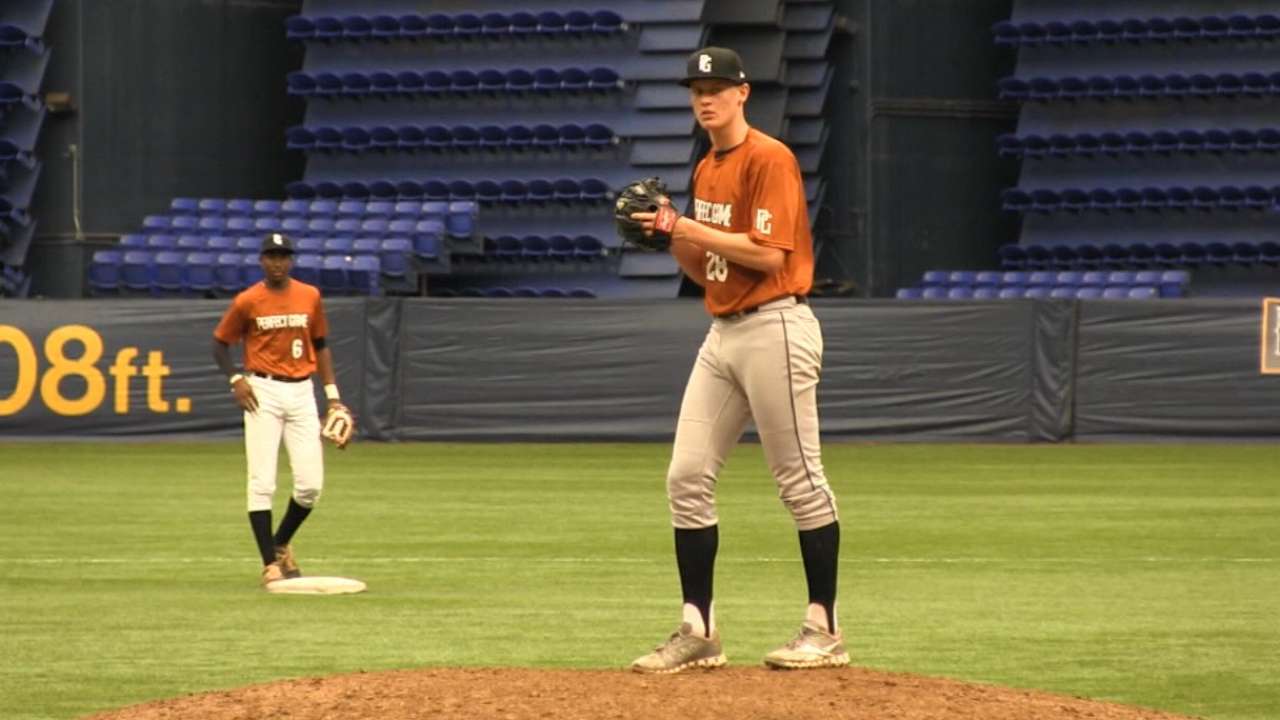 KANSAS CITY -- The Royals, on their first day of the First-Year Player Draft, made it three pitchers out of four selections.
Right-hander Scott Blewett from Baker High School in Baldwinsville, N.Y., was the Royals' fourth choice on Thursday night and the 56th selection in the Draft's second round.
"Big, big power arm," said Royals scouting director Lonnie Goldberg. "A Chris Carpenter, Roy Halladay-type body and projection. Been up to 95 mph, good breaking ball. He has a commitment to St. John's."
Blewett is also a big guy, going 6-foot-6 and 210 pounds at age 18. He uses his size to throw his fastball on steep downhill, working at 91 to 95 mph. As he continues to grow, he's likely to show the higher velocity more consistently and deeper into games.
Blewett is working to improve his curveball, changeup and command, but his delivery is sound.
His career record at Baker High was 16-0 with a 1.01 ERA, with 195 strikeouts in 124 1/3 innings. He missed time in the short New York season this year with shoulder soreness and pitched just 30 innings.
The 56th selection is slotted at $1,003,200 by Major League Baseball.
The Royals also took left-handed pitchers Brandon Finnegan and Foster Griffin and catcher Chase Vallot in earlier picks.
The Draft continues on Friday with Rounds 3-10. The MLB.com pregame show begins at 11:30 a.m. CT, with exclusive coverage of Rounds 3-10 beginning at noon.
Dick Kaegel is a reporter for MLB.com. This story was not subject to the approval of Major League Baseball or its clubs.