Royals draft TCU lefty Finnegan with first pick
Tough, competitive pitcher one of three arms KC selects along with catcher on Day 1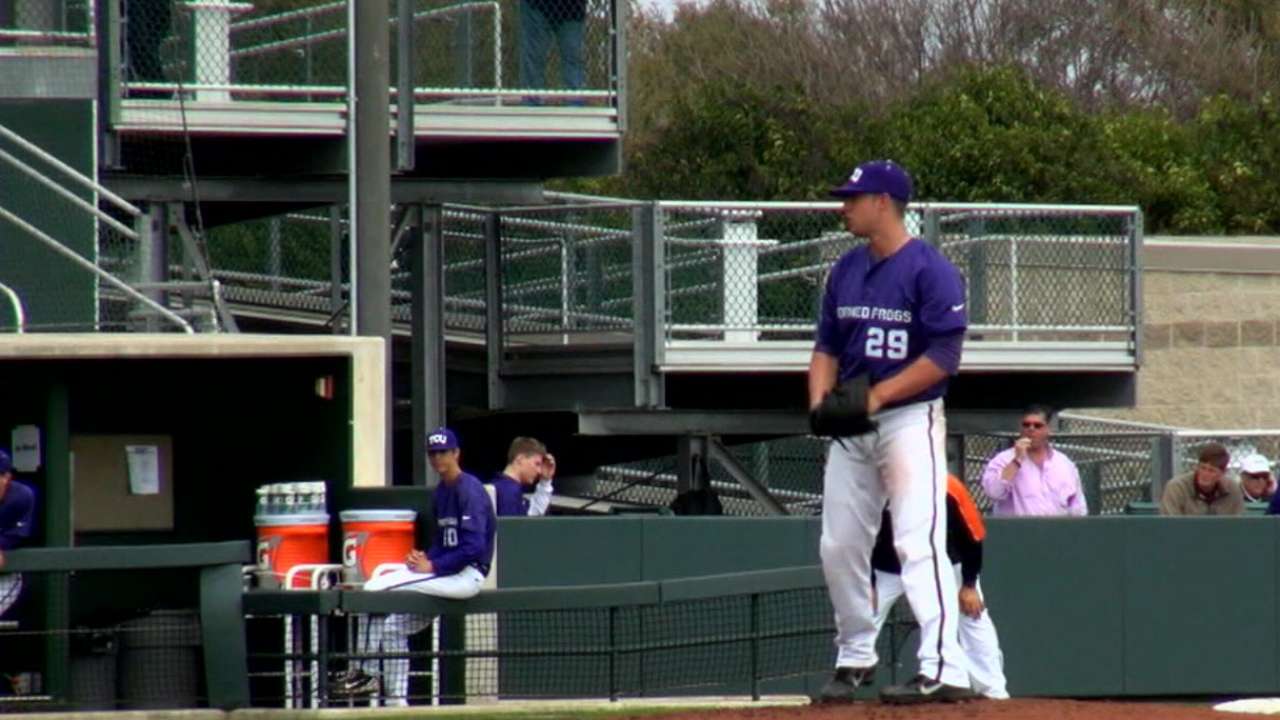 KANSAS CITY -- Brandon Finnegan found that being selected by the Royals in the first round of the First-Year Player Draft on Thursday night was an emotional experience.
"I was really excited. I heard my name called, and all I could do was put my head down and I just started crying," Finnegan said. "I was just happy to be called."
Finnegan, a left-handed pitcher from TCU, was the Royals' first-round pick and 17th overall. He was ranked 15th among MLB.com's Top 200 Prospects.
The Royals were one of just three teams to have four picks of the first 68 through the Draft's second round. They also took left-handed pitcher Foster Griffin at No. 28, catcher Chase Vallot at No. 40 and right-handed pitcher Scott Blewett at No. 56.
Finnegan, 21, was the 11th pitcher taken in the Draft and the seventh from a college.
"It sure didn't hurt that it was a college-advanced arm with pitchability and stuff. And a proven track record. A really tough kid," said Royals scouting director Lonnie Goldberg.
At 5-foot-11 and 190 pounds, Finnegan is noted for a fastball that occasionally creeps into the high 90s and a deceptive delivery. He's also developed a slider as an effective secondary pitch.
"It's plus stuff, a big fastball anywhere from 90 to 97. Slider and changeup," Goldberg said. "Real big competitor -- that was probably the most consistent ingredient in all our reports."
He's projected as a pitcher who could succeed either as a starter or a reliever, possibly as a closer. However the Royals see him as a starting pitcher. So far in his junior season he has an 8-3 record and a 2.07 ERA.
"The highest I've ever hit was 99, but right now I've been 92-96, just throwing strikes and trying to get outs. Not trying to blow it past anybody," he said.
His TCU team plays Pepperdine this weekend for the right to advance to the College World Series, and he pitches on Saturday.
"It's obviously very unpredictable knowing who's going to get to you at No. 17, but we're really pleased," said general manager Dayton Moore. "We wanted to target some advanced college pitching, and we were fortunate that Finnegan was there. We scouted him all last summer, had a chance to see him quite a bit this season, and we think that he's going to be a quality starting pitcher in the Major Leagues for many years."
After leaving a game against Cal State-Northridge in late April, he was diagnosed with minor shoulder inflammation. He returned to pitching in May with no apparent problems.
"There was just a little inflammation in the shoulder. I think what caused it was sleeping on it wrong," Finnegan said. "I missed one start, came back and I felt great after that, honestly."
Finnegan was named to the Fort Worth Region All-Tournament team after tossing the first 7 1/3 innings of TCU's first-round win over Siena last Friday. He had five starts this season where he pitched seven innings or more without allowing a run.
Finnegan, in 15 starts and 91 1/3 innings, has notched 122 strikeouts against just 25 walks. He's given up 67 hits, including two homers, and 21 earned runs, holding opponents to a .206 average.
That was a big upgrade from his sophomore season for the Horned Frogs when he was winless with an 0-8 record but had a 3.18 ERA. In his freshman season, he was 4-5 with a 3.47 ERA.
Finnegan is a product of Southwest High in Fort Worth, Texas, where he was an all-state selection as an outfielder. In the 2011 Draft, he was picked in the 45th round by the Texas Rangers but did not sign and went to TCU.
The Draft continues on Friday with Rounds 3-10. The MLB.com pregame show begins at 11:30 a.m. CT, with exclusive coverage of Rounds 3-10 beginning at noon.
According to the slotting figures, the Royals have up to $2,200,600 to spend on Finnegan, and they believe that he's eager to get his pro career going.
At TCU, Finnegan's major was criminal justice. What did he intend to pursue with that degree?
"I had absolutely no clue," he said. "If anything I'd like to become a firefighter if it didn't work with baseball, I guess."
For now, Finnegan will just be putting out fires that develop with those wooden bats he'll be facing.
Dick Kaegel is a reporter for MLB.com. This story was not subject to the approval of Major League Baseball or its clubs.