Right-handed-hitting Vallot made strong impression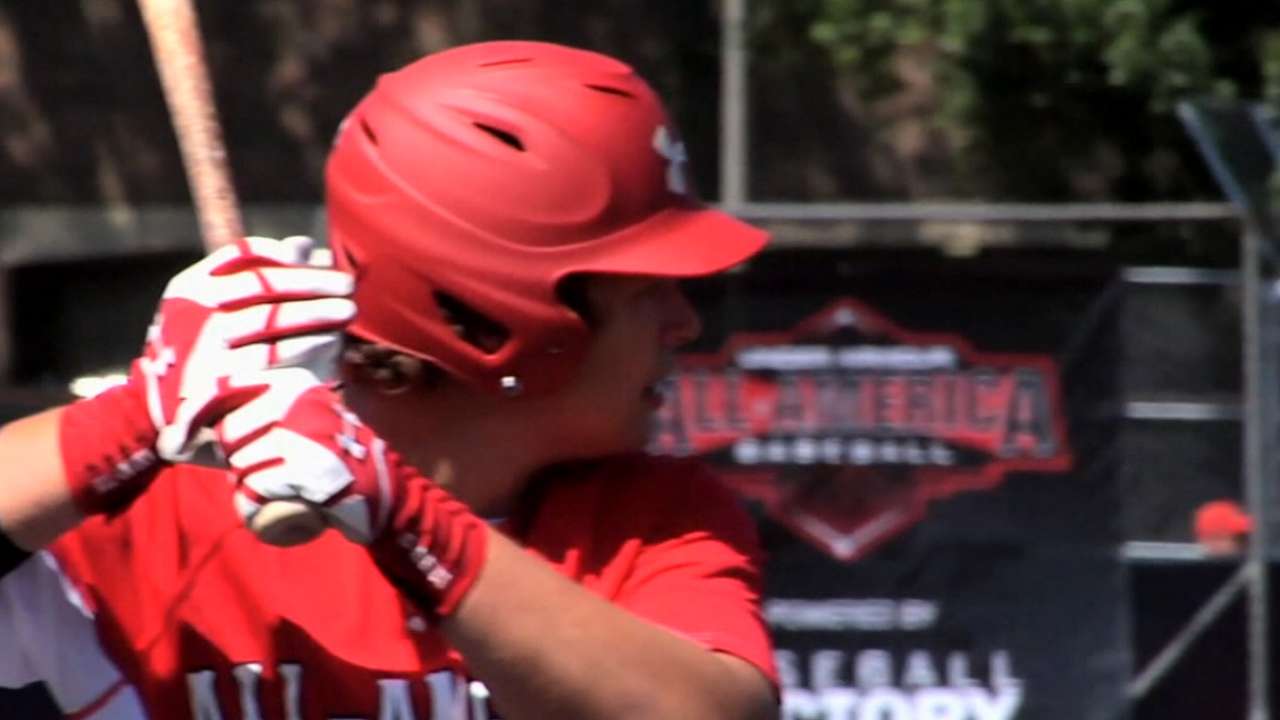 KANSAS CITY -- After taking two pitchers, the Royals went to the other side of the plate for their third selection on Thursday night in the First-Year Player Draft.
Catcher Chase Vallot, a high school power hitter from Louisiana, was the 40th selection in Competitive Balance Round A.
A right-handed batter, Vallot is 6-foot-1, weighs 205 pounds and played for St. Thomas More High School. He was ranked No. 49 in MLB.com's Top 200 Prospects.
The Draft continues on Friday with Rounds 3-10. The MLB.com pre-Draft show begins at 11:30 a.m. CT, with exclusive coverage of Rounds 3-10 beginning at 12 p.m.
Vallot has above-average power with a quick swing, according to MLB.com reports. He performed well on the high school showcase circuit last summer, highlighted by winning the home run derby at the Perfect Game National in June.
"Real big power," said scouting director Lonnie Goldberg. "We had him here at our pre-Draft workout and he hit the furthest drive we've seen hit here in our pre-Drafts -- and we've had some big names here."
The ball landed near the Royals Hall of Fame building in left field at Kauffman Stadium.
Vallot had 62 RBIs in 36 games for his high school team with a .545 (54-for-99) average. He hit 13 home runs and 15 doubles. He was named the Gatorade Louisiana Player of the Year, helping the Cougars win the Class 4A state championship.
"Young, 17 years old. A chance to be an everyday catcher with that kind of power behind the plate and possible hitting in the middle of the order," Goldberg said. "Those guys are really hard to find. Great kid, very personable, outstanding family."
Vallot's considered a good-moving catcher with a plus arm, although his transfer and accuracy need some work.
"He's a hard worker, has a good arm. Just hasn't learned the nuances of catching but has the ingredients to stay behind the plate," Goldberg said. "Our guys are going to have fun with him."
A move to an outfield corner position is a possibility, but the Royals want him to catch.
"We look at him, obviously, as catching first and we believe that's the position he's going to play. The bat was special, a unique bat. He's only 17 years old and his makeup is outstanding. It's a pretty good package," Goldberg said.
Vallot is committed to Mississippi State. The Royals' allotment for the 40th slot is $1,420,800.
He was one of four players the Royals took on the first day of the Draft. The others were pitchers -- left-handers Brandon Finnegan and Foster Griffin and right-hander Scott Blewett.
"I'm very happy to get both a catcher and a catcher with power that got a chance to hit in the middle of the order," Goldberg said.
Dick Kaegel is a reporter for MLB.com. This story was not subject to the approval of Major League Baseball or its clubs.