Jeter holds fond memories of Kansas City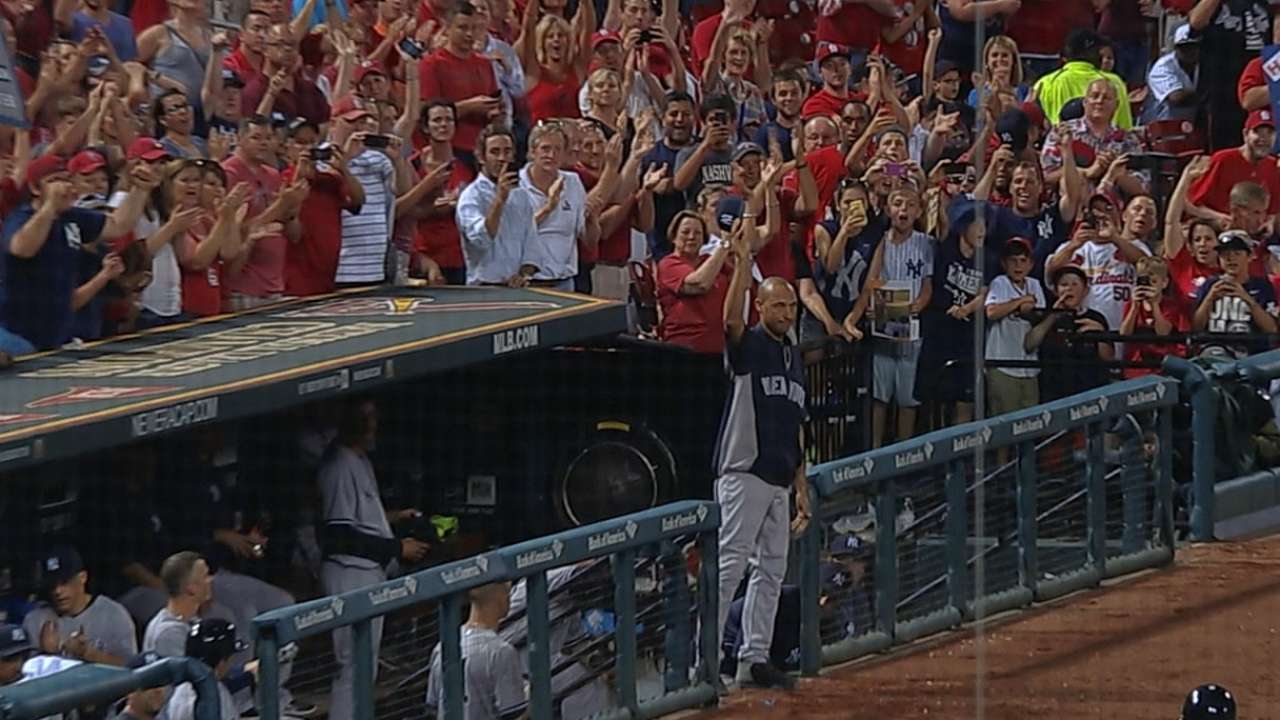 KANSAS CITY -- When Derek Jeter, in town for the last time with the Yankees, was asked for his memories of Kansas City, he had a prompt answer.
"I remember the first time I met Buck O'Neil. It was here in my first year or my second year and he made his way over and had some kind things to say," Jeter said. "So that's one of the best memories I have of Kansas City."
Jeter's career, coming to an end this year, spanned 20 years and he did part of his considerable damage against the Royals. He's hit .311 in his career, but .328 in 131 games against KC entering Friday's series opener. O'Neil, always the keen baseball eye, certainly noticed.
"He was saying that he enjoyed watching me play and that he was paying attention which caught me off guard," Jeter said. "After that I was so excited and proud, I don't think I paid attention to anything he said. He invited me over to the [Negro Leagues] museum here which I had an opportunity to go to a few years after he passed away, but every time I saw him, he always went out of his way to say hello to me and say some nice things. Buck was a fun person to be around."
O'Neil, co-founder of the Negro Leagues Baseball Museum in Kansas City, died in 2006 at age 94.
Jeter also recalled meeting Hall of Famer George Brett at the 2012 All-Star Game in Kansas City.
"I've always had the utmost respect for him and his playing career," Jeter said. "When you look up to guys growing up and get an opportunity to meet them, sometimes you can be disappointed once you meet them. But George has always treated me well. When you're a younger player coming up and you meet guys that you admire and they treat you well, you always remember it."
Jeter was also aware of the heated rivalry between the Royals and Yankees, notably in the 1970s and 1980s, including a fight between Brett and Graig Nettles at third base.
"I don't think either one of them even got kicked out of the game," Jeter said. "That's how times have changed. That shows you how intense rivalries can get at times. This rivalry was up there for years."
Jeter was out of the Yankees' lineup on Friday night --"I never feel like I need a day. I never like to sit out," he said. -- which undoubtedly was a disappointment to fans of both teams as well as Jeter.
"This has always been a great place to come. The fans have always been great," Jeter said. "I think they've done a wonderful job with this stadium. I've always enjoyed coming here to play."
Dick Kaegel is a reporter for MLB.com. This story was not subject to the approval of Major League Baseball or its clubs.