Royals agree to terms with several Draft picks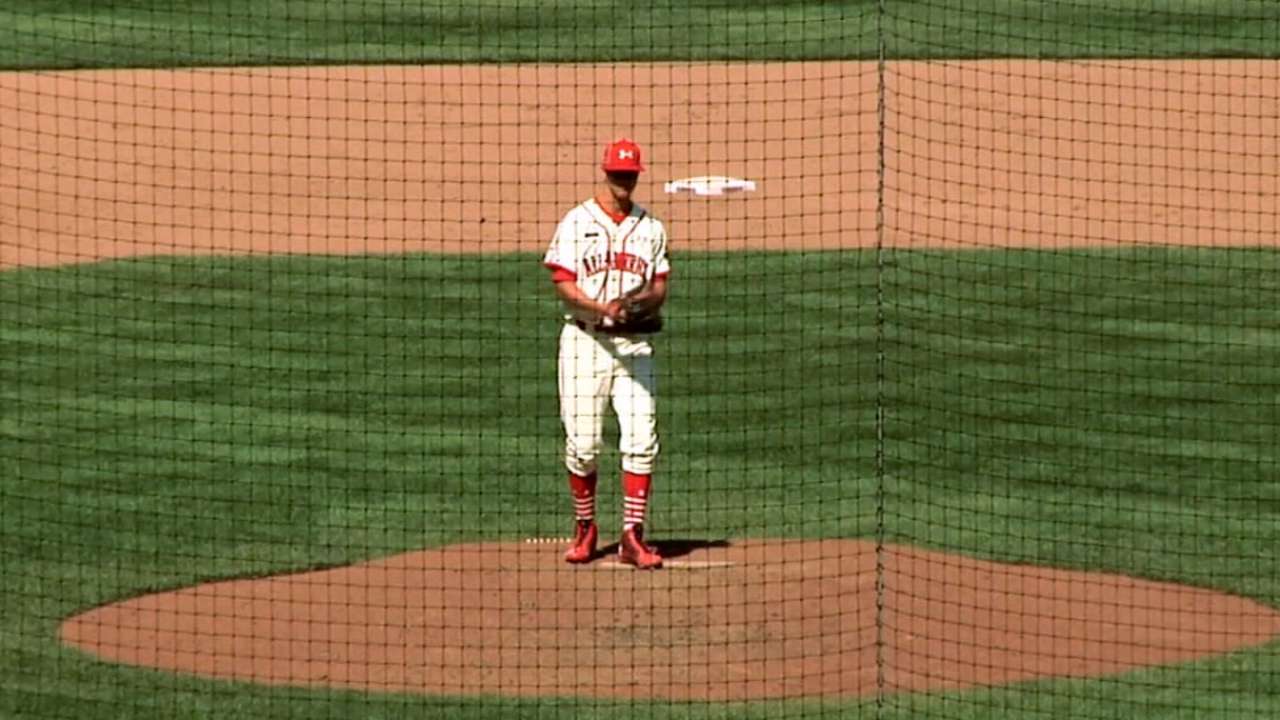 KANSAS CITY -- Left-handed pitcher Foster Griffin, who was a first-round pick in the First-Year Player Draft on Thursday, has signed with the Royals for $1.925 million, MLB.com has learned.
His value as the 28th overall pick was slotted at $1.815 million so the Royals went $109,500 over value. They had a total of $8,602,900 allocated by Major League Baseball to be used among their top 10 selections.
Griffin, from Orlando, Fla., pitched for First Academy High School and was a strike thrower who had a fastball clocked at up to 94 mph with a plus breaking ball and changeup.
He ranked 28th among the Top 200 Prospects by MLB.com
MLB.com also learned the Royals signed catcher Chase Vallot, their third selection and the 40th overall in the Competitive Balance Round A, for $1.35 million. That was $70,800 under his pick value of $1,420,800.
A right-handed hitter from St. Thomas More High School in Lafayette, La., Vallot is projected as having middle-of-the-order power. Just 17, he was ranked No. 49 in MLB.com's Top 200 Prospects.
Griffin had a commitment to play at the University of Mississippi and Vallot at Mississippi State.
The Royals also signed left-handed pitcher Eric Skoglund, their third round pick (92nd overall), for $516,100 which was the allotted figure for that slot. Skoglund pitched for Sarasota (Fla.) High School and the University of Central Florida.
First baseman Ryan O'Hearn from Sam Houston State, the Royals' eighth-round choice, also agreed to terms. Previously announced as signed were shortstop Dawon Burt (fourth round), right-handed pitcher Corey Ray (fifth round) and outfielder Logan Moon (sixth round). All signed for below pick value.
Others announced as signed were: outfielder Robert Pehl (11th round); pitcher Emilio Ogando (12th); pitcher Eric Stout (13th); pitcher Ian Tompkins (14th); infielder Corey Toups (15th); pitcher Brennan Henry (17th); catcher Kyle Pollock (20th); pitcher Evan Beal (21st); infielder Mike Hill (22nd); first baseman Joshua Banuelos (28th); pitcher Timothy Hill (32nd); pitcher Todd Eaton (34th), and pitcher Cole Way (38th).
The Royals confirmed the signings, but did not comment on the contract details.
Dick Kaegel is a reporter for MLB.com. This story was not subject to the approval of Major League Baseball or its clubs.