Coaching shuffle is followed by power surge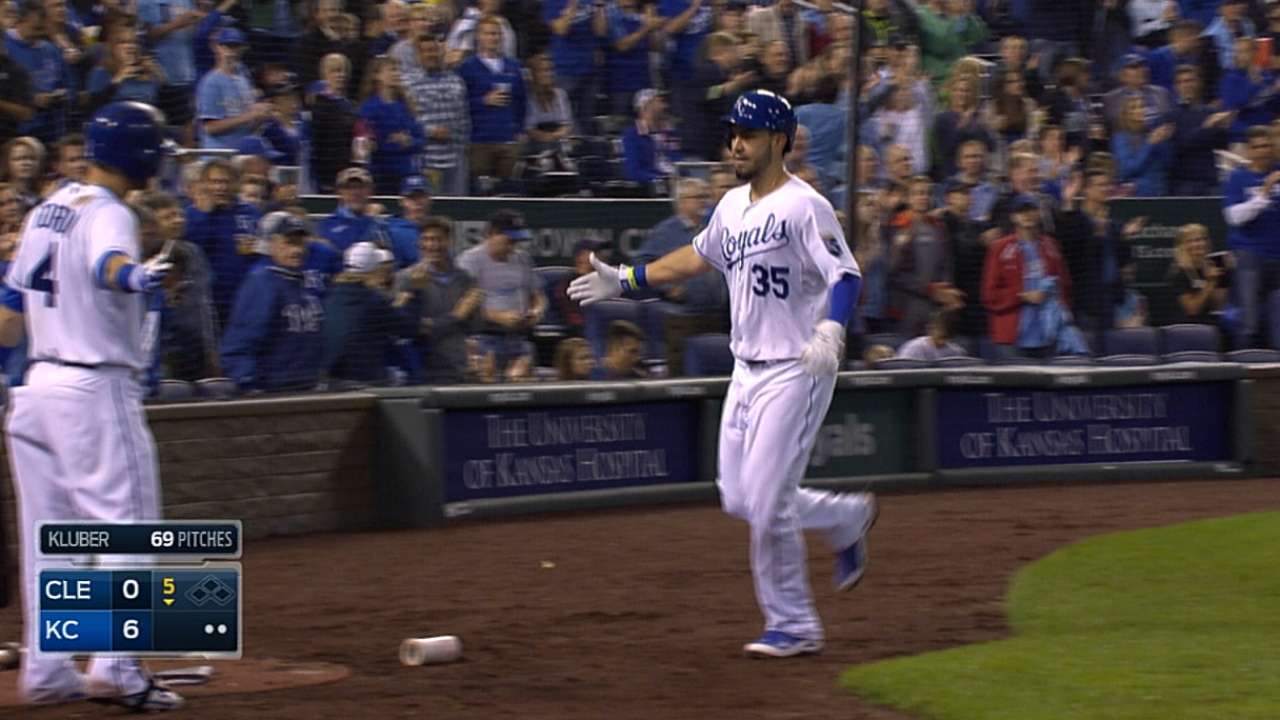 CHICAGO -- The Royals' overall home run count may be glaringly low, but over the past two weeks Kansas City's hitters have bucked what had been a season-long trend. Entering Friday's series opener with the White Sox, Kansas City ranked last in the Majors with 31 home runs, but 10 of those came in the club's 13 most recent games.
The power surge coincides with the replacing of Pedro Grifol with Dale Sveum at hitting coach. Grifol moved to catching instructor, while Mike Jirschele took Sveum's job as third-base coach. Still, it's the hitters who have done the damage, and the recent bevy of home runs could be attributed to coincidence. Either way, the move has worked out so far.
"I don't really think it had that big of a difference on what we're doing now, but at the same time something needed to change, and something had to spark us a little bit," said Eric Hosmer, who had swatted two homers in his past four games. "And they made the changes that they felt were necessary to make, and it's won a couple of games. I don't know if it's because of that reason -- but it's tough to see that -- but at the same time nobody lost their job, and it's worked out good for us so far."
Sveum's approach is simple. He said the Royals had a "real problem" of swinging at balls low in the zone.
"You've got to get the ball up in the zone, is the bottom line," he said. "If you want to hit home runs, it's already elevated for you, and you've got to get the ball up in the zone and be ready for it and beat it to the punch when it gets there. That's been as much as anything, is just harping on elevation."
Sveum added that the media guide "doesn't lie," meaning he expected any hitters experiencing a power outage to eventually reach their typical level of production. The home run total is a telling statistic but at this time is reflective of only the first 10 weeks of the season.
"You know it's going to change," Hosmer said. "That's the thing: You can't really get caught up too much in numbers during the season, because it'll eat away at you if you do. You've just got to go out and try to win a ballgame and just let the numbers -- at the end of the year, look up and see what you've got."
The burst of moon shots has been a welcome sign for Royals manager Ned Yost.
"We needed to improve on our slugging percentage, and since Dale's taken over, we've done that."
Joe Popely is an associate reporter for MLB.com. This story was not subject to the approval of Major League Baseball or its clubs.