Moustakas' numbers, attitude trending upward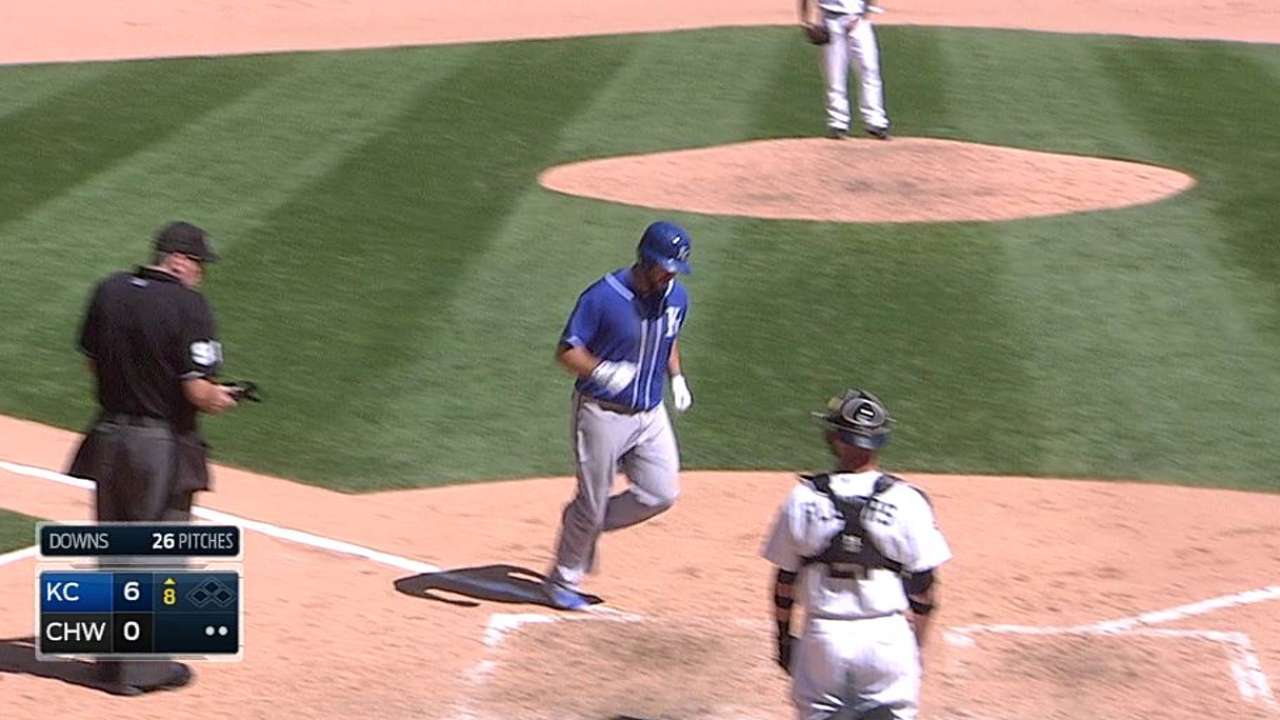 CHICAGO -- Since returning to the big leagues June 1, Mike Moustakas has consistently hit the ball hard, but with mixed results.
The numbers aren't pretty, but after batting .152 through the first six weeks of the season, Moustaskas has a slash line of .184/.225/.342 in 11 June games. The 10-day demotion to Triple-A Omaha helped Moustakas clear his mind, and his teammates and coaches have remarked at the third baseman's improved attitude.
Of course, tangible results are ultimately what's most important. The once-prized prospect will have to produce to stick with the Royals, but things are trending upward.
"When he came back, he's been great," Royals manager Ned Yost said. "He's hit into some really tough luck. He smoked eight or 10 balls right at people that could have been hits if it's one foot [or two feet] that way, or one foot [or two feet] that way. He's been swinging the bat really well.
"I'm looking at, 'What does he do to help us win baseball games?' He plays tremendous defense and he's got home run power. And we think that he -- at this point last year -- got his game together and went from .150, like he's hitting right now, to .240, and we think that he's every bit capable of getting on a run on carrying us for a while."
Moustakas had a modest four-game hitting streak snapped on Friday. He went 4-for-14 with a two-run homer in those four games, and might have had more hits if not for the pull-heavy shifts that teams routinely use against him.
"If I continuously hit the ball hard, they're going to start falling at some point," Moustakas said. "You can't control where you hit it, so if you hit it right at somebody, you do, and other than that, I don't worry about it too much."
Royals hitting coach Dale Sveum backed up Yost by saying that Moustakas has been robbed of somewhere between eight and 10 hits by the shift. The coaching staff understands that Moustakas' average isn't good, but it can be a little deceiving.
Sveum also noted Moustakas' low strikeout rate since his return. Moustakas has struck out six times in 38 at-bats, or just 16 percent of the time.
"It's going to be hard for him to get a lot of hits, because they're shifting on him now, but he's hit the ball really hard. ... That's always going to be, average-wise, it's going to be difficult," Sveum said. "His attitude's tremendous since he's been back, and [he] saw a lot of good at-bats. He's getting good pitches to hit and putting good swings on the ball, so that's all you can you ask for."
Joe Popely is an associate reporter for MLB.com. This story was not subject to the approval of Major League Baseball or its clubs.