Yost ejected for arguing run-scoring balk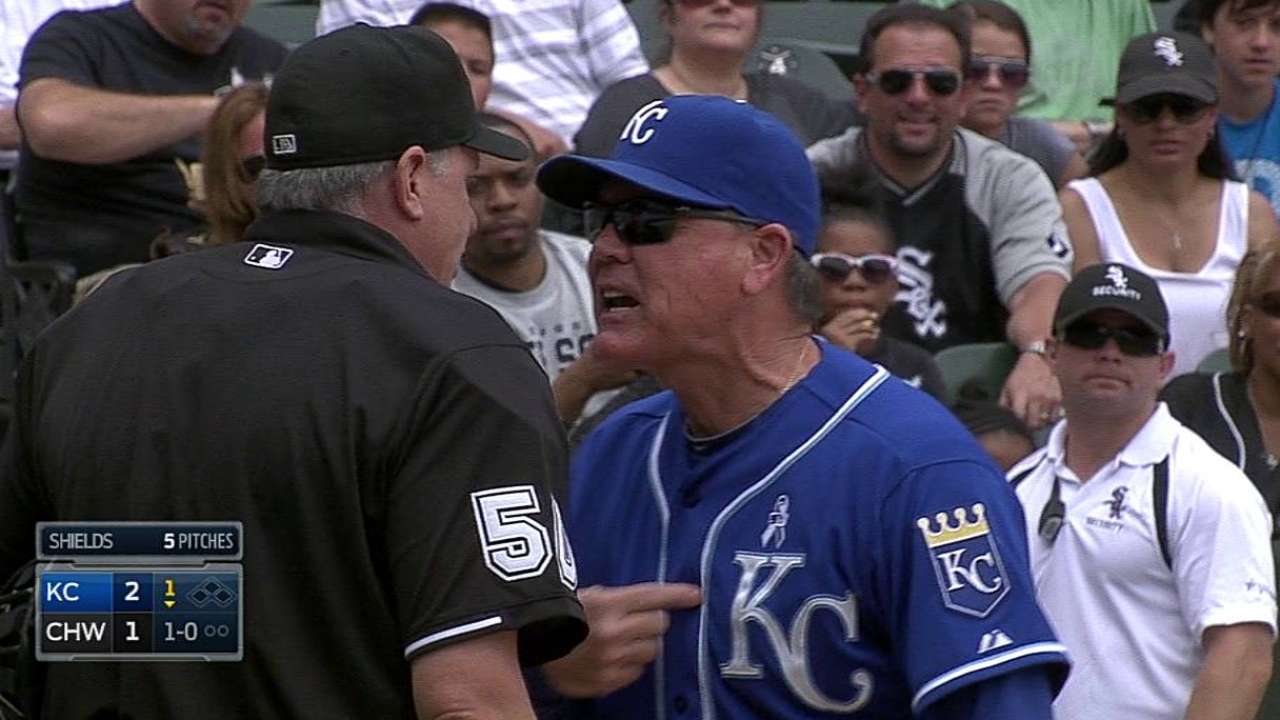 CHICAGO -- It didn't take long on Sunday for Royals manager Ned Yost to pick up his third ejection of the season.
Yost was tossed in the bottom of the first inning by home-plate umpire Paul Emmel after he was set off by a balk call on James Shields. Adam Eaton led off with a triple, and with a 1-0 count on Gordon Beckham in the next at-bat, James Shields tried a pickoff move for third. After Eaton was initially tagged out after being caught off the bag, Emmel signaled that Shields had balked, bringing home Eaton and cutting the Royals' lead to 2-1.
As Yost explained, arguing a step off leads to immediate ejection. His conversation with Emmel was at first cordial, but quickly became heated.
"Look, I don't think I've ever got kicked out of the game before the first out in the bottom of the first, so it was a long time in here," said Yost, referring to the manager's office. "I just felt real strongly in here that it was a real good play, even looking at the replay where he went to home and said something I shouldn't have said when I was walking away."
Shields felt he made a good play, and he wanted an explanation for the call. Emmel wouldn't give him one.
"[Emmel] told me I can't argue about it, and I said, 'I wasn't arguing about it, I was just asking what I did,'" Shields said. "And I asked for an explanation, and he said he can't give it to me and he told me not to talk to him. And then I said, 'I'm just asking for an explanation,' so it's just one of those things.
"I know you can't argue a balk call, I just wanted to know what I did, so I don't do it next time. And then he finally said I stepped at home, but honestly, I thought it was a good move, man. I thought it was a really good move, and I think if a lefty does it and they're used to it, I don't think they call that play. I think it was a good move and I don't think it was a balk."
The Royals ultimately won their seventh straight game and swept the White Sox with a 6-3 victory. Shields allowed three earned runs on 10 hits over six innings.
Joe Popely is an associate reporter for MLB.com. This story was not subject to the approval of Major League Baseball or its clubs.