Class A righty Binford picked for Futures Game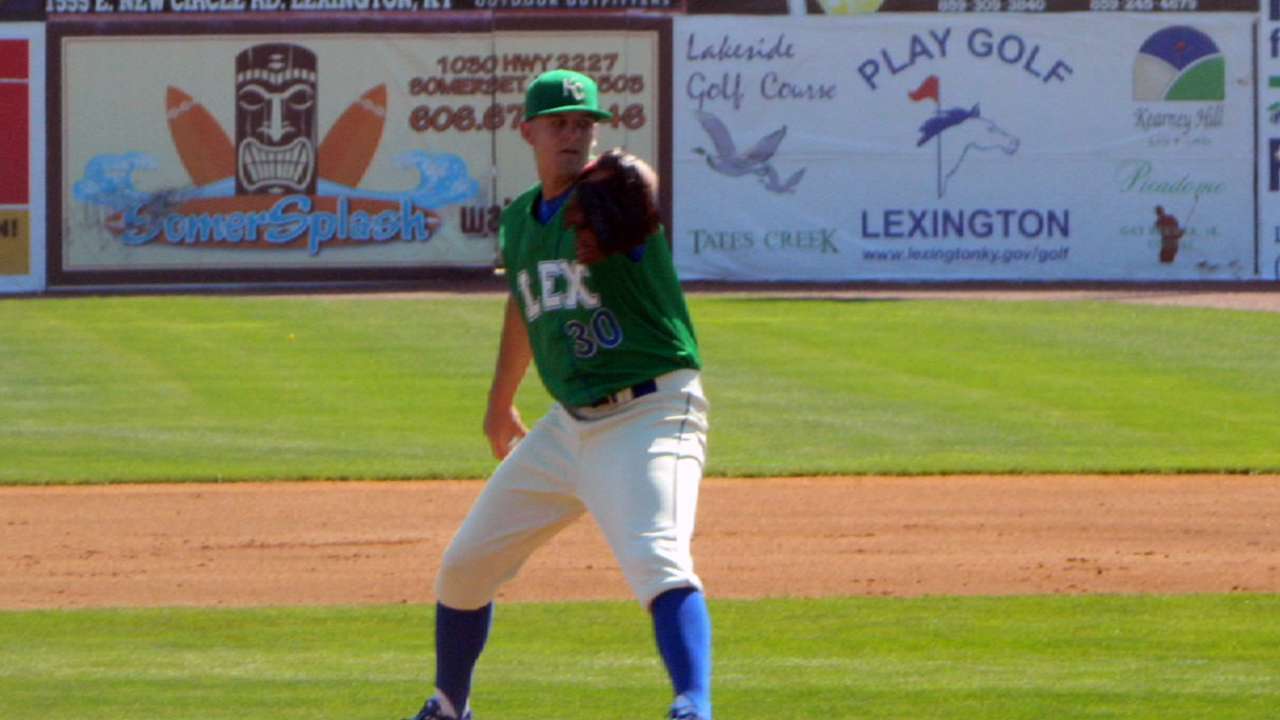 KANSAS CITY -- Right-hander Christian Binford was named Tuesday to represent the Royals at the SiriusXM Futures All-Star Game, which will be played on Sunday, July 13, at Target Field in Minneapolis.
Binford, a starter with Class A Advanced Wilmington, will compete on the U.S. team in the 16th edition of this Minor League exhibition on All-Star Sunday.
Binford, the Royals' 30th-round selection in the 2011 First-Year Player Draft has a 2.35 ERA in 76 2/3 innings (13 starts) and 85 strikeouts this season.
"He's a wonderful kid, he really works hard, he's intelligent," assistant general manager J.J. Picollo said. "He's not like some guys that have kind of been anointed as a top prospect. He's worked his way into that type of status."
Binford fell so low in the Draft because he underwent Tommy John surgery in high school. But his three seasons in pro ball have proved that the injury is behind him. In 251 2/3 innings he holds a 2.47 ERA, a 1.097 WHIP and 246 strikeouts.
"Christian has really not missed a beat once he was 100 percent healthy and far enough out of Tommy John," Picollo said.
Recent Royals prospects on Futures Games rosters include Miguel Almonte (2013), and Yordano Ventura (2013, 2012) from the World team, and Wil Myers (2012) and Jake Odorizzi (2012) with the U.S.
But Binford differs from Ventura and Myers particularly in that he's yet to earn the label of a can't-miss prospect.
He's ranked No. 11 among the Royals' top prospects.
"He's not going to make a jump off of the one inning he'll probably throw," Picollo said. "But being on that stage, with a lot of scouts there, he's going to be viewed in the industry as a different type of prospect."
Binford's ascension this season has raised the question of a promotion, which Picollo said could be coming soon.
"It's being talked about ... It's not something we feel like we have to do tomorrow, there's nothing wrong with him continuing to pitch where he's at," Picollo said. "But it certainly is a topic of discussion here in the last seven days now it's just a matter of time of picking the right time to do it."
The SiriusXM All-Star Futures Game will take place at 4 p.m. CT on Sunday, July 13, at Target Field in Minneapolis, and it can be seen live on MLB.com and MLB Network, and followed live on MLB.com's Gameday. In addition, XM Radio will broadcast play-by-play coverage of the event live on MLB Network Radio XM 89 and Sirius channel 209. MLB.com will also provide complete coverage before, during and after the game. Fans can stay updated by following @MLBFutures on Twitter and can send and receive tweets to and from the U.S. and World Team dugouts during the game by tagging tweets with the hashtags #USDugout and #WorldDugout.
Major League Baseball, in conjunction with the Major League Baseball Scouting Bureau, MLB.com, Baseball America and the 30 Major League Clubs, selected the 25-man rosters for each club. Each Major League organization is represented, and players from all full-season Minor Leagues were eligible to participate.
Two Twins greats will be managing the squads. Longtime manager Tom Kelly will be in the U.S. dugout, while Hall of Famer Bert Blyleven will take the helm of the World Team. The U.S. Team, which has won each of the last four contests, leads the all-time series, 9-6.
Dick Kaegel is a reporter for MLB.com. Jackson Alexander is an associate reporter for MLB.com. This story was not subject to the approval of Major League Baseball or its clubs.