Teammates help veteran Ibanez rediscover youth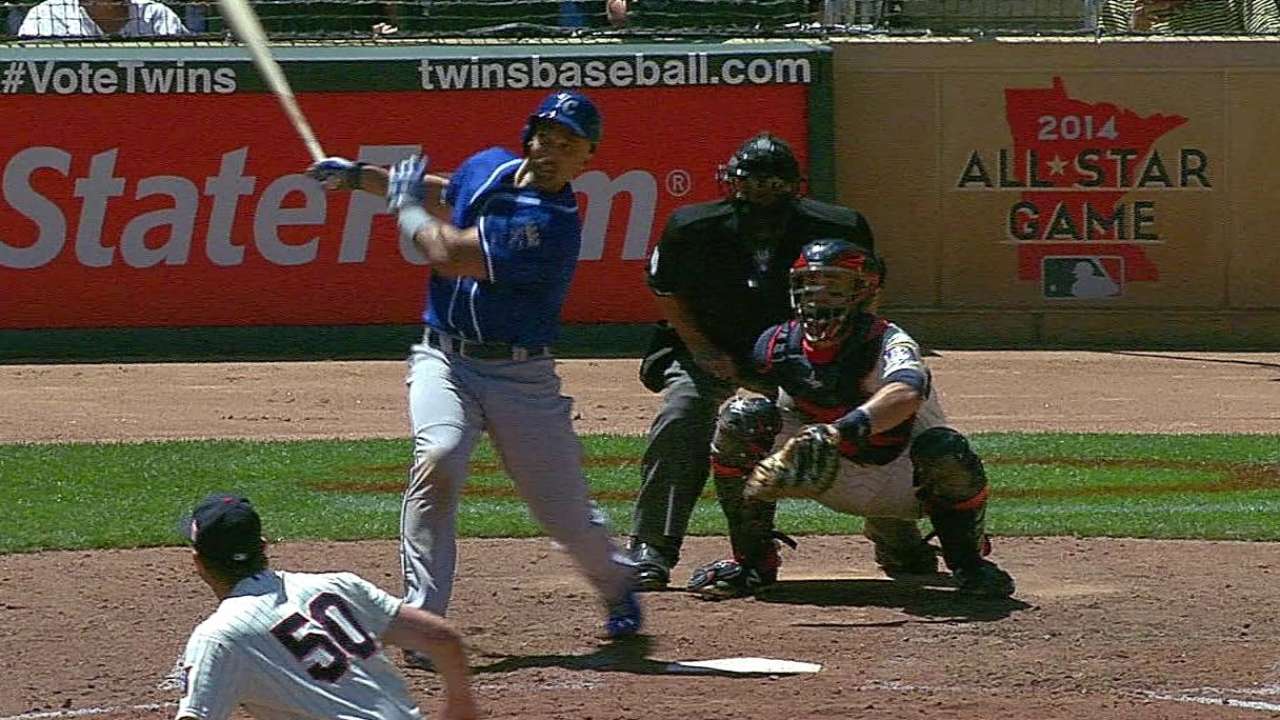 CLEVELAND -- Brazil had just scored a goal in the World Cup and the Royals' Alcides Escobar, obviously a fan, went running around the clubhouse shouting in celebration and waving a yellow Brazil jersey.
Other Royals joined in the uproar and, watching from a stool at this locker, outfielder Raul Ibanez laughed in appreciation. He's 42, but he said his much younger teammates keep him feeling young as well.
"A great group of guys, a lot of fun, a lot of energy," Ibanez said. "They play hard, they play right, they care, they work hard. I'm having a great time."
Ibanez, signed by the Royals last Monday, is well past the age when most Major Leaguers have faded away.
"How he can maintain his skills at 42 is pretty unique," manager Ned Yost said. "Some players lose their skills at 30. They lose speed, they lose bat speed, they lose range. Some guys at 32, some guys at 35, some guys at 38 -- but not many. For him to still be able to play at a high level is pretty impressive. But it takes a lot of hard work."
Ibanez confirmed that, noting that he'd started preparing to be a 40-year-old player when he was in his 20s.
"I've seen guys when they're 35 or 33, and they just start falling apart because they haven't taken care of themselves up to that point," Ibanez said. "It's a long process, and a life where you have to make some sacrifices if you want to last and be the best that you can be. You make your seasons during the offseasons. Your training and your diet and the habits that you create in the offseasons carry over. People too often are focused on the short term instead of the big picture."
Ibanez had role models in his years with the Mariners.
"When I was in my mid-to-late 20s, I was thinking about longevity, because I was fortunate to have been around Edgar Martinez and Jamie Moyer at an early age, and I watched the way that they prepared and played and trained and the stuff that they did on a daily basis," Ibanez said.
Moyer pitched his last game when he was 49. Martinez was making designated hitter history until he was nearly 42.
"The positive effects compound over time and there's a bigger reward," Ibanez said. "And, too, there has to be the passion and the fire. I think that's what leads the way."
Meantime, the kids in the clubhouse keep him thinking young.
"One minute I'm in a conversation with a 24-year-old kid and one moment I'm 42, and the next moment, I'm 24 like they are. We're talking about ridiculous fun stuff," Ibanez said. "Sometimes I get around people that I know outside the game that are my age and I will literally say, 'You guys are boring! Is this what you talk about all day?' So these guys are fun, it keeps you young."
Dick Kaegel is a reporter for MLB.com. This story was not subject to the approval of Major League Baseball or its clubs.