Royals sticking with Cain as the leadoff hitter
Aoki opens Red Sox series in No. 9 spot, looking to overcome slow first half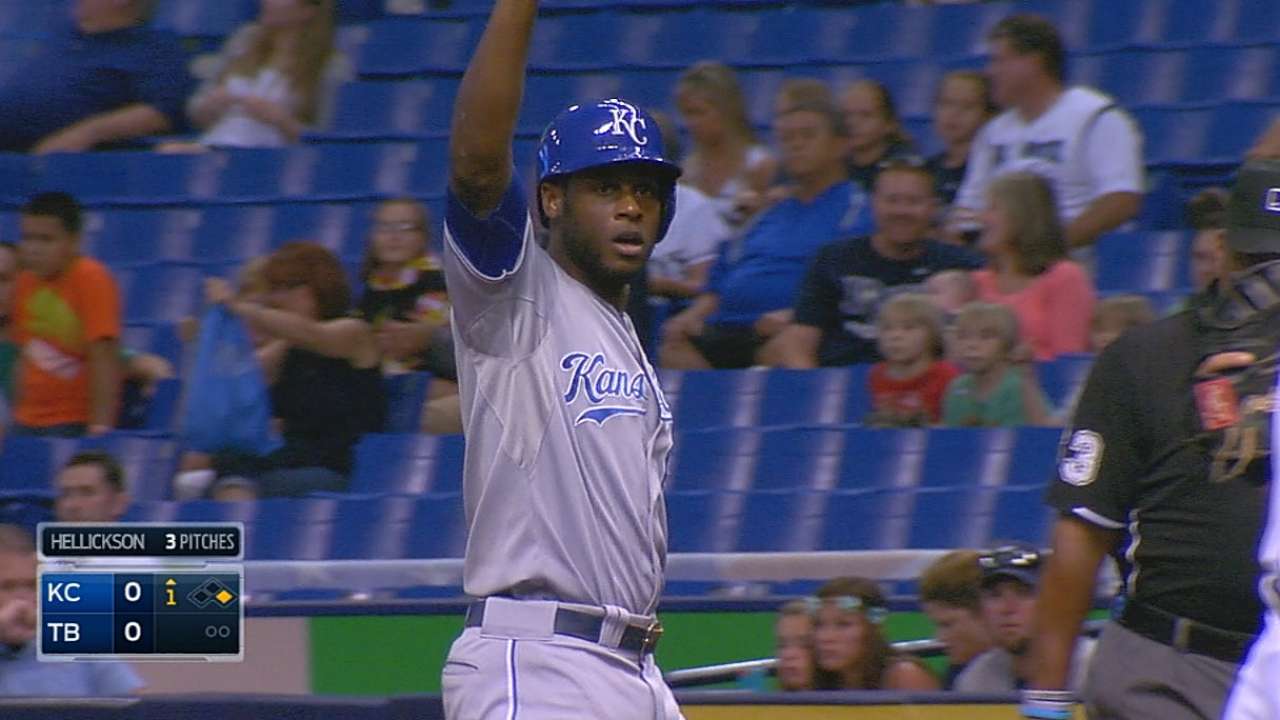 BOSTON -- No great surprise that the Royals began their post-All-Star break with Lorenzo Cain in the leadoff spot and Nori Aoki dropped to the ninth spot.
Cain has hit .338 (23-for-68) in the No. 1 position of the batting order with eight runs, eight RBIs and a .375 on-base percentage.
Aoki, who's led off most of the season, had a .260 average and an on-base percentage of .328.
Manager Ned Yost felt his only options were to put Aoki second or at the bottom and he decided to reinstate Omar Infante as the second batter for Friday night's series opener against the Red Sox.
"Lorenzo did really great out of that spot. And with the short porch for right-handers, Omar has gotten hot again," Yost said, referring to the beckoning Green Monster in left.
Aoki, a left-handed hitter, said he wasn't happy with his production so far.
"No, not at all," he said. "I hope the second half goes a lot better than the first half and I just learn from everything I did in the first half, and do what I need to do."
Cain got his shot at the leadoff spot when Aoki was on the disabled list with a groin injury. Aoki returned to the lineup during the Detroit series before the break and was 2-for-11 in three games.
Obtained from the Brewers in the offseason to be the leadoff batter, Aoki doubted that the change from the National League to the American League has made a difference for him.
"I just think it's a matter of me personally. I feel the problem was within me the whole time," Aoki said.
"He'll get it going," Yost said.
Yost told reporters that he has three choices for the third outfielder to go with Cain and Alex Gordon -- Aoki, Jarrod Dyson or Raul Ibanez.
"We look at Dyson's speed and defense, Nori's an offensive player who can produce consistent offense when he's going right, and Raul's a power guy," Yost said. "So, you look at matchups every day and decide do you want power, speed or offense, and go from there."
Dick Kaegel is a reporter for MLB.com. This story was not subject to the approval of Major League Baseball or its clubs.