Royals Minor League Report: July 18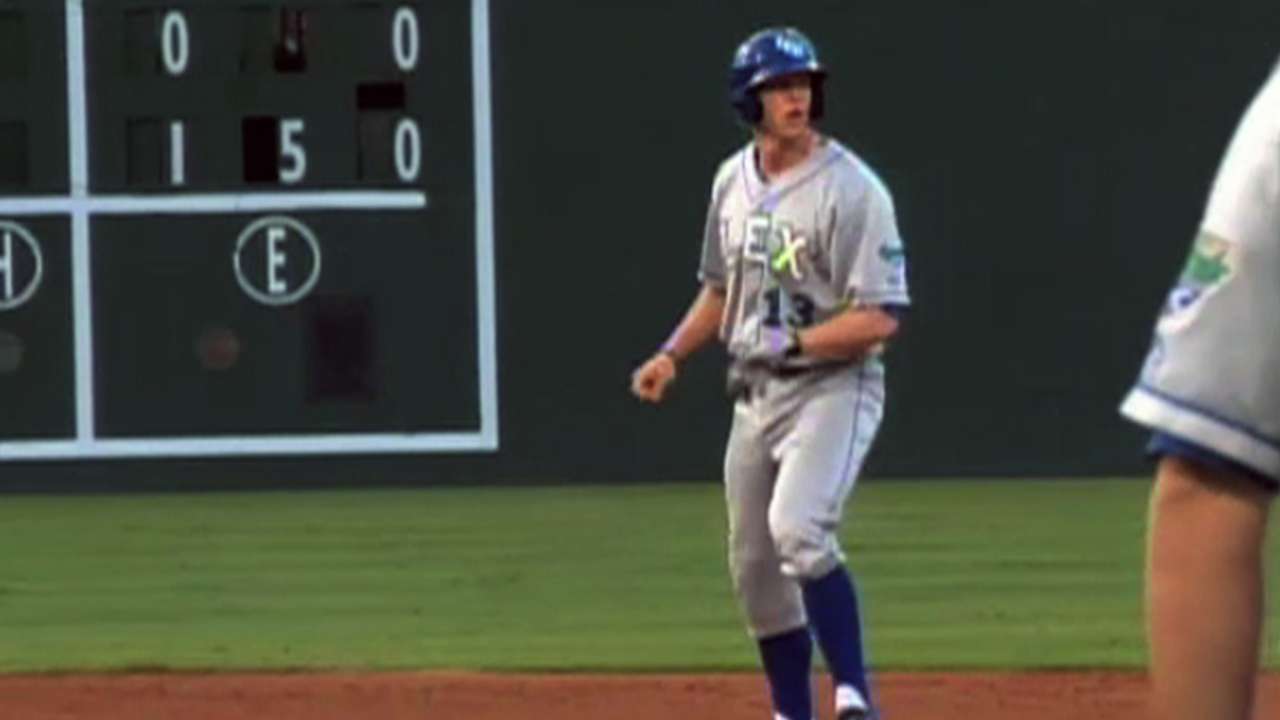 Omaha Storm Chasers (51-47)
New Orleans 5, Omaha 3
LP: Joe Saunders (0-1 with Omaha, 0-2 PCL)
HR: Johnny Giavotella (4)
The Storm Chasers fell to 2-8 this year against New Orleans. Saunders struck out two while allowing five runs (four earned), eight hits and two walks through 4 2/3 innings. Casey Coleman followed with 3 1/3 scoreless frames. Justin Maxwell recorded three hits and Giavotella had two, including a solo homer. Brad Penny tossed six innings to earn the win, allowing both of his runs in the sixth.
NW Arkansas Naturals (13-15 second half, 38-60 overall)
NW Arkansas 7, Springfield 4
WP: Ali Williams (4-1)
SV: Andrew Triggs (14)
HR: None
The Naturals snapped a four-game losing streak, evening a road set at a game apiece. Micah Gibbs recorded four hits and two RBIs. Edinson Rincon added three hits, an RBI and a run. 2013 first-round pick Hunter Dozier had two hits, an RBI and a run. Starter Matt Murray held Springfield to an unearned run over four innings, striking out three.
Wilmington Blue Rocks (14-13 second half, 47-48 overall)
Wilmington 3, Potomac 0
WP: Blake Wood (1-1)
HR: None
Wilmington was limited to one hit until the ninth, when they plated three runs to seal the finale at Potomac. Michael Antonio's sacrifice fly put the Rocks on top. Cody Stubbs added a two-run double. Jonathan Dziedzic had a tremendous start as he held the Nats scoreless on four hits and a walk over seven innings. He struck out three and lowered his ERA to 2.60.
Lexington Legends (11-18 second half, 40-59 overall)
Savannah 5, Lexington 1
LP: Matt Tenuta (4-8)
HR: None
Lexington dropped game one to a Savannah team that is 61-33. Tenuta (four innings, nine hits, three earned runs) took the loss. Pedro Gonzalez (four innings, one earned run, seven K's) set a season high in strikeouts. Dex Kjerstad posted two hits and is batting .471 (16-for-34) over his last nine games.
Idaho Falls Chukars (17-14)
Billings 10, Idaho Falls 9
LP: Nick Green (0-1)
HR: None
The Chukars lost a back-and-forth contest, snapping a nine-game winning streak against Billings. The Mustangs scored six in the seventh to take an 8-5 lead. Idaho Falls scored four in the home half. However, they could not hold the lead as Billings plated two in the ninth. Wander Franco and Mike Hill had three hits and three RBIs apiece. Franco scored three times and is batting .446 (29-for-65). Thirty-third round Draft pick DonAndre Clark added three hits and two runs.
Burlington Royals (12-15)
Burlington at Kingsport -- postponed due to rain
With the finale between the teams postponed, the game will be made up as part of a doubleheader in Burlington next Friday. The Royals are at Elizabethton (Twins) on Saturday.