Salvy isn't concerned about right groin strain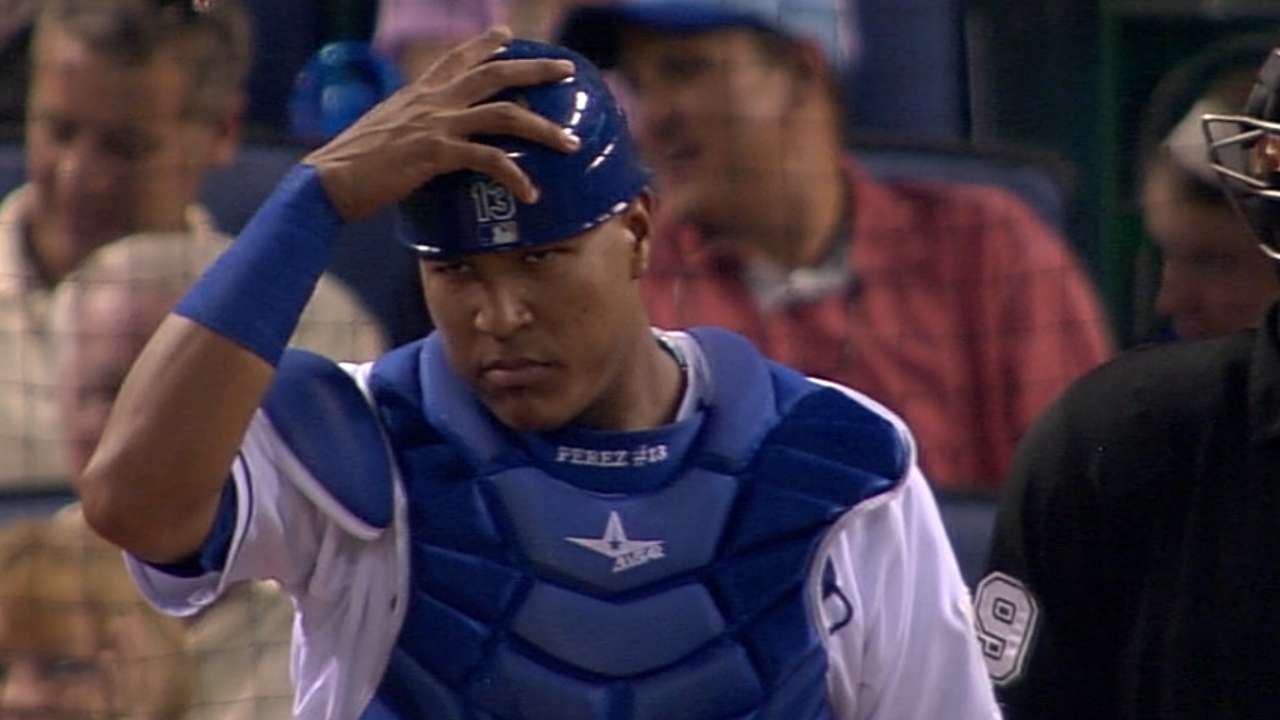 BOSTON -- As if the Royals' offense wasn't having enough problems, now All-Star catcher Salvador Perez is out of the lineup. A right groin strain kept Perez from taking the field on Sunday for the series finale against the Red Sox.
"He's a pretty integral part of our lineup," manager Ned Yost said.
There was no estimate on how long Perez might be out and, in fact, Yost said the training staff was trying to have him available for duty later in the game.
"It's nothing bad, just tight," Perez said. "It hurts my leg when I squat down."
Third baseman Danny Valencia replaced Perez as the cleanup hitter, while backup Brett Hayes took over behind the plate.
The issue developed as Perez was being chased in a rundown between third base and home plate in the fourth inning of Friday night's 5-4 loss at Fenway Park.
Perez, who had singled in a run, was at third base when Mike Moustakas grounded to first base. Perez was trapped as he headed for home, but he created a chase long enough to allow the other runners to reach second and third.
Perez stayed in the game and played the entire 2-1 loss on Saturday night, though he was hitless in four at-bats.
"It affected him a little bit swinging [Saturday], running for sure," Yost said. "He's not a burner anyway, but it still was pretty sore."
Perez, however, said that the ailment did not bother him when he swung the bat.
Perez is batting .282 with 37 RBIs and a team-leading 11 home runs. The American League's starting catcher in the All-Star Game, he leads AL backstops in hits (94) and runs (38), and he is tied for the lead in extra-base hits with 28. Perez has also thrown out 14 of 42 runners in base-stealing attempts; his 33.3 percent ranks fourth best in the league.
In losing the first two games at Boston, the Royals were just 4-for-18 with runners in scoring position. Perez had one of those hits.
Yost said that he doubted the Perez injury was severe enough to bring up another catcher from Triple-A Omaha.
"It's [an injury] that he can probably play through -- he's not [Jarrod] Dyson or [Lorenzo] Cain," Yost said, referring to his two speedy outfielders.
The manager wouldn't speculate on whether Perez would be ready for the White Sox series which opens on Monday night at Chicago.
"I'll worry about tomorrow, tomorrow," Yost said. "We'll see how he feels."
Perez, however, said that he expected to play in the series opener against the White Sox.
Dick Kaegel is a reporter for MLB.com. This story was not subject to the approval of Major League Baseball or its clubs.