Royals Minor League Report: July 20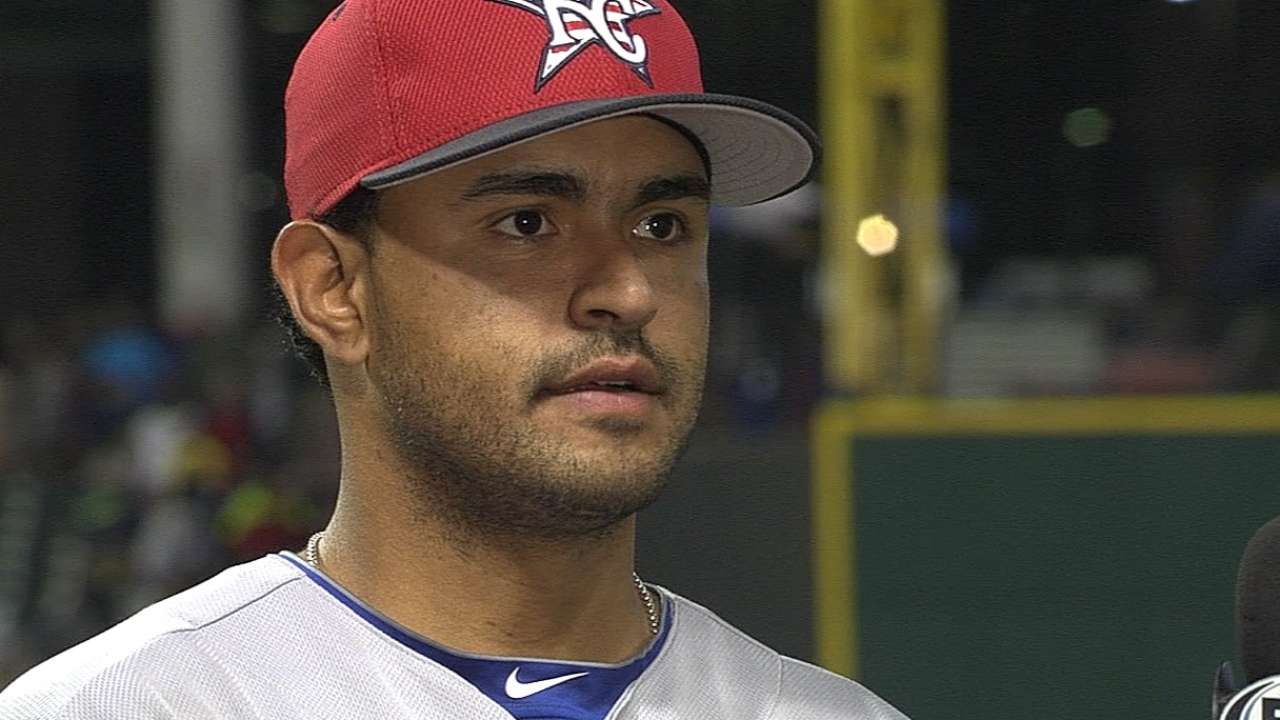 Omaha Storm Chasers (52-48)
Omaha 9, New Orleans 2
WP: John Lamb (5-8)
HR: Pedro Ciriaco (2), Christian Colon (7)
Omaha won the finale of a four-game set vs. the Zephyrs. John Lamb allowed two hits over six shutout innings with six strikeouts, and has fanned 17 over his last two starts while allowing just one unearned run. Pedro Ciriaco tied a career high with five RBIs, going 3-for-4 with a three-run homer. Justin Maxwell was 4-for-4 plus a walk and three runs. 14th-ranked Royals prospect Christian Colon added a solo homer and an RBI double.
NW Arkansas Naturals (14-16 second half, 39-61 overall)
Springfield 3, NW Arkansas 0
LP: J.C. Sulbaran (6-7)
HR: None
Northwest Arkansas finished with a 2-2 series split as the Cardinals scored three unearned runs in the second off of J.C. Sulbaran, who had five strikeouts over three innings. Malcom Culver went three innings and twelfth-ranked Royals prospect Sam Selman went two, with both posting scoreless relief outings. Angel Franco and Max Ramirez recorded two singles apiece.
Wilmington Blue Rocks (14-15 second half, 47-50 overall)
Lynchburg 6, Wilmington 5
LP: Luis Santos (2-2 with Wilmington, 6-3 overall)
HR: Raul Mondesi (2)
Wilmington scored three in the ninth before falling short. Seventh-ranked Royals prospect Bubba Starling singled home a run in the ninth and finished 3-for-5. He's batting .283 (30-for-106) since the All-Star break. Second-ranked Royals prospect Raul Mondesi hit a solo homer while Daniel Rockett recorded three hits and a run.
Lexington Legends (11-20 second half, 40-61 overall)
Savannah 5, Lexington 0 (Game 1)
LP: Luis Rico (3-7)
HR: None
Savannah 3, Lexington 1 (Game 2)
LP: Matt Alvarez (4-4)
HR: Fred Ford (8)
The Legends lost a pair of seven-inning games at Savannah. They were held to one hit in the first game, a sixth-inning single by Carlos Garcia. Fred Ford homered in the fifth inning of Game 2. Mauricio Ramos had two of the five Lexington hits in the nightcap.
Idaho Falls Chukars (18-15)
Great Falls 13, Idaho Falls 5
LP: Jake Newberry (3-1)
HR: Ryan O'Hearn (7)
Idaho Falls dropped to 1-1 vs. the Voyagers. Robert Pehl reached five times, going 3-for-3 with three RBIs and two walks. Brandon Downes added three hits and a run. Ryan O'Hearn hit a solo homer in the ninth and is tied for the league lead with seven.
Burlington Royals (13-16)
Elizabethton 8, Burlington 0 (Game 1)
LP: Scott Blewett (0-1)
HR: None
Burlington 3, Elizabethton 1 (Game 2)
WP: Julio Pinto (4-0)
SV: Estarlin Cordero (1)
HR: Brandon Dulin (5)
Burlington returned to action after two straight postponements, splitting a pair of seven-inning games at Elizabethton. The Twins hit four home runs in Game 1 while holding the Royals to three hits. Foster Griffin recorded three scoreless innings in Game 2. The 27th overall Draft pick last month, Griffin has limited opponents to one run and three hits over his first 8 2/3 innings. The 1-2-3 combination of Logan Moon, Angelo Castellano and Brandon Dulin went 6-for-11, scoring all three runs. Moon, who grew up east of Kauffman Stadium in Blue Springs, had two hits and a walk. He's batting .330 (30-for-91). Dulin, a native of Lee's Summit, Mo., hit a solo homer in the fifth. Riley King drove in the first two Burlington runs.