Hosmer scratched due to bruised right hand
Butler starts at first base, while Perez returns to lineup as designated hitter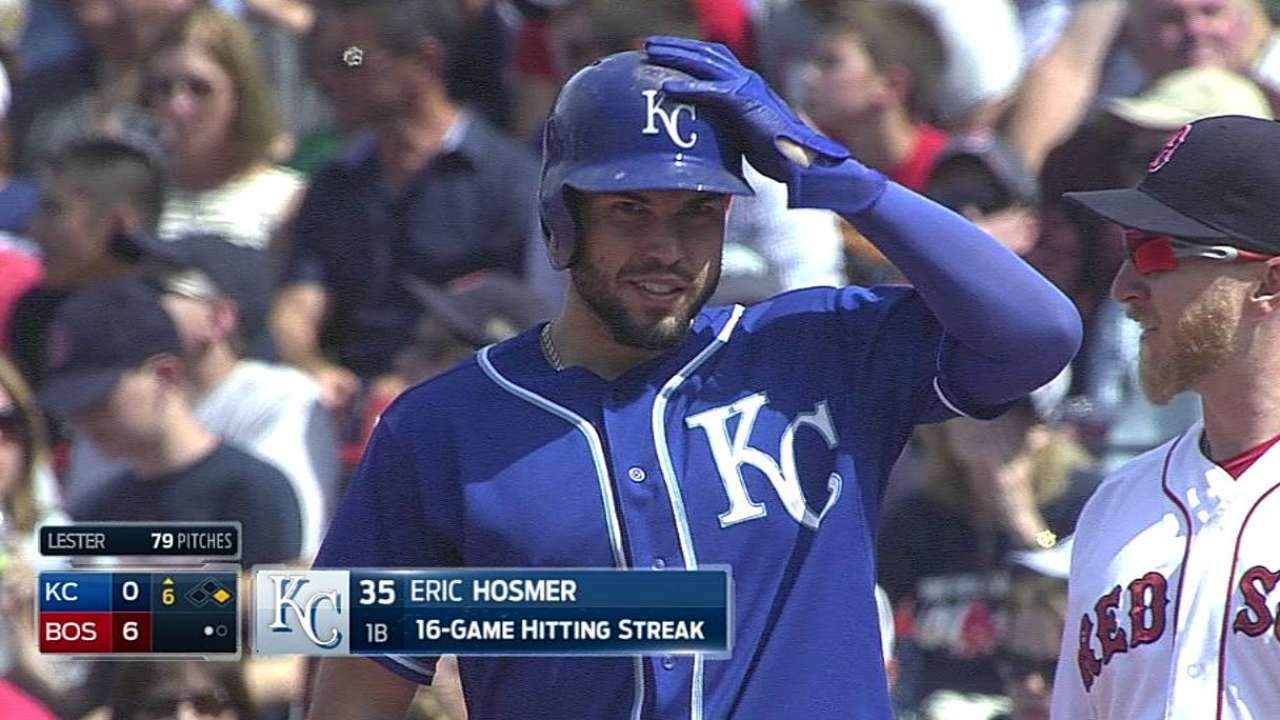 CHICAGO -- First baseman Eric Hosmer was given a break on Monday night to rest his bruised right hand.
Hosmer was struck in the hand by Jon Lester's pitch in the first inning of Sunday's 6-0 loss at Boston. He stayed in the game and was originally in the Royals' starting lineup for the series opener against the White Sox.
But shortly before game time, manager Ned Yost scratched Hosmer and put Billy Butler, normally his designated hitter, at first base for the first time this season.
However, Hosmer hopes to play on Tuesday night.
"If not, I'd say definitely the day game on Wednesday," he said.
Hosmer reported to U.S. Cellular Field early on Monday, hoping that treatment would get him ready to play.
"It was really tough to grip a bat today," he said. "I could grip it, but there was just not enough strength in the hand. It slowly got worse throughout the game [Sunday] and last night it just stiffened up a little bit. Luckily, there's nothing bad on the X-rays."
Hosmer reported the hand felt much better after the Royals' 3-1 loss to the White Sox.
"From the beginning of the day to the end of the game, there's a lot more flexibility, more range of motion," he said. "It's just basically getting the strength back now."
Hosmer had started all previous 97 games at first base and had a 16-game hitting streak going in which he'd batted .417.
In the original lineup, Salvador Perez was supposed to catch after missing Sunday's game because of a right groin strain. But when Hosmer went out and Butler switched, Perez was put in the DH slot and Brett Hayes did the catching.
Perez, though, said he was ready to catch. On Sunday, the area hurt when he squatted.
"I'm OK today, it doesn't bother me anymore," he said.
Perez also tried hitting with no problem.
"Bueno, bueno," he said.
With left-hander Chris Sale pitching for the White Sox, Yost also opted to use Jarrod Dyson in the outfield instead of Nori Aoki. Both are left-handed batters but Dyson is hitting .303 this month compared to Aoki's .150.
"We've got to find some offense somewhere," Yost said.
Dick Kaegel is a reporter for MLB.com. This story was not subject to the approval of Major League Baseball or its clubs.