Hosmer likely out for rest of White Sox series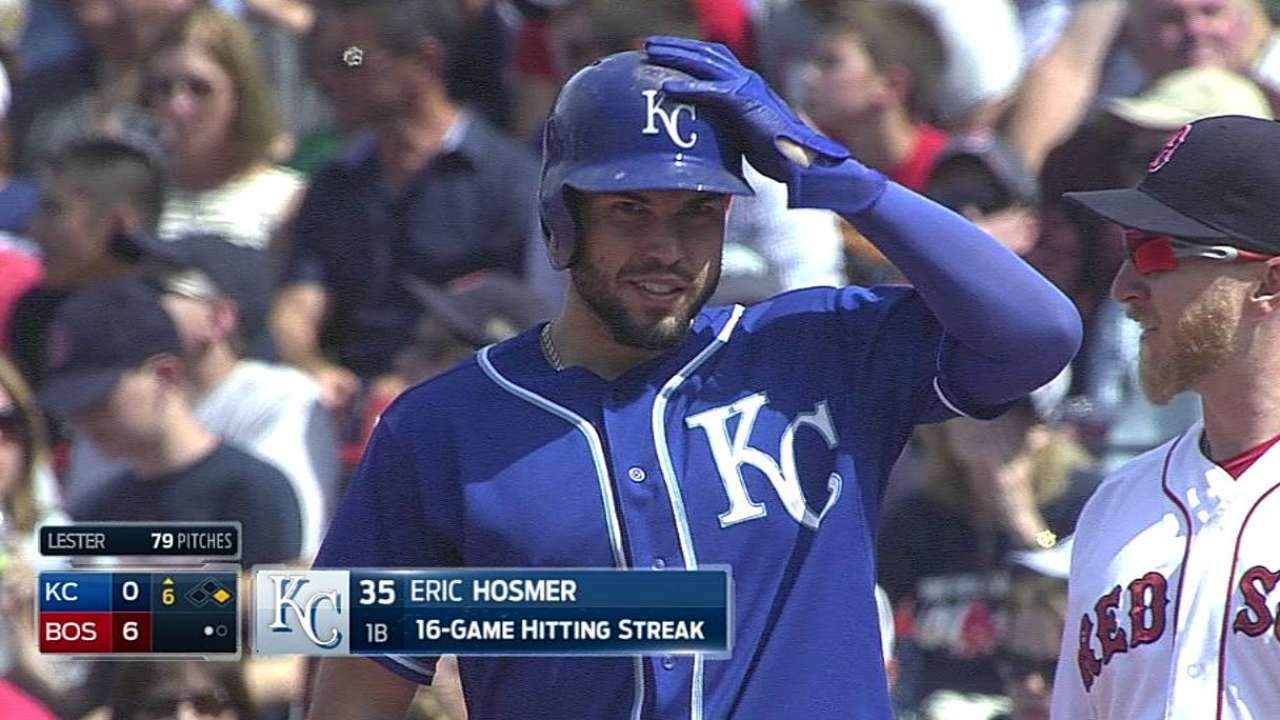 CHICAGO -- First baseman Eric Hosmer was out of the Royals' lineup for the second straight night on Tuesday against the White Sox. He also missed the series opener with a bruised right hand.
"It's definitely better," manager Ned Yost said before the game. "He wanted to try to push it today, but he still has some weakness in his hand."
Yost indicated that Hosmer also would be held out of Wednesday afternoon's final game of the road trip.
Having his hottest hitter out of the lineup for a long period is something that Yost wants to avoid. Hosmer has a 16-game hitting streak going, extending it even after being drilled in the hand by a pitch on Sunday at Boston.
"That's why I'm hoping this doesn't linger," Yost said. "Give him a couple days now and it might save him, instead of battling through it and letting it affect him for three weeks."
Yost noted that left fielder Alex Gordon, after sustaining a sprained right wrist, missed the four-game Detroit series and then skipped the All-Star Game during that four-day break, and he was able to return to the lineup.
"Get it to where it's manageable," Yost said. "That's what we did when we shut Gordy down. Gave him an injection and waited the eight days. The pain's not gone, but … it's manageable. He can play with it.
"That's what our hope is with Hoz, that we can get it to a manageable state that he can play with it until it completely heals."
Meantime, designated hitter Billy Butler is playing first base for the first time all season. Butler, though, has kept himself prepared with daily workouts at first base all season.
"Billy's been very diligent about his first base work," Yost said.
Third baseman Danny Valencia, who was hit in the left hand by a pitch in Monday night's 3-1 loss to the White Sox, is OK and able to play, although he was not in the starting lineup.
Dick Kaegel is a reporter for MLB.com. This story was not subject to the approval of Major League Baseball or its clubs.