Butler starts on bench, but fills in late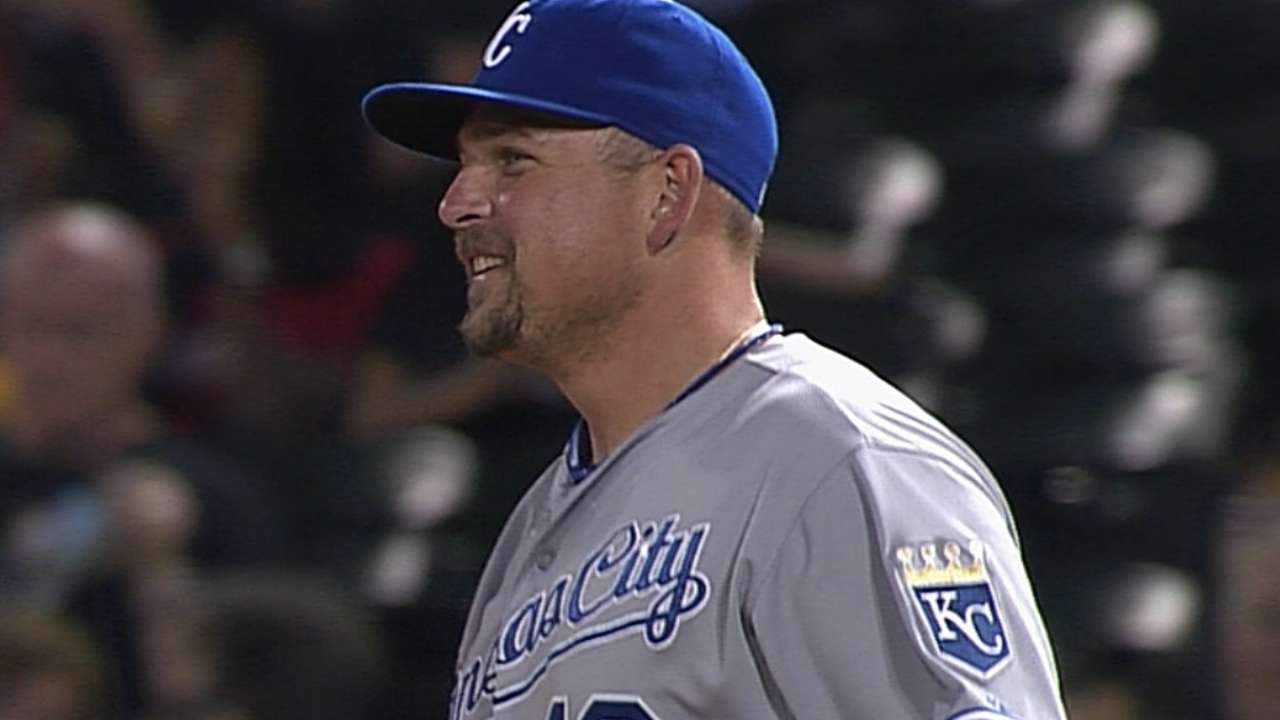 CHICAGO -- Rarely has Billy Butler been out of the Royals' starting lineup, especially against a left-handed pitcher, but that was the case on Wednesday.
Butler began the game on the bench, although the White Sox started lefty Jose Quintana. Danny Valencia took over Butler's usual designated-hitter spot. Both are right-handed batters.
"We need some production from that spot right now," manager Ned Yost said.
That took Valencia out of a platoon role with the left-handed-hitting Mike Moustakas, who was at third base on Wednesday.
"I wanted Valencia to DH today. He does good against lefties," Yost said. "Moose is swinging the bat good and Danny is swinging the bat good."
Moustakas had two home runs in Tuesday night's 7-1 win.
In addition, Butler had not done well against Quintana, facing him more than anyone else in the Majors. Butler was 5-for-24 (.208) with no extra-base hits against him entering play Wednesday.
Moustakas, despite going left-vs.-left, had hit well against Quintana, 8-for-22 (.364), with two home runs heading into Wednesday's action. Valencia had faced Quintana just eight times, getting two hits.
"He told me to take a day," Butler said. "It's been a long year and you just need a day here and there. It's not my choice; he makes the lineup. So I'll just go out there and support the team."
That's what Butler did until the eighth inning. At that point, first baseman Eric Hosmer's bruised hand forced him out of the lineup. Butler pinch-hit for Hosmer, and reliever Ronald Belisario hit him with a pitch.
Butler also took over at first base for the last two innings of the 2-1 victory. He had played first base in Hosmer's place in the first two games of the series.
Butler came up again in the ninth inning, after the Royals had scored the go-ahead run, and grounded into an inning-ending double play.
This has been a tough season for Butler, who is hitting .266 with three homers, 20 doubles and 36 RBIs in 99 games. That's well below his usual production, and he's been dropped out of the third and fourth spots in the batting order.
Butler has hit into 17 double plays, the most in the American League.
"Look around the league, the guys that lead the league in double plays every year hit the ball low and hard," Butler said. "That's how it is. I can't change my style. ... The combination of hitting the ball hard and [I'm] really slow. That doesn't help, either."
Dick Kaegel is a reporter for MLB.com. This story was not subject to the approval of Major League Baseball or its clubs.