Hosmer exits early after returning to lineup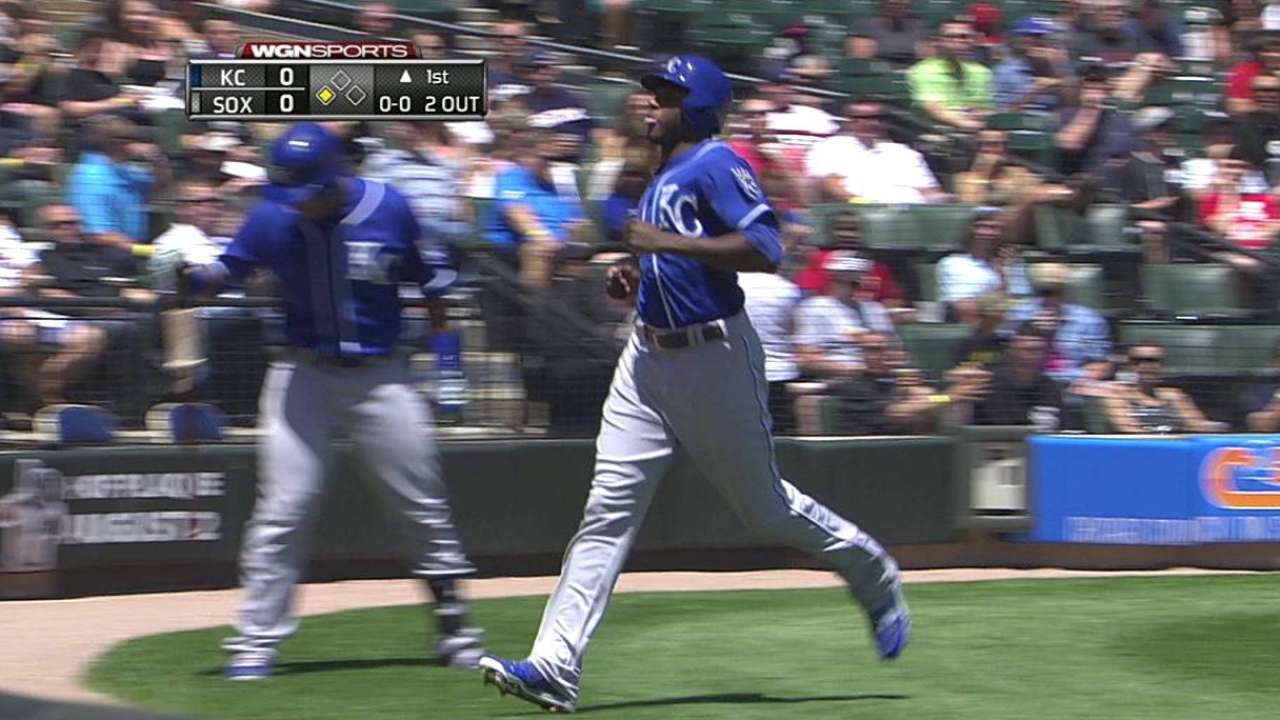 CHICAGO -- First baseman Eric Hosmer was back in -- and back out -- of the Royals' lineup during Wednesday's 2-1 win over the White Sox.
After missing two games with a bruised right hand, Hosmer started the contest but left for a pinch-hitter in the eighth inning.
The problem was that he didn't have enough strength to grip the bat properly.
"When it comes to pain, I've got a pretty high tolerance to that, but when I go to grip more, it's just giving out. It's not a matter of pain, it's just not letting me do it," Hosmer said.
He went to the plate three times, hitting a sacrifice fly and then grounding out twice. Then Billy Butler batted for him in the eighth.
"I'm trying to grind it out with the boys, and now we've got a big stretch of games, but it just wasn't smart to go back out there for another at-bat," Hosmer said. "It was the right decision."
Hosmer wasn't sure if he'd try to play on Thursday night against Cleveland as the Royals begin a homestand.
"We've got to think big picture, long-term, and if it means a couple of days [off], we've just got to get it back," he said.
Manager Ned Yost decided that Hosmer would play on Wednesday after consulting with him and head athletic trainer Nick Kenney.
"This morning it was much better. Took some swings in the cage, took some BP and looked OK," Yost said. "Actually, his first two at-bats were OK, but he had a check swing that bothered him a little. But this is something we're going to deal with. If you're going to wait it out, it's going to be a month, so you just deal with it."
Hosmer was drilled in the hand by a Jon Lester pitch in Sunday's 6-0 loss at Boston. He finished that game but sat out the first two games at Chicago, the first time he'd missed two consecutive games since April 12-13, 2013.
The Royals were eager to get him back, because Hosmer had a 16-game hitting streak, longest active in the Majors, in which he was 26-for-63, .417. That streak ended on Wednesday.
"If you're going to win a championship, guys have got to play hurt and they know it and they try it," Yost said.
"You've got to trust your guys. If they want to give it a try, you've got to give them the opportunity."
Dick Kaegel is a reporter for MLB.com. This story was not subject to the approval of Major League Baseball or its clubs.