Bruised hand keeps Hosmer from starting lineup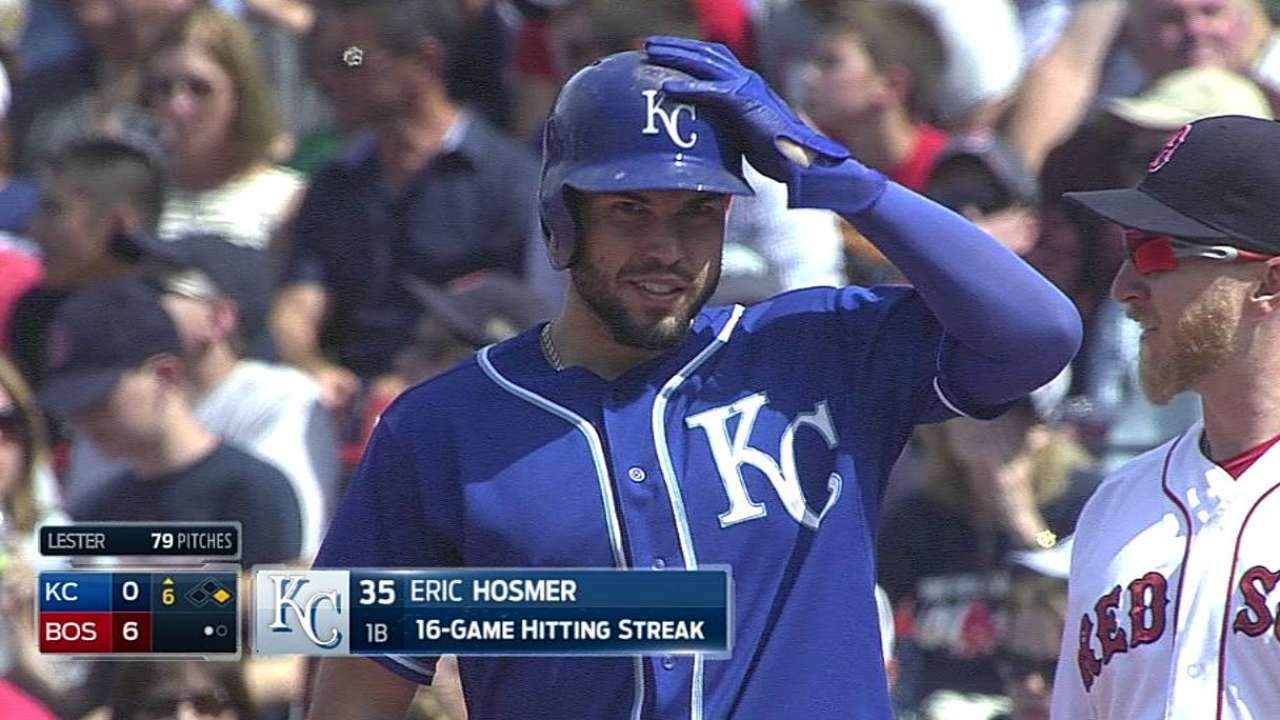 KANSAS CITY -- Eric Hosmer knows the significance of every game at the current juncture of the Royals' season, and for him, that's the most frustrating part of missing Thursday's series opener against Cleveland at Kauffman Stadium due to his injured right hand.
"It's getting late in the season, we're playing some big games, some division games, so I want to be in there," Hosmer said before the game.
Kansas City, which sits in third place in the American League Central, beat the White Sox, 2-1, on Wednesday, but lost its first baseman. Hosmer exited in the eighth inning when he aggravated the bruised right hand that forced him to miss the previous two games.
Royals manager Ned Yost classified Hosmer as day to day.
"It's a bruise that's pretty diffused over the back of his hand. He can handle the pain of it, he just loses [strength] pretty quick [with his] grip on the bat," Yost said.
Hosmer echoed Yost's diagnosis.
"If it was a thing of pain tolerance, I've got a pretty good tolerance for pain. I just try to squeeze for more strength, and it just shuts down on me," Hosmer said.
It's inopportune timing for Hosmer, who after struggling for most of the first half of the season, appeared to be rounding into form. His early departure Wednesday snapped a 16-game hitting streak.
The injury first occurred Sunday when Red Sox starter Jon Lester plunked Hosmer with a pitch in the Royals' 6-0 loss.
"It's a day-to-day thing, and as soon as the feeling is back, and we can be good to grip a bat, we can be good to go," Hosmer said.
Kansas City compensated for the loss of Hosmer by placing Billy Butler at first base Thursday, and sticking Nori Aoki at designated hitter, a position usually occupied by Butler.
Yost explained his reasoning for Aoki at DH rather than Raul Ibanez.
"It just wasn't a good matchup, numbers-wise. Ibanez against [Indians starter Corey] Kluber is 0-for-7 with three punchouts, Nori is 0-for-4 with no punchouts. .... We like the matchup better with Nori," Yost said.
Jackson Alexander is an associate reporter for MLB.com. This story was not subject to the approval of Major League Baseball or its clubs.