Royals Minor League report: July 24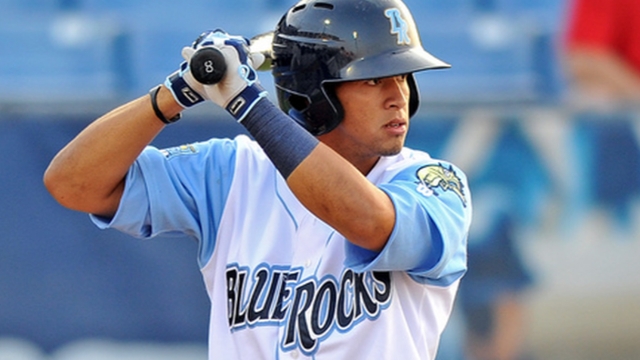 Omaha Storm Chasers (54-50)
Omaha 3, Memphis 2
WP: Casey Coleman (4-0)
HR: Carlos Peguero (13)
Pedro Ciriaco scored the game-winning run in the 10th as Omaha earned a 2-2 split at Memphis. Carlos Peguero tied the game at 2-2 with a solo shot in the fourth. Aaron Brooks held the Redbirds to two runs, six hits and a walk over 7.0 innings. He struck out seven while lowering his ERA to 3.84. Casey Coleman tossed 3.0 scoreless innings, improving to 4-0 with a 1.39 ERA in 24 outings at Omaha.
NW Arkansas Naturals (16-18 second half, 41-63 overall)
Springfield 4, NW Arkansas 3
LP: Andy Ferguson (7-9)
HR: Micah Gibbs (2)
Northwest Arkansas dropped game one as the Cardinals plated a pair in the sixth to take a 4-3 lead. Andy Ferguson worked 5.1 innings, allowing four runs, eight hits and four walks while striking out three. Malcom Culver fanned four over 2.2 innings and Blake Wood struck out two in the ninth. 18th-ranked Royals prospect Cheslor Cuthbert recorded two hits, a walk and a run.
Wilmington Blue Rocks (17-15 second half, 50-50 overall)
Wilmington at Carolina - Canceled due to rain
Rain canceled Wilmington's finale at Carolina. The game will not be made up as it was the final game in the season series. The Blue Rocks have had 13 rainouts on the year. They are home tonight against Winston-Salem (White Sox).
Lexington Legends (11-22 second half, 40-63 overall)
Charleston 10, Lexington 3
LP: Jake Junis (8-5)
HR: None
The Legends lost a second straight vs. Charleston. Starter Jake Junis fanned eight and walked none over 4.2 innings, allowing six runs (four earned) on seven hits. Carlos Garcia doubled home two runs and Frank Schwindel recorded his 56th RBI, which ties him for 10th in the league.
Idaho Falls Chukars (19-17)
Idaho Falls 9, Orem 7
WP: Bryan Brickhouse (1-2)
SV: Zach Lovvorn (1)
HR: Ryan O'Hearn (8), Pedro Gonzalez (2)
The Chukars won the first of two at Orem. Ryan O'Hearn was 3-for-4 with a home run, four RBI and two runs, boosting his league-leading average to .403 (50-for-124). He's tied for third in home runs and is sixth with 28 RBI.
Burlington Royals (14-18)
Danville 7, Burlington 2
LP: Yunior Marte (1-2)
HR: Jose Martinez (1)
Burlington lost a contest that was delayed for nearly three hours at the outset due to rain. Shortstop Jose Martinez hit his first professional home run. The native of Venezuela played for the Dominican Royals in 2013 and will turn 18 next month.