Bullpen providing sweet relief for Royals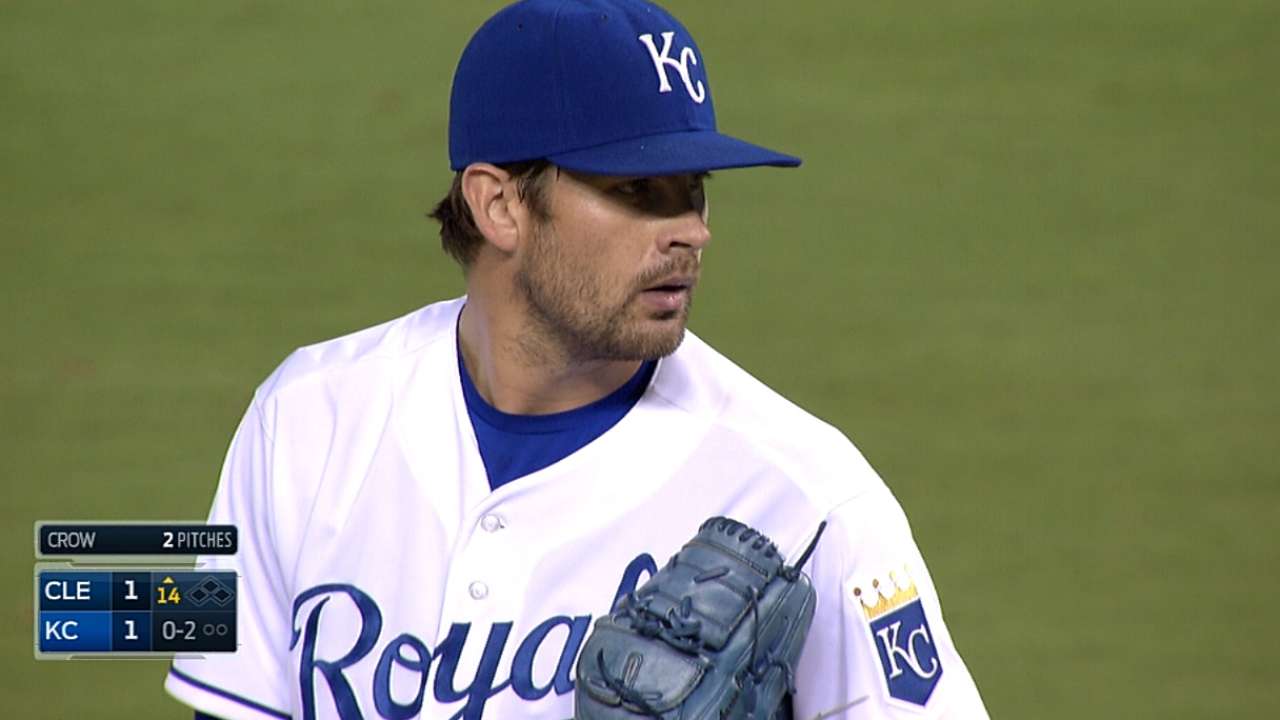 KANSAS CITY -- Lost in the jumble of Thursday's bizarre, 14-inning win was a splendid effort from the bullpen, particularly in the extra frames.
Four relievers combined to shut out the Indians over the final five innings, setting up Nori Aoki's walk-off single in the 14th.
"I believe that we have the best bullpen in the league," said Aaron Crow, the seventh and final pitcher on Thursday. "From top to bottom, we've got seven guys out there that can get anybody out at any time."
Crow earned his fifth win of the season when he struck out the side in the top of the 14th.
"He really looked good last night," manager Ned Yost said. "For Crow to give us a zero there and allow us to score that run was huge."
Before Crow, Francisley Bueno, Jason Frasor and Scott Downs locked down innings 10 through 13.
Bueno lowered his ERA to 2.14 thanks to his 1 2/3 scoreless innings, striking out three and allowing no hits.
"He's had limited innings the last three years, but every time he's up here, he's been lights out," Crow said.
Frasor, recently acquired in a trade with the Rangers, finished the 11th by striking out Yan Gomes. Downs, signed on July 6, bridged the gap to Crow with scoreless 12th and 13th innings.
"Downs and Frasor have been in the league a long time; they know how to get guys out," Crow said.
The relief corps was left to clean up a rare mess by closer Greg Holland, who blew only his second save of the season in the ninth, when he gave up the game-tying RBI single to Gomes.
"I think everyone did a great job. I'm sure Greg would tell you differently, but he's been the best closer in all of baseball the whole entire year, and nobody's perfect," Crow said.
The first one out of the bullpen was Wade Davis, who entered in relief of Danny Duffy in the eighth after seven shutout innings.
Davis escaped a bases-loaded jam by getting Michael Brantley to bounce into an inning-ending double play.
"Our nemesis over there has been Brantley. He kills us, and for [Davis] to get Michael to ground into a double play to end the inning there; that's what got lost in the game," Yost said.
The appearances of Davis and Holland marked the third in as many days for the indomitable relievers, and Yost said the two would "probably not" pitch on Friday.
The Royals survived without the duo, as Bueno, Frasor, Kelvin Herrera and Crow worked 2 2/3 scoreless innings to help secure the team's 6-4 win.
Herrera recorded the win, with Crow earning his first save of the season.
"A couple of guys probably weren't going to be available, so we knew when the late innings came around, we might be asked to do a little more than usual," Crow said. "Bueno, Kelvin, Frasor and I knew that going in, so we all came with our best stuff tonight."
Jackson Alexander is an associate reporter for MLB.com. This story was not subject to the approval of Major League Baseball or its clubs.