Ibanez oldest in Royals history to triple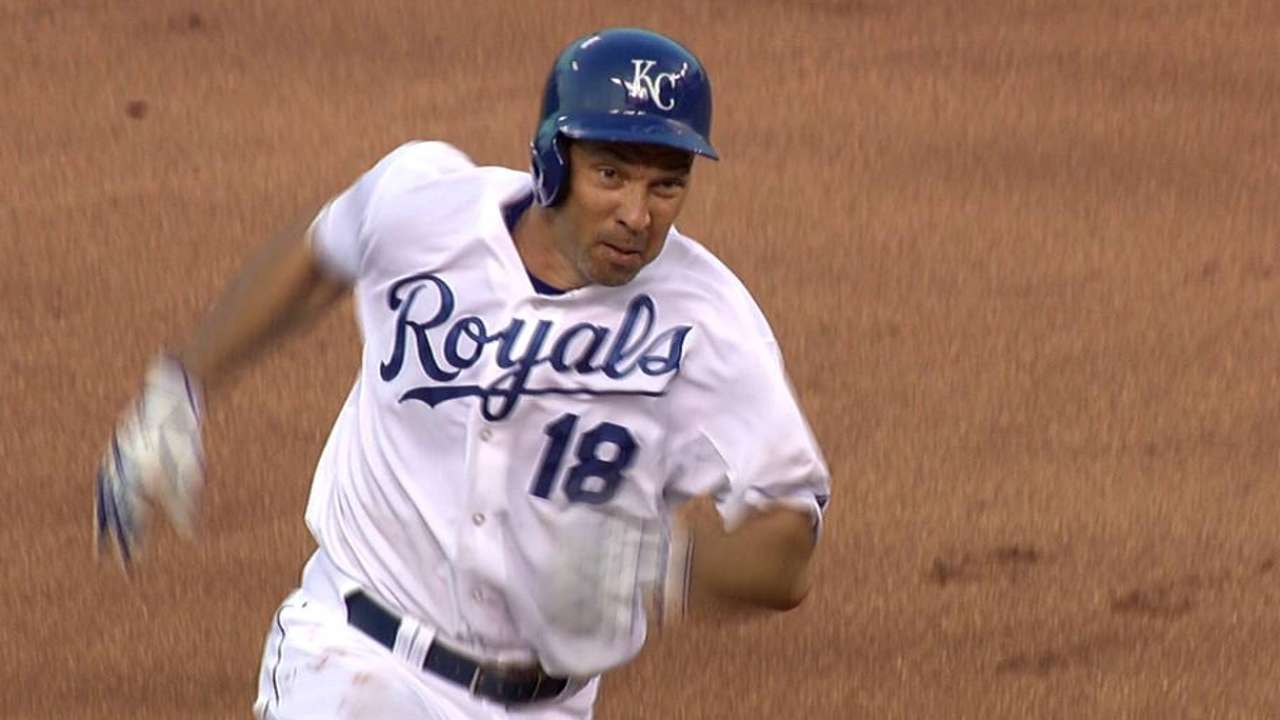 KANSAS CITY -- If anyone can attest to the difficulty of the assignment Billy Butler was given on Friday night, it's Raul Ibanez.
Ibanez's has often dug into the batter's box fresh off the bench in tight games, with the expectation that he'd find a way to produce.
"It's so tough, especially when you're facing a guy like [Indians reliever John] Axford, who's got great stuff," Ibanez said.
Butler slugged a two-run pinch-hit home run off Axford in the eighth inning to lead the Royals to a 6-4 win on Friday at Kauffman Stadium.
Ibanez can speak on the difficulty of these spots, having produced one of the most indelible late-game memories in baseball history. In 2012, as a member of the Yankees, he ripped two pinch-hit home runs, including a walk-off shot, in Game 3 of the American League Divisional Series.
"It's as tough a thing there is to do in the game of baseball, maybe the toughest, to come in and pinch-hit," Ibanez said.
But Ibanez's contributions to Friday's win were not limited to him reflecting on one of the game's biggest situational challenges. He started at first base for the Royals for the first time this season, and he became the oldest player in team history to hit a triple.
Ibanez, 42, roped an RBI three-bagger in the fourth inning, and scored on the hit when a Cleveland throw went awry. He usurped former Royal Bob Boone, 41, who set the record on Sept. 22, 1989, in Kauffman Stadium against the Mariners.
The 19-year veteran admitted to a bit of exhaustion after his mad dash around the bases.
"Conditioning, you train for that stuff, so it was nice to be able to catch your breath in the dugout after it," he said.
Jackson Alexander is an associate reporter for MLB.com. This story was not subject to the approval of Major League Baseball or its clubs.