Royals Minor League Report: July 27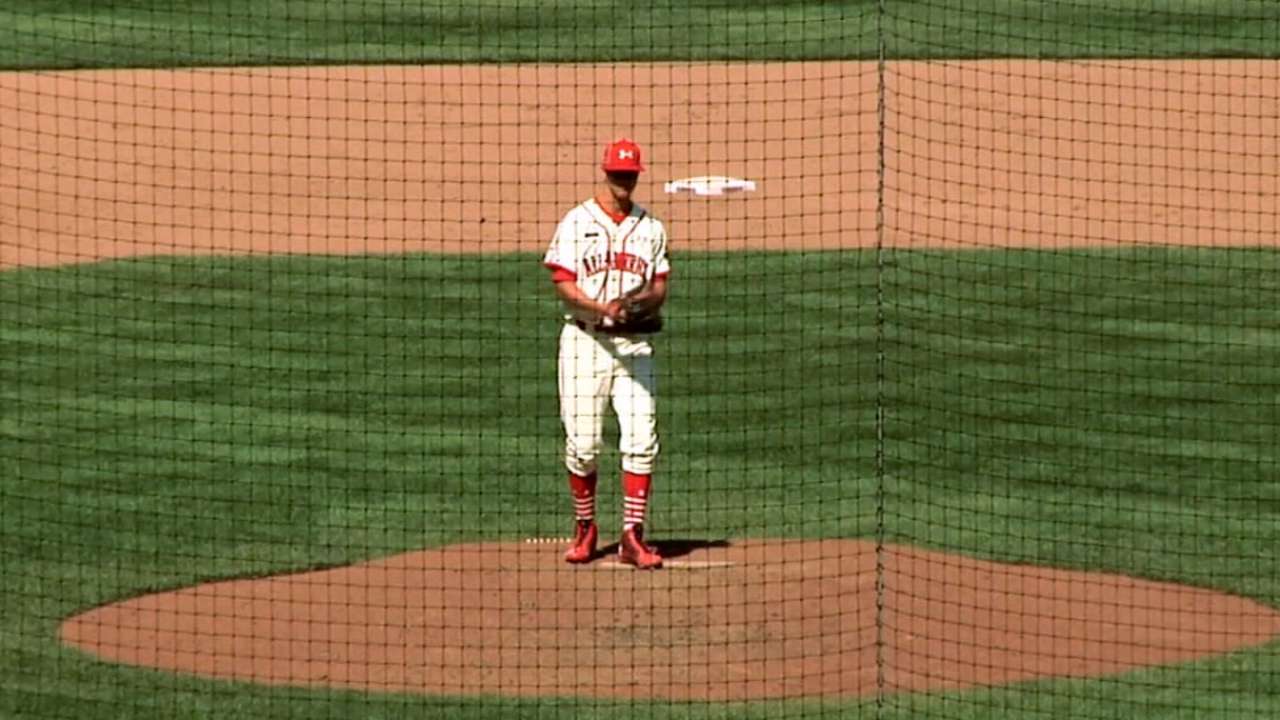 Omaha Storm Chasers (55-52)
New Orleans 8, Omaha 5
LP: Clay Mortensen (4-3)
HR: Francisco Pena (22), Christian Colon (8), Carlos Peguero (13)
Omaha lost its second straight, dropping to 1-2 in the series. New Orleans built a 3-0 lead in the first off of Clay Mortensen, who allowed seven runs on nine hits over five innings. Scott Alexander made his Triple-A debut, scattering three hits and two walks over two scoreless innings. Francisco Pena put Omaha on the board with a solo shot in the second. He has five home runs in his last 10 games and is second in the league with 22 homers. Christian Colon and Carlos Peguero hit solo homers, finishing with two hits and two RBIs apiece. Colon is currently ranked 18th among Royals prospects by MLB.com. The series concludes on Monday.
NW Arkansas Naturals (18-19 second half, 43-64 overall)
Springfield 4, NW Arkansas 4
LP: Malcom Culver (4-4)
HR: None
Northwest Arkansas settled for a 2-2 series split as the Cardinals won on a ninth-inning run. Starter Tim Melville held Springfield scoreless until the fifth, allowing two runs on eight hits over five innings. Angel Franco and Edinson Rincon posted three hits apiece, with Franco adding an RBI and Rincon scoring a run. Mark Threlkeld added two hits, two RBIs and a run. Parker Morin posted two doubles, an RBI and a walk.
Wilmington Blue Rocks (18-17 second half, 51-52 overall)
Winston-Salem 6, Wilmington 1
LP: Yender Caramo (4-6)
HR: Cody Stubbs (9)
The Blue Rocks lost the rubber game at home as they were held to one run for a second straight day. Cody Stubbs gave Wilmington a 1-0 lead on a homer in the second. The Royals' third-ranked prospect, Sean Manaea, tossed five scoreless innings, allowing five hits and four walks with five strikeouts. Winston-Salem plated three in the sixth and three in the eighth.
Lexington Legends (13-23 second half, 42-64 overall)
Lexington 5, Savannah 2
WP: Jose Miguel Rodriguez (3-1)
SV: Tim Hill (3)
HR: Kenny Diekroeger (2)
The Legends have won two in a row after an eight-game losing streak. Luis Rico held the Sand Gnats to a run over five innings. Jose Miguel Rodriguez picked up the win, allowing one run over three innings. Kenny Diekroeger gave the Legends a lead with a solo homer in the third. Savannah scored the next two runs, with Lexington plating one in the seventh and three in the eighth. Diekroeger and Mauricio Ramos recorded two RBIs apiece.
Idaho Falls Chukars (20-19)
Ogden 9, Idaho Falls 3
LP: Javier Reynoso (1-4)
HR: None
The Chukars lost both in a brief two-game set at Ogden. Idaho Falls scored once in the third, with Ogden scoring the next nine runs. The Chukars had eight hits and six walks, but were held to a 1-for-14 mark with runners in scoring position. Ryan O'Hearn reached base four times, going 2-for-3 with two walks and an RBI. He leads the league with a .405 average (53-for-131). Robert Pehl added two hits and a walk.
Burlington Royals (17-19)
Kingsport 11, Burlington 3
LP: Julio Pinto (4-1)
HR: None
Burlington lost a bid for a four-game sweep at home. Foster Griffin held Kingsport to one run on four hits and two walks through 2 2/3 innings. The 27th overall pick in this year's Draft, Griffin has held opponents to a 1.26 ERA and .157 average through 14.1 innings. He's ranked ninth in MLB.com's updated list of Royals prospects. Burlington built an early 2-0 lead as Joshua Banuelos and Cristian Cano each drove in a run in the first. Cano doubled and scored Burlington's final run in the fourth.