Royals acquire Kratz, Hendriks from Blue Jays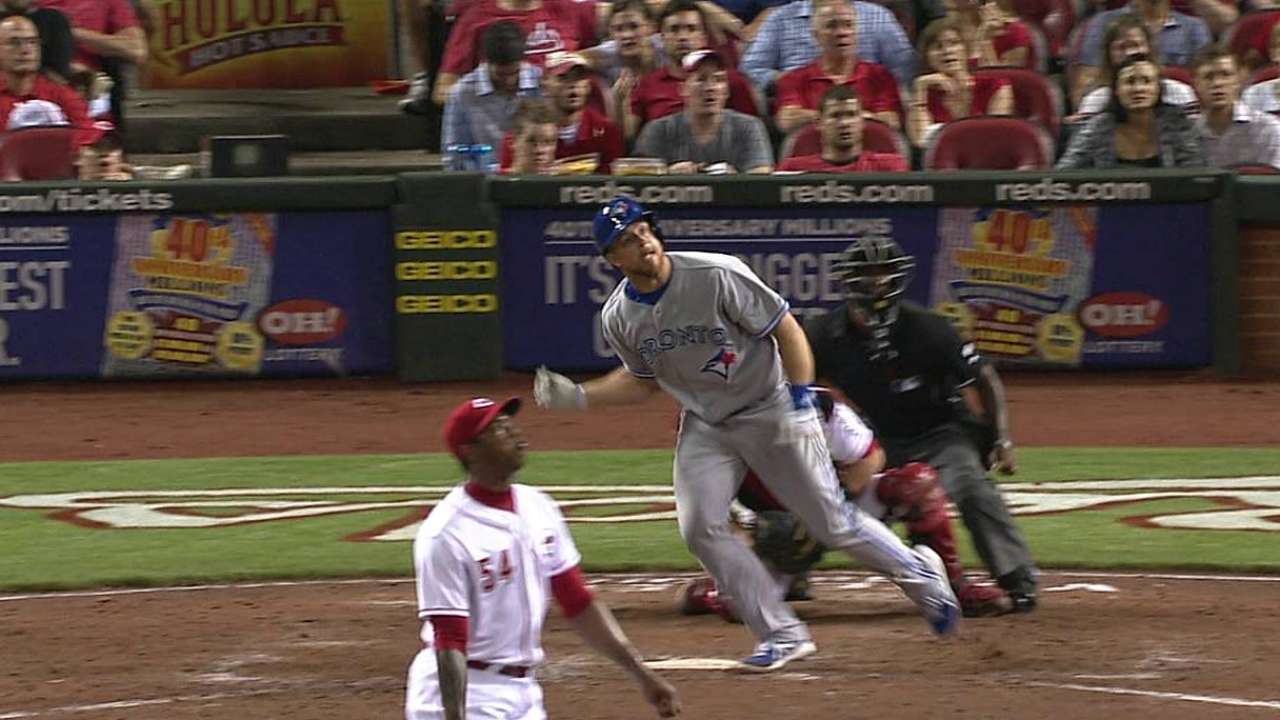 KANSAS CITY -- The Royals have a new backup catcher in veteran Erik Kratz and perhaps Mike Moustakas' platooning days are behind him.
Kratz and Minor League pitcher Liam Hendriks were obtained by Kansas City from the Toronto Blue Jays on Monday in exchange for infielder Danny Valencia.
The Royals recalled infielder Christian Colon from Triple-A Omaha to take Valencia's spot and designated backup catcher Brett Hayes for assignment.
Kratz and Colon will join the Royals for Tuesday night's series opener against Minnesota at Kauffman Stadium.
The move suggests that Moustakas' recent improvement at the plate lessens the need for the left-handed hitter to sit against left-handed pitchers. After Moustakas' slow start this season, the right-handed-hitting Valencia often had started against lefties.
"I think so. When you look at the matchups, Moose has been doing a very good job," general manager Dayton Moore said. "And Colon can also play some third."
Colon is primarily a second baseman and shortstop who was batting .301 for Omaha with 18 doubles, eight homers and 47 RBIs. Like Valencia, he's a right-handed hitter.
"Danny did a quality job for us and we just felt we had to add some depth in other areas and this move addresses those," manager Ned Yost said.
"We acquired some depth in our pitching staff at Triple-A with Liam Hendriks and we view Kratz as a quality Major League catcher," Moore said. "He can catch-and-throw and has some power in his bat. We think it will give us some depth there as well.
"And it gives us the opportunity to get Colon up here as a middle infielder and Christian has been playing very well in Triple-A. And, of course, when he was up here the first time, he made a quality impression."
Colon was with Kansas City from June 30 to July 11 and went 4-for-12, .333, in six games with two doubles and a triple.
Kratz, 34, has been bouncing between Toronto and Triple-A Buffalo this season. In 34 games for the Blue Jays, he had a .198 average with three homers and and 10 RBIs. For Buffalo, he hit .299 with three homers and 17 RBIs in 27 games.
He was third on Toronto's catching depth chart in part because backup Josh Thole is knuckleballer R.A. Dickey's personal catcher.
With three big league clubs -- Pittsburgh in 2010, Philadelphia in 2011-13 and Toronto this year -- Kratz had a .216 average, 21 homers and 63 RBIs in 163 games.
Playing behind Salvador Perez, he won't get much action. Hayes started 13 of the Royals' 104 games, batting .125 in a total of 25 games. Hendriks, 25, was named "Top Star" for the International League in this year's Triple-A All-Star Game with two scoreless innings and four strikeouts. In 16 starts for Buffalo, he was 8-1 with a 2.33 ERA with 91 strikeouts in 108 1/3 innings. He also made three starts for Toronto this year with a 1-0 record and 6.08 ERA.
From Perth, Australia, Hendriks was signed by Minnesota and pitched in three seasons for the Twins, compiling a 2-13 record and 6.06 ERA in a total of 30 games (28 starts).
Valencia, 29, was obtained by the Royals from Baltimore in the offseason in a trade for outfielder David Lough. Valencia was in 36 games for KC with a .282 average, two homers and 11 RBIs. Against left-handers, he hit .354 compared to .178 against righties.
He's expected to get some starts at third base for the Blue Jays until Brett Lawrie comes off the disabled list.
Dick Kaegel is a reporter for MLB.com. This story was not subject to the approval of Major League Baseball or its clubs.