Like Chapman, Herrera can bring the heat
Royals reliever the only other pitcher to record one of season's 100 fastest pitches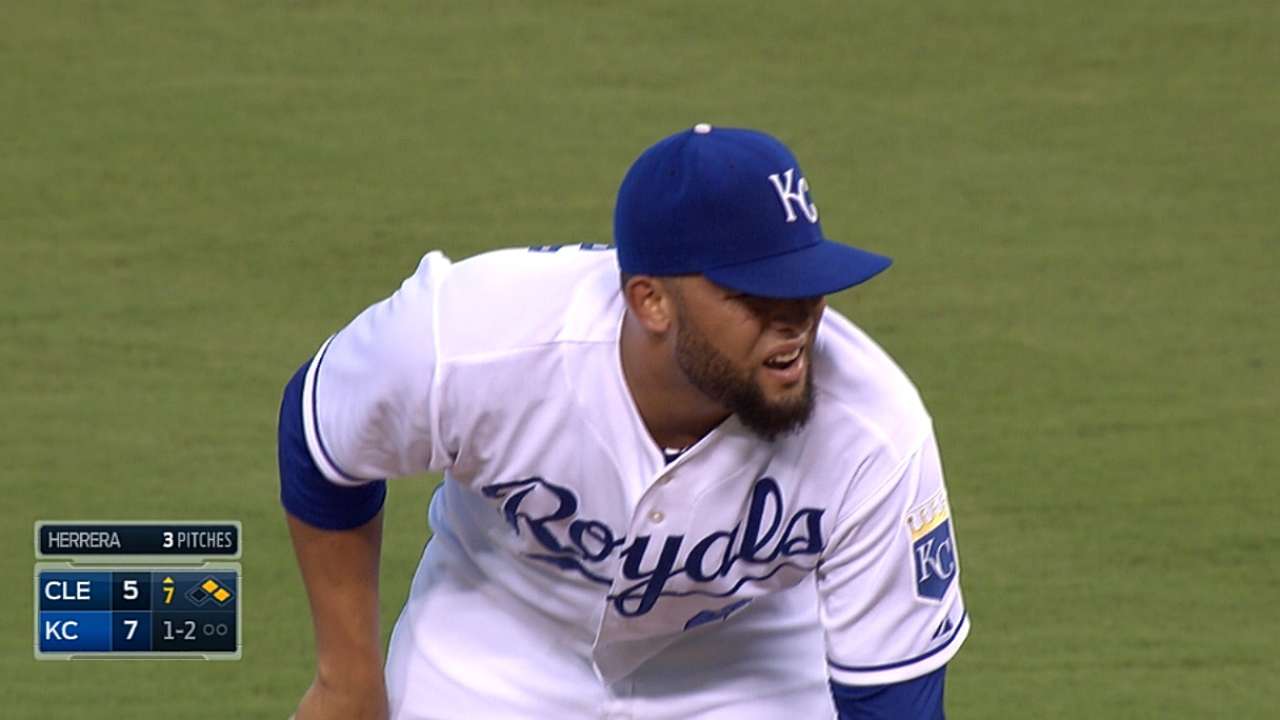 When it comes to the fastest pitches thrown this season, Kelvin Herrera is in elite and rarified company.
No one -- hitters or pitchers -- can touch what Reds closer Aroldis Chapman can do on the radar gun, particularly this year. But if anyone comes close, it's Herrera.
Chapman owns 99 of the 100 fastest pitches thrown in the Major Leagues this season, according to PITCHf/x measurements. The one exception is the 96th-fastest pitch of the year, thrown at 101.1 mph by Herrera.
"Nice," the Royals right-hander said. "I threw like four times this year at 101, against [Robinson] Cano, against [Mike] Napoli and against [Josh] Hamilton. I don't remember the other one."
The other one happened to be the pitch that got him that spot on the list. It came on June 27 against the Angels' Kole Calhoun. Herrera, pitching in the top of the sixth, got Calhoun to ground into a fielder's choice in that at-bat.
"I haven't been trying to throw hard just to get on that list," Herrera said. "But if I'm there, it's good to know that I've got a good arm."
Chapman has thrown 35 of baseball's fastest 37 pitches since 2008 -- the fastest being 105.1 mph on Sept. 24, 2010 against San Diego's Tony Gwynn Jr.
According to PITCHf/x's calculation of the 6,878 pitches thrown 99 mph or faster in that same span, Herrera has thrown 580 of them. The fastest was that heater to Calhoun.
Herrera, now in his third full season in the Royals bullpen, is learning at 24 that speed alone isn't everything.
"Sometimes I get mad and try to overthrow but just one pitch," he said. "I'm just trying to throw quality pitches because I remember last year I tried to throw as hard as I can and that doesn't work. I'm just trying to get bat contact and get ground balls. That's my goal."
While Herrera says he's throwing more fastballs this year, they're two-seamers that he's been able to keep down in the zone.
So while he's not trying overtake Chapman, Herrera still gets a kick out of being able to throw hard enough to be the second guy on the top 100.
"I feel proud," he said. "When you're a little kid, you want to throw harder than anybody. If somebody told you they don't want to throw 100 miles an hour, he's a liar, just making that up. Who doesn't want to throw 110? Even [Bruce] Chen, I think."
Joey Nowak is a reporter for MLB.com. Follow him on Twitter at @joeynowak. This story was not subject to the approval of Major League Baseball or its clubs.