MLB.com Columnist
Tracy Ringolsby
What's the deal with July? Recapping everyone's moves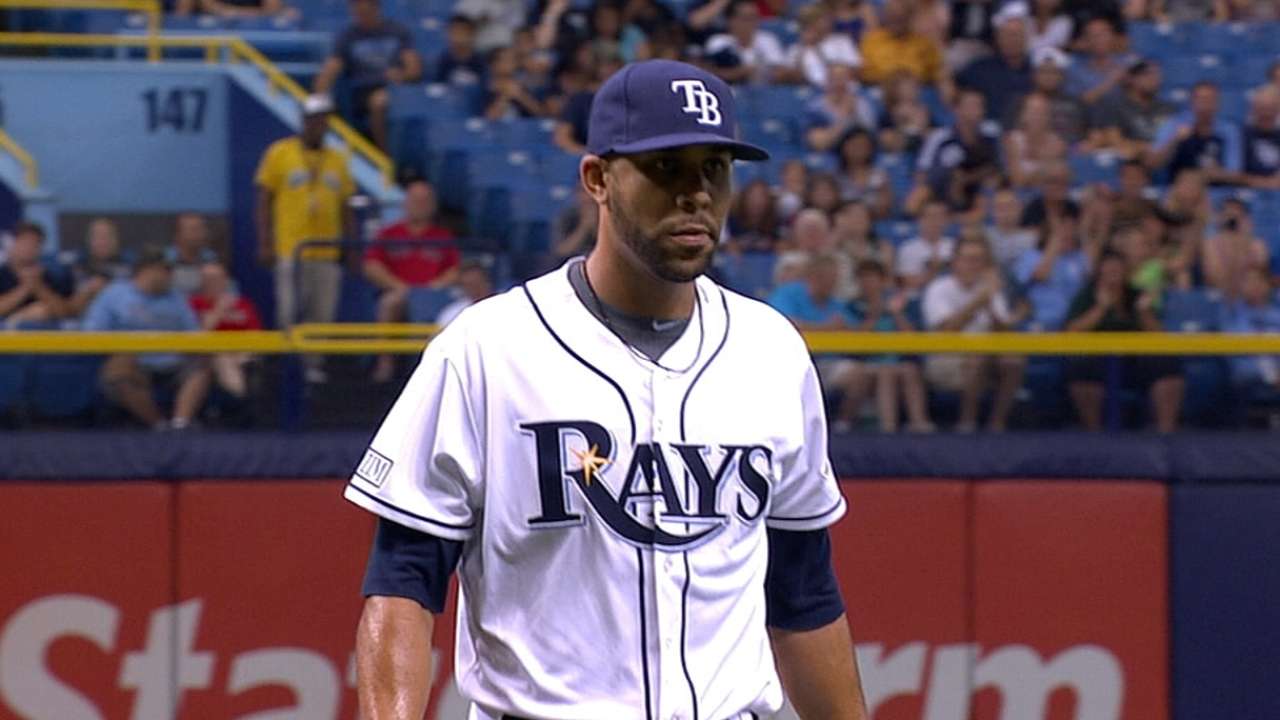 With two months remaining in baseball's regular season 17 teams found themselves within five games of a postseason berth on Friday morning.
The competitiveness of the teams involved was apparent in July, especially on Thursday, the final day teams could make a trade without having to get a player through waivers.
The second busiest July 31 Trade Deadline in history -- and the most active since the deadline was moved up eight hours from midnight ET to 4 p.m. -- saw 18 teams, including 10 of the postseason hopefuls make a deal in hopes of enhancing their chances to be a part of the October showdown.
POINT MADE
The A'S started their roster shakeup in early July, packaging prime prospects and shipping them to the Cubs for starting pitchers Jeff Samardzija and Jason Hammel in a move that came on the heels of being swept in a series by Detroit, the same team that has eliminated the A's in the AL Division Series the last two Octobers.
It turned out the A's weren't done. They also kicked off the activity Tuesday by landing lefty Jon Lester from Boston, showing a determination that pitching is king by giving up left fielder Yoenis Cespedes, who has another year on his contract, to land Lester, a free agent at season's end. The A's re-acquired outfielder Jonny Gomes in the deal with Boston.
TIGERS general manager Dave Dombrowski climbed into his car to make the drive from Comerica Park home after Wednesday's game figuring it was going to be a boring Thursday. He didn't have anything working, but before he pulled into his garage his phone rang and the Rays were calling to rekindle earlier talks about the Tigers acquiring lefty David Price.
By deadline time Thursday, the Tigers brought in Price and had become the first team in history to have a pitching staff that included three pitchers who won the three previous Cy Young awards -- Price (2012), sandwiched between Justin Verlander (2011) and Max Scherzer (2013). The Tigers did have to give up leadoff hitter/center fielder Austin Jackson, who went to Seattle in the three-team deal, and a top prospect. But in the search of the franchise's fifth World Series championship and first since 1984, Dombrowski said he is convinced it's the team with the best arms, not bats, that emerge in October.
MARINERS general manager Jack Zdurencik may be in the final year of his contract, but he didn't panic and overpay in his effort to create a better right-handed look to the Mariners lineup. After initially picking up Kendrys Morales from Minnesota earlier in the month, the Mariners landed the perfect fit for their roster in Jackson, and all it cost the Mariners was shortstop Ryan Franklin, who wasn't in the Mariners' plans short- or long-term.
Big deal? Real big. Not only does Jackson have a strong relationship with M's manager Lloyd McClendon, a former coach in Detroit, but he flourished in 27 games he hit leadoff in Detroit with a .333 average and .375 on-base percentage. The Mariners' leadoff hitters rank last in the AL with a .298 on-base percentage.
The ANGELS didn't do anything at the deadline, but in a 22-day period they addressed bullpen concerns, acquiring former Pittsburgh closer Jason Grilli on June 27, adding lefty Joe Thatcher from Arizona on July 5, and closing out their efforts with the July 19 acquisition of closer Huston Street from San Diego.
The CARDINALS reworked their rotation, adding John Lackey from Boston and also opening up playing time for outfielder prospect Oscar Taveras by sending Allen Craig to the Red Sox along with right-hander Joe Kelly. They also acquired Justin Masterson from Cleveland as part of an effort to restock a rotation in light of the extended absence of Michael Wacha. While Masterson is a potential free agent, the Cardinals do have Lackey for 2015 at the Major League minimum salary.
LOOKING AHEAD
The ASTROS did give up starting pitcher Jarred Cosart but received three players in return from Miami, including third baseman Colin Moran, who was in the mix for the Astros with the first pick in last year's First-Year Player Draft and wound up going to the Marlins sixth overall. The Astros also received a competitive balance draft pick from the Marlins.
For the third year in a row, the CUBS added prospects at the Deadline, acquiring catcher Victor Caratini, now considered their 13th best prospect, from Atlanta in the trade of Emilio Bonafacio and lefty James Russell. Earlier, the Cubs added and shortstop Addison Russell (Cubs No. 3 prospect) and outfielder Bill McKinley (No. 9), in the earlier July deal that sent Samardzjia and Hammel to the A's. The Cubs have added seven of their current top 20 prospects in deals since 2012.
The D-BACKS added prospects and just as importantly created some payroll flexibility by dealing infielder Martin Prado, who was guaranteed $22 million over the next two seasons, and outfielder Gerardo Parra, likely to get at least $6 million in arbitration, moves that were critical given this year's $110 million payroll. They also could find an August taker for second baseman Aaron Hill whose $28 million owed over the next two seasons should allow him to clear waivers.
The INDIANS were not expected to offer arbitration to potential free agents Masterson and Asdrubal Cabrera so they dealt them for prospects, receiving infielder Walters from the Nationals and outfielder James Ramsey from the Cardinals. They did have to pick up the remainder of Cabrera's $10 million salary, but they were on the hook for that if they kept him, and wouldn't have been able to add to their Minor League depth.
The PADRES began clearing veterans from roster before the Deadline, sending third baseman Chase Headley to the Yankees, outfielder Chris Denorfia to the Mariners and closer Huston Street to the Angels in exchange for prospects, but they were unable to move right-handed starter Ian Kennedy and reliever Joaquin Benoit.
The RAYS didn't claim a package of prospects for Price, choosing instead to look for a quicker return by acquiring Franklin, lefty Drew Smyly and Class A shortstop Willy Adames, who was considered the third-best prospect in the Tigers system. They are looking to minimize the amount of time it takes to return to contention in the AL East.
Also showing a desire to make a quick rebound, the RED SOX became the first defending world champion to give up three members of a World Series rotation in the subsequent season (Lester to the A's, Lackey to the Cardinals and Jake Peavy to the Giants). They also sent lefty reliever and potential free agent Andrew Miller to the Orioles and unloaded shortstop Steven Drew on the Yankees in the first deal between those AL East rivals in 17 years. They, however, felt they started a quick rebuild with a return that included right-handed starter Kelly, Craig and Cespedes.
PATCHING HOLES
The BRAVES were limited by a budget that was exceeded during the spring, when the Braves shelled out $14.1 million to sign Ervin Santana to help a rotation that lost Kris Medlen and Brandon Beachy to elbow surgery. The Braves did, though, add versatile Bonfiacio and Russell without losing anyone off the big league roster.
The BREWERS couldn't land a right-handed reliever -- and they inquired about plenty, including Joakim Soria, LaTroy Hawkins, Joaquin Benoit, Koji Uehara, Brad Zielger and Addison Reed. They did, however, land Gerardo Parra, a Gold Glove winner and left-handed hitter who provides outfield depth because he can play all three positions.
GIANTS general manager Brian Sabean was able to try and patch the rotation with the addition of Peavy, and reuniting him with manager Bruce Bochy, who had the pitcher with the Padres. The offense, however, is going to rely on improvement from within with an eye on the pending returns of first baseman Brandon Belt and center fielder Angel Pagan from the disabled list, moves expected during the 10-game road trip that opened Monday.
The MARLINS are on the cusp of contending and decided to take a contender's approach after winning nine of 10 leading into Thursday's Deadline. They came up short in talks for Price, Lackey, Kennedy, Wade Miley and Tommy Milone, but added Cosart from the Astros to help offset the loss of Jose Fernandez, who is out until, most likely, the All-Star break next year after Tommy John surgery.
The NATIONALS know that Ryan Zimmerman is a critical player, but injuries continue to haunt them so they addressed the need for infield depth by acquiring Cabrera from Cleveland, planning to put him at second so that Anthony Rendon can remain at third while Zimmerman recovers from a strained hamstring. It also leaves the door open of a position change for Zimmerman when he does return.
While they were looking to make an impact deal, the ORIOLES settled on a fourth lefty for the bullpen, Andrew Miller, after finding the asking price too high in efforts to land a proven starting pitcher, refusing to part with Dylan Bundy, Hunter Harvey or Kevin Gausman.
MOVING PARTS
The YANKEES weren't able to make an impact deal, but they did shuffle the deck, hoping to hit on a winner. They made an early July move to acquire third baseman Chase Headley from San Diego, and then picked up Drew, who will be asked to play second base, and the versatile Prado, who is guaranteed $11 million in both 2015 and 2016.
The TWINS claimed outfielder Sam Fuld on waivers from Oakland back in April, and it paid off on Thursday when the A's, reacting to Milone's trade request, dealt the lefty to the Twins for Fuld, who provide outfield depth in light of the A's trading Cespedes. Milone was odd-man out in A's rotation after the recent moves, but had won his last six big-league starts before the A's sent him to Triple-A Sacramento.
ON THE SIDELINES
The DODGERS did add potential utility-infield help with Darwin Barney from the Cubs, initially sent to the Minors so he could get time in at third base and shortstop in addition to his natural second base, but they wouldn't bite on attempts by teams like Tampa that attempted to pry their top prospects away in a trade for Price.
The BLUE JAYS had a wish list that included a starting pitcher and bullpen help, but working with a budget that had no wiggle room, Toronto needs to make its run at the postseason with what it already has.
The METS created a stir when it surfaced that they would like to acquire shortstop Troy Tulowitzki from the Rockies. When they found out the price, however, the conversations never got serious. The Rockies wanted a package that would start -- yes start -- with right-handed Zack Wheeler and prime prospects Brandon Nimmo and Noah Syndergaard.
In position for a second consecutive postseason appearance, the PIRATES made a run at both Lester and Price, but they are left to follow the same path as a year ago, when they challenged the waiver wire and made August deals for Justin Morneau, John Buck and Marlon Byrd.
The RANGERS were looking to move outfielder Alex Rios and left-handed reliever Neal Cotts, but with the idea they both could return next year there was never an offer that caught general manager Jon Daniels' attention. As a result, the Rangers July consisted of moving relievers Soria to the Tigers and Jason Frasor to the Royals for three Minor League pitchers.
The REDS went from 1 1/2 games back of NL Central leader Milwaukee at the All-Star break to 5 1/2 out and in fourth place with an offense victimized by Joey Votto and Brandon Phillips landing on the disabled list and Jay Bruce struggling. The price of doing business to patch those holes was not worth the gamble.
The ROCKIES had teams asking about Tulowitzki, Jorge De La Rosa and Hawkins, but they feel all fit better in long-term plans than what they were offered. Tulowitzki is signed to a team-friendly deal that binds him to the Rockies for six more seasons, meaning he's further from free agency than any player on the roster. De La Rosa may be a back-end rotation arm for most teams, but for the Rockies he's living proof that pitchers can thrive, not just survive, at Coors Field, where he is 42-14 lifetime. Plus, he has said he wants to stay in Colorado. Hawkins fits any budget at $2.25 million this year with an option at the same for 2015.
The ROYALS were looking for outfield help and rotation additions, but wound up settling for backup catcher Erik Kratz and pitcher Liam Hendricks from the Blue Jays for third baseman Danny Valencia, far from what they had wanted to try and improve their bid to end a postseason drought dating back to 1985.
The PHILLIES had interesting names to offer, but general manager Ruben Amaro declined to have a fire sale so he held on to his high-priced veterans.
The WHITE SOX never got involved in serious talks, although there was speculation the Yankees had interest in lefty John Danks.
Tracy Ringolsby is a columnist for MLB.com. This story was not subject to the approval of Major League Baseball or its clubs.