Royals' Colon focused on doing whatever team needs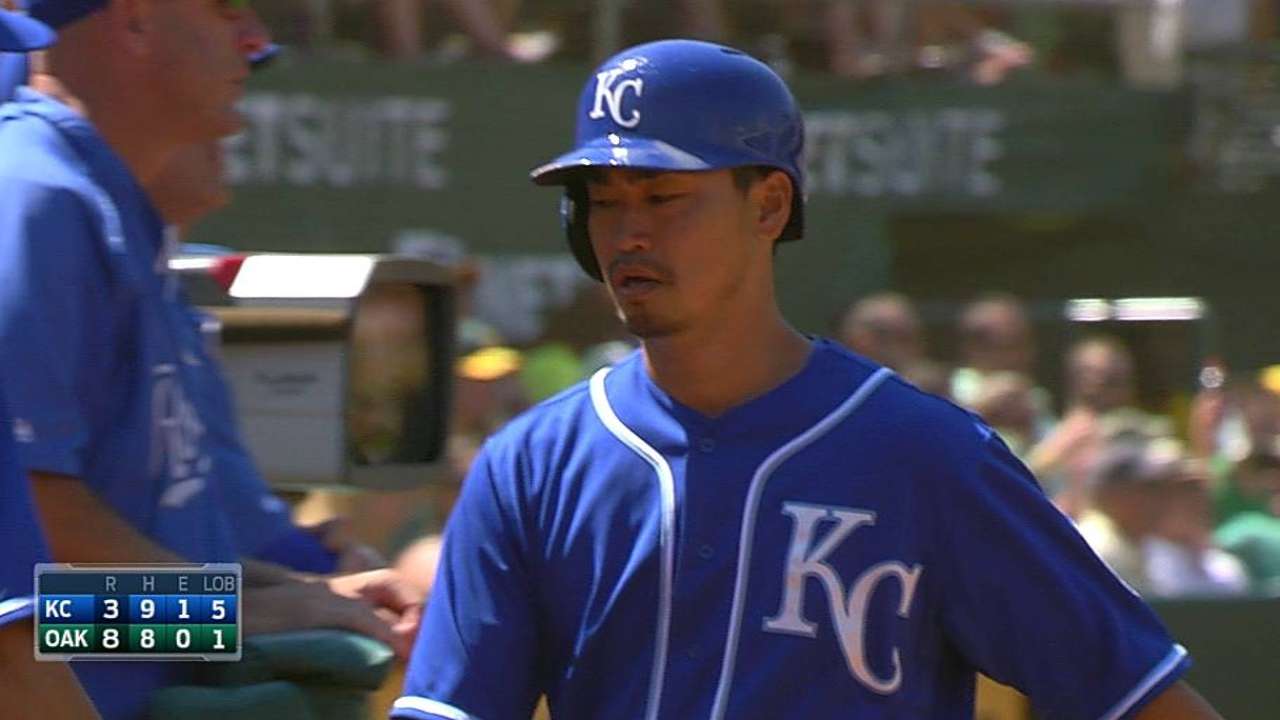 OAKLAND -- For the first time since being recalled from Triple-A Omaha on Tuesday, infielder Christian Colon was in the starting lineup, playing third and batting seventh in Sunday's series finale in Oakland.
The 25-year-old rookie took the place of slumping Mike Moustakas, who entered play Sunday hitless (0-for-8) during the current series in Oakland and 2-for-26 over his last seven contests.
"It's very exciting any time you get to come up here and try to help these guys win," Colon said. "To be around them, it's about winning, that's all it's about. It's fun and exciting for me to watch these guys play, day in and day out."
Colon entered Saturday's 8-3 loss as a pinch-hitter and delivered an RBI single against A's lefty Jon Lester. There's a chance the right-handed hitter could see a second straight start on Tuesday when the Royals face the D-backs and southpaw Wade Miley.
"If Chris has a good game, maybe he'll be back in there," manager Ned Yost said.
Colon, who was the No.4 overall pick in 2010, is ranked as Kansas City's No. 18 prospect and made his debut on July 1. After batting .307/.361/.430 in Triple-A with eight homers, 47 RBIs and 15 stolen bases, Colon has had to adjust to life on the bench with Kansas City.
Not that he minds.
"Whatever you're called to do, you have to be ready to do," Colon said. "It's a mindset. In Triple-A, I played every day, and now here, I'm doing whatever I can to help the team. That's what my role is on this team in 2014. It's about just knowing your role and doing your job."
Alex Espinoza is a contributor to MLB.com. This story was not subject to the approval of Major League Baseball or its clubs.