Gordon tallies 1,000th career hit with Royals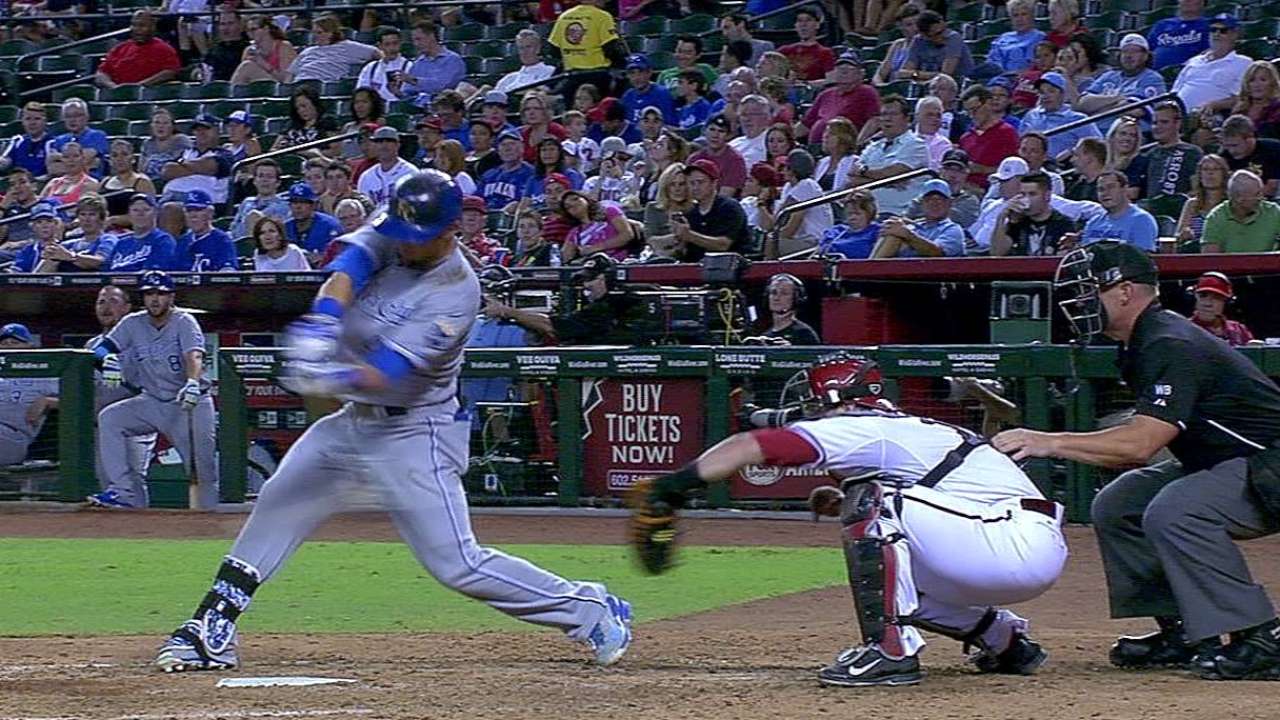 PHOENIX -- Alex Gordon now has 1,000 -- in fact, 1,001 -- hits for the Royals.
Gordon followed a three-run homer by Billy Butler by slapping a single down the third-base line against D-backs left-hander Wade Miley in the fifth inning of Tuesday night's 12-2 victory. That was his milestone 1,000th hit.
"It means a lot doing it for the same team," Gordon said. "I wish I could've done it at home, that would have meant a lot, but I'll take it."
Gordon added No. 1,001 with a single off the first baseman's glove against reliever Bo Schultz in the ninth inning.
The Royals' left fielder becomes the 10th player in franchise history with 1,000 hits. Butler's four-hit night gave him 1,234 hits, good for seventh on the list.
"Gordy's been one of the biggest pieces of this organization since I got here," manager Ned Yost said. "Of course, when I got here he was in Triple-A, but I've always believed in this kid. I always knew that he had it in him to be an All-Star-type player. To see him get his 1,000th hit and 1,001 was fun to watch."
The majority of Gordon's hits have come since Yost took over the club during the 2010 season.
"Ned was my biggest supporter and biggest believer, so I owe a lot of it to him," Gordon said. "He gave me a second chance and really believed in me, so I have a lot of respect for him."
Gordon's first hit in his career came on April 5, 2007, against the Red Sox's Daisuke Matsuzaka in a 4-1 loss.
"Broken bat -- shocker," said Gordon, notorious for breaking bats by the dozen. "And many more to come."
By that, grinning slyly, he meant broken bats.
He is the 88th player among the current active 750 players to have 1,000 hits.
"I've got the ball, the bat and the lineup card. I might frame it," Gordon said. "I usually don't look at milestones as that big of a deal, but I think 1,000 is pretty cool. Hopefully, I can get it to 2,000, but 1,000 is good for now."
Of course, atop the Royals' hit list is Hall of Famer George Brett with 3,154 so Gordon has to add 2,153 to catch him.
"No chance unless you can figure some miracle where I can't age at all," said Gordon, 30. "That's a lot of hits and it took a while to get to 1,000. I can't imagine how he got there. That's pretty special for George and all those other guys that got to 3,000."
Pretty special, too, for Gordon to reach 1,000.
Dick Kaegel is a reporter for MLB.com. This story was not subject to the approval of Major League Baseball or its clubs.