Butler picking perfect time to heat up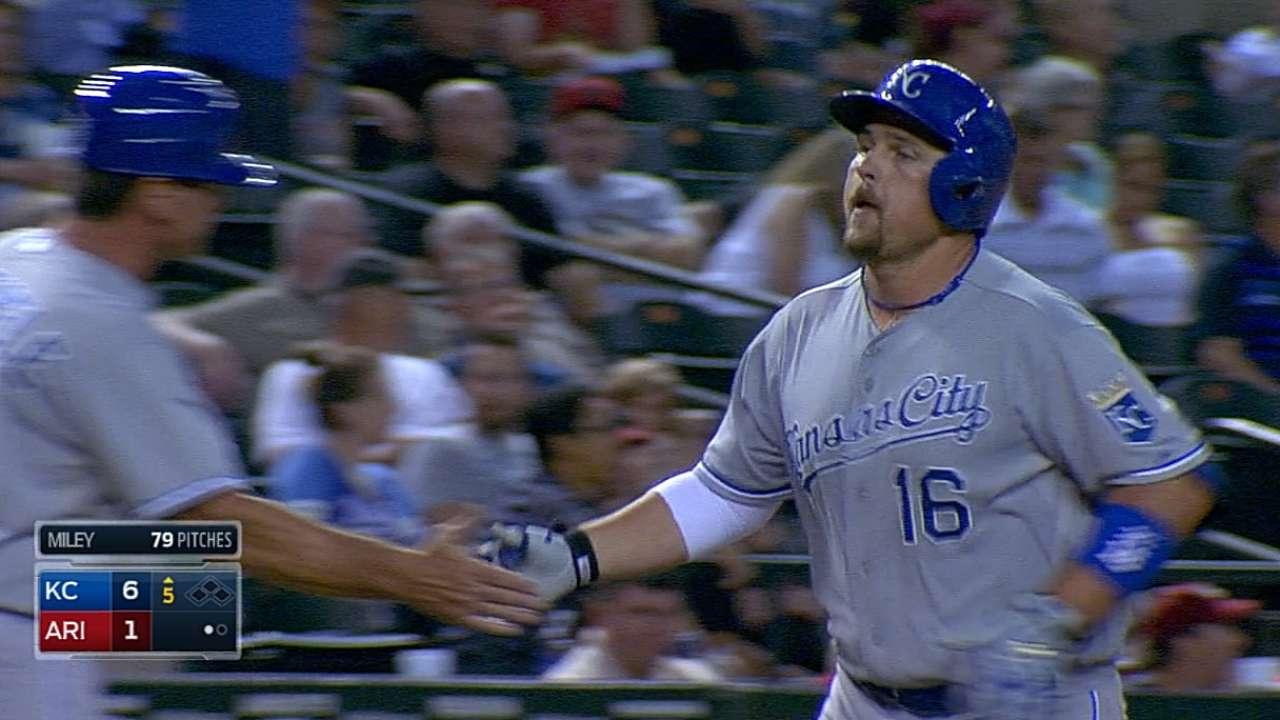 PHOENIX -- This can't be just a coincidence. Since the Royals went on their hot streak, Billy Butler's bat has come to life.
The team's 10-3 stretch going into Wednesday night's game against Arizona was accompanied by Butler's .349 (15-for-43) hitting after he'd been sluggish most of the season.
Along with that average came three doubles, three homers and eight RBIs.
What happened with Butler?
"I have no idea, I'm just glad he's hitting," manager Ned Yost said.
Or as Butler put it: "It happens."
It comes at a good time because Eric Hosmer is out of the lineup with an injured hand and, in fact, Butler has moved from designated hitter to playing first base for Hoz. Previously in National League cities, Butler was on the bench as a pinch-hitter.
"Middle-of-the-lineup guys. We need runs and they're the ones that generate runs. It's been an inconsistent year for me and I've prided myself on my ability to be one of the more consistent guys in the league. So I'm just trying to grind it out," Butler said.
"It's been a tougher year for me. It's been good of late, we've been winning some games and I've just got to continue to come in with the same mindset and contribute any way I can."
In his five full seasons prior to 2014, Butler batted .302 and averaged 91 RBIs and just a tick under 20 home runs and 40 doubles a year.
"If you look at Billy's lifetime numbers, you know at the end of the year they're going to be comparable for the most part," Yost said.
Well, not with just six home runs and 44 RBIs going into the final 51 games. But his average was up to .276.
"His power numbers are down, but he can put power numbers up quick like [Hosmer] did last year," Yost said.
Butler isn't doing anything different lately, just his usual diligent work on his hitting.
"I'm a creature of habit. I'm consistent every day. Things just come around," he said.
So what's changed?
"I wish I could put my finger on it," Butler said.
"Yeah, he changed a lot," Yost cracked. "He started getting hits."
Dick Kaegel is a reporter for MLB.com. This story was not subject to the approval of Major League Baseball or its clubs.