Holland doesn't dwell on 100th career save
Royals closer notches milestone with perfect inning against Giants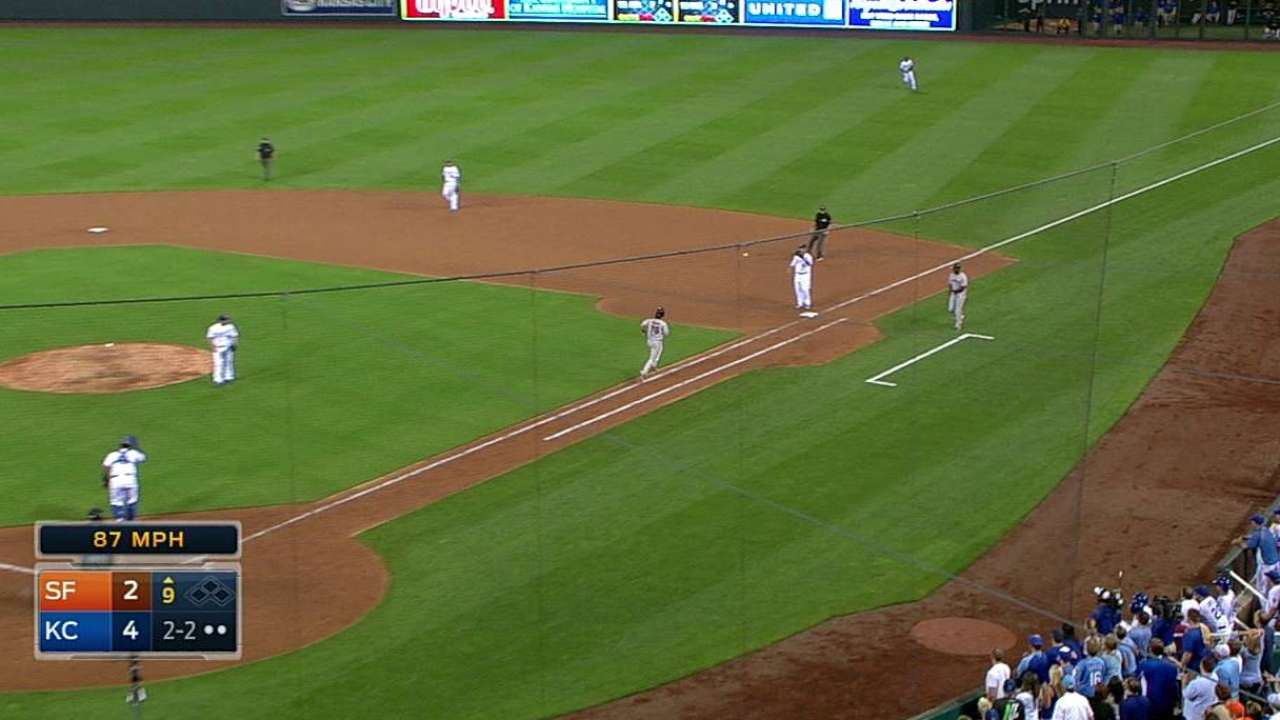 KANSAS CITY -- The first save came on Aug. 3, 2011, against the Orioles at Kauffman Stadium.
Greg Holland, a setup man in those days, relieved Royals starter Luke Hochevar in the eighth inning with one out and two on and finished the game, a 6-2 victory. With a four-run lead, there was no need to use then-closer Joakim Soria, so Holland got the save. He struck out Mark Reynolds for the last out.
On Friday night, just over three years later, Holland recorded the 100th save of his career as he closed out a 4-2 win over the Giants.
Significance for Holland?
"It means we won the game," Holland said. "I know it's going to be something I'm going to look back on at the end of my career, however long or short that may be, and appreciate it. But right now we just want to stay focused on the task at hand. We beat a good team tonight."
Taking over from setup man Wade Davis to start the ninth, Holland retired pinch-hitter Gregor Blanco on the first pitch.
"I was expecting him to try to wiggle his bat a little bit and make me throw a couple of balls or something, but it's nice to throw one pitch and get one out, especially in a two-run game," Holland said. "I found a way to get 11 pitches in, though."
Holland then struck out both Brandon Crawford and Angel Pagan. No. 100 was in the books.
"I just feel privileged to have seen all 100 of them," manager Ned Yost said, "to see him come up from the first day he pitched in the big leagues, in Oakland, and then mature into a closer and now to have 100 saves. When you put him out there with a lead, you feel really confident you're going into that clubhouse with a win."
Yost always saw potential in Holland.
"It was his stuff. When he first came up, his command was all over the place," Yost said. "But he went to winter ball after his first year and he came back and was a different guy. He still had great stuff but he could command it."
This year, Holland has 33 saves in 35 chances and leads the American League. He ranks fourth in franchise history, his 100 behind Jeff Montgomery's 304, Dan Quisenberry's 238 and Soria's 160.
The bullpen life suits Holland and his cohorts.
"We really enjoy having the game on line and, basically, on us," he said. "We like it."
Dick Kaegel is a reporter for MLB.com. This story was not subject to the approval of Major League Baseball or its clubs.