Royals Minor League Report: Aug. 9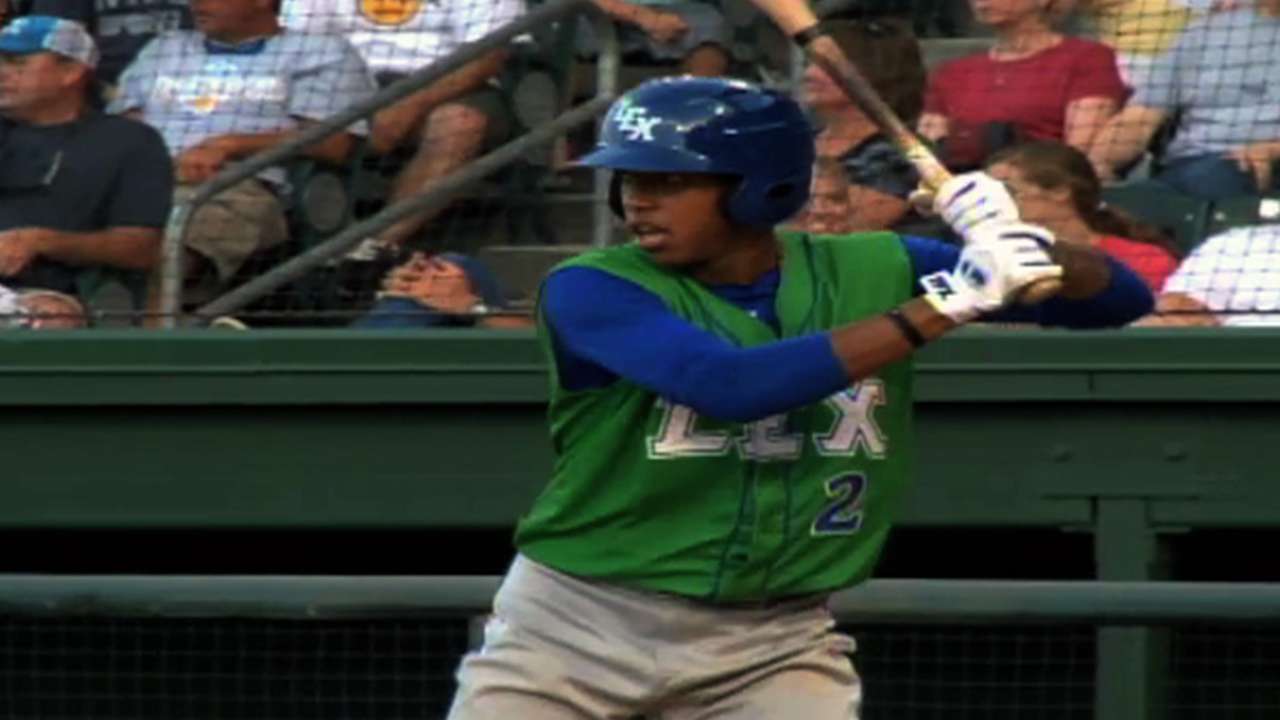 Omaha Storm Chasers (63-57)
Omaha 6, Colorado Springs 5
WP: John Lamb (7-9)
SV: Malcom Culver (1)
HR: Carlos Peguero (20)
Omaha built a 6-0 lead in the second and held on for a road win. John Lamb (6.0 IP, 3 H, 4 R, 0 ER, 3 BB, 4 SO) earned the win and Malcom Culver (3.0 IP, 4 H, 1 ER, 1 BB, 2 SO) notched the save in his Triple-A debut. Carlos Peguero led off the second with a homer. Pedro Ciriaco and Johnny Giavotella recorded back-to-back two-run doubles.
NW Arkansas Naturals (23-24 second half, 48-70 overall)
NW Arkansas 4, San Antonio 3
WP: Andy Ferguson (10-9)
HR: Juan Graterol (2), Lane Adams (11)
The Naturals walked off with a win on Micah Gibbs' single, which scored Orlando Calixte. Juan Graterol hit a two-run homer in the fifth. Lane Adams tied the game at 3-3 with a solo shot in the eighth. Graterol and Adams had three hits apiece. Andy Ferguson went the distance, striking out six while allowing three runs, six hits and a walk. He is 6-3 with a 2.38 ERA over his last 10 starts, winning the last three.
Wilmington Blue Rocks (22-24 second half, 55-59 overall)
Wilmington 3, Frederick 1
WP: Aroni Nina (3-1)
SV: Kyle Bartsch (3)
HR: Raul Mondesi (4)
Wilmington won a second straight at Frederick, breaking a 1-1 tie by scoring two in the seventh. Top-ranked Royals prospect Raul Mondesi was a triple shy of the cycle. He hit his second homer in as many nights in the first inning and added an RBI single in the seventh. Logan Davis recorded the go-ahead hit in the seventh.
Lexington Legends (19-30 second half, 48-71 overall)
Greenville 6, Lexington 4
LP: Cody Reed (2-8)
HR: Dominique Taylor (6), Mauricio Ramos (6)
Lexington dropped to 2-1 in a four-game series as Greenville hit four home runs. Lexington's Dominique Taylor and Mauricio Ramos hit solo homers in the fifth. Taylor posted three hits, two RBI and a walk. Ramos had two hits and two runs.
Idaho Falls Chukars (7-6 second half, 27-24 overall)
Idaho Falls 10, Missoula 5
WP: Jake Newberry (4-3)
HR: None
Idaho Falls has won four straight, scoring 36 runs over the span. Jake Newberry (5.0 IP, 6 H, 3 ER, 2 BB, 6 SO) settled in after allowing a three-run homer in the first. Idaho Falls scored 10 runs from the second to the fifth. Luis Valenzuela was a homer from the cycle, collecting two RBI and two runs. Ryan O'Hearn added two hits, two RBI and two runs. He recorded his fourth straight multi-hit game and is batting .394 on the year.
Burlington Royals (20-27)
Johnson City 6, Burlington 3 (Completed Early - Rain)
LP: Foster Griffin (0-1)
HR: None
The Royals were swept in a three-game road series, their fifth straight loss overall. Saturday's game was called in the seventh due to rain. Blue Springs South grad Logan Moon was 3-for-3 with an RBI and a run, boosting his average to .309. Foster Griffin, the 27th overall pick in June, lost his first professional decision (2.0 IP, 3 H, 4 ER, 3 BB, 0 SO).