Royals run wild with seven steals vs. Giants
Aoki, Dyson swipe three each; Escobar adds one to AL-best team total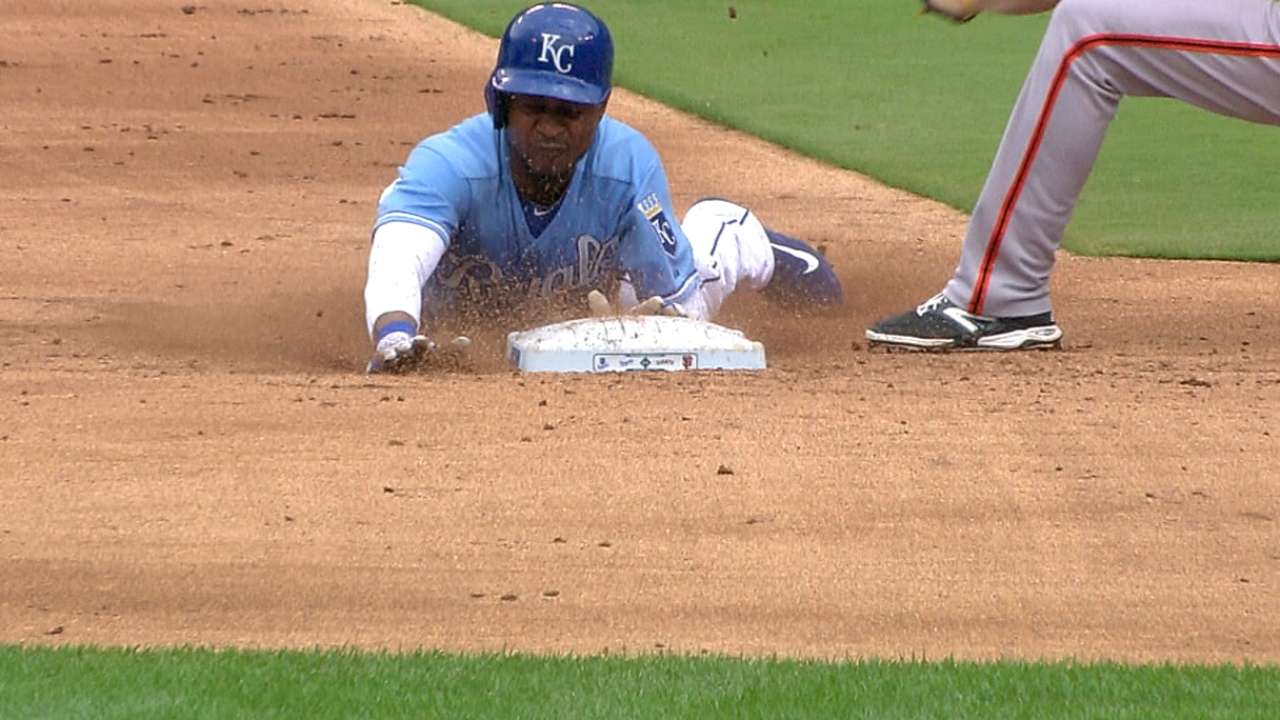 KANSAS CITY -- The Royals are making a run for a playoff spot and, while they were at it Sunday, they did a lot of running on the basepaths.
They stole seven bases in a 7-4 victory over the Giants, the most they've had in a game since Aug. 1, 1998, when they swiped a club-record eight against the Orioles.
Jarrod Dyson and Nori Aoki each had three of the steals and Alcides Escobar had the other. For the season, the Royals have an American League high of 102 stolen bases, including 26 by Dyson, 24 by Escobar and 13 by Aoki.
Five of the steals came while Giants starter Tim Lincecum was in the game.
"We did a good job of pressuring him all day on the basepaths," the Royals' Alex Gordon said. "Rusty [Kuntz] did a good job of letting us know that he's slow to the plate and we could maybe steal some bases today, and that's what Escobar, Dyson and Aoki did."
Lincecum, who gave up six runs, admitted the thievery contributed to his downfall.
"I felt like they ran on me at will," Lincecum said.
"I'd be lying if I said it didn't affect me a little bit when I tried to go to home plate with runners on base like Dyson and Alcides. With that, I was just trying to go too quick to home plate. It was just kind of throwing me off."
Dyson, playing center field, also had 10 putouts to tie a club record that he already shared with Amos Otis (May 1, 1970, vs. the Rangers) and Carlos Beltran (Sept. 17, 1998, at Chicago). Dyson also did it Sept. 27, 2010, vs. the Twins.
He also lauded Kuntz, who is the outfield coach as well as baserunning coach.
"That's what speed do," Dyson said, breaking out his time-worn motto, "but we credit Rusty for everything we do in the outfield. He works us hard every day."
Aoki and Dyson were the first Royals teammates to each steal three bases in the same game. Oddly enough, the last Royal to swipe three in a game was Gregor Blanco, who played left field Sunday for the Giants.
The club record for most steals in a game is five by Otis in 1971.
Dick Kaegel is a reporter for MLB.com. This story was not subject to the approval of Major League Baseball or its clubs.