Royals' focus unaffected by Tigers' woes
Kansas City isn't getting ahead of itself with 45 games left to play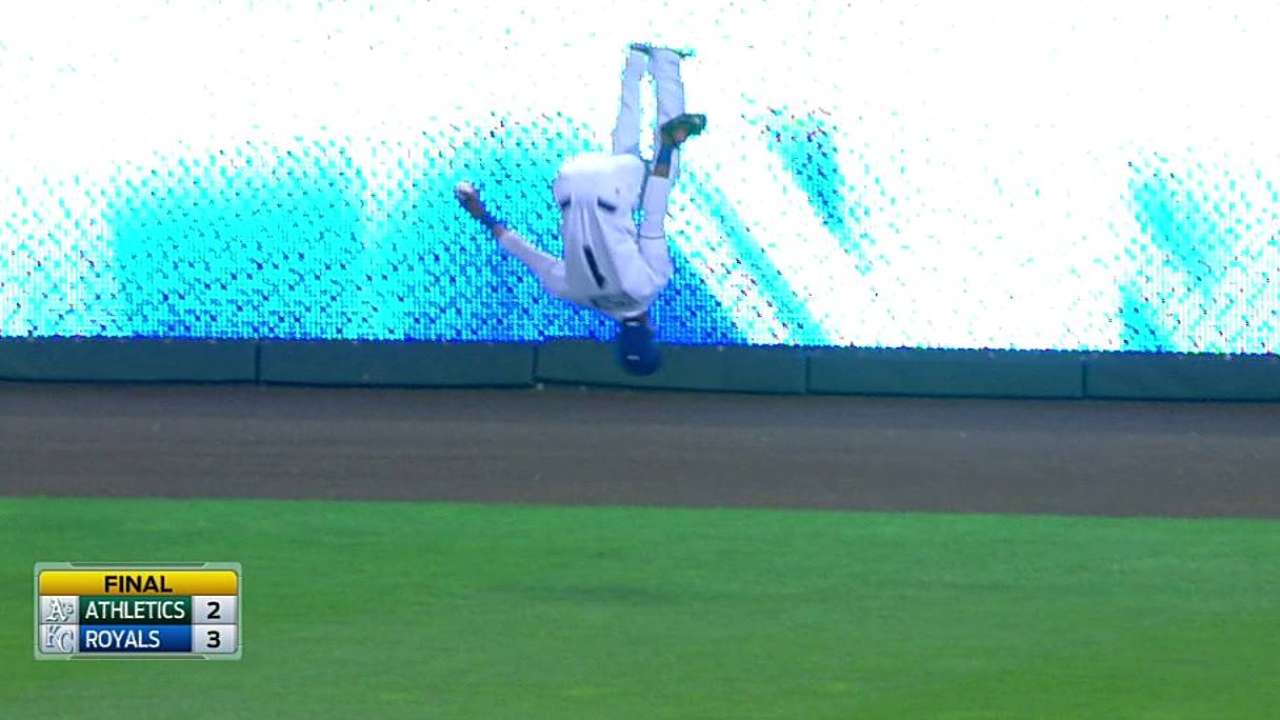 KANSAS CITY -- One might think that with the way Monday unfolded, the Royals' clubhouse would be a raucous environment after their 3-2 win over the A's.
What with Kansas City moving into first place in the American League Central with 45 games left in the season, and Detroit losing not only its third straight game and its front-runner status, but quite possibly Justin Verlander.
But the mood in the Royals' clubhouse after passing the Tigers hardly differed from that of any other game. There would be no celebrations.
"We haven't done anything yet," Kansas City left-hander Danny Duffy said. "While we've put ourselves in a position to contend, there's a lot of season left."
While the Royals' winning streak is at eight games, the Tigers have stumbled, losing five of six and seeing a seven-game lead on July 24 evaporate. Injury was added to insult on Monday as Detroit fell to the Pirates, 11-6, and saw Verlander exit in the second inning with right shoulder soreness.
However, these facts don't concern Kansas City.
"It doesn't matter what the Tigers are doing, we're not playing the Tigers, so we're not really not focused on that, we're just focused on the A's tomorrow night and Jon Lester," Butler said.
Part of the reason Butler remains level-headed about recent developments is a scenario such as this presented itself earlier in the season. On June 19, after taking three of four against Detroit, the Royals held a half-game lead in the AL Central. But momentum proved a fickle concept and within a month Kansas City found itself on the outside looking in again.
"We've been in this situation before, and then we fell eight games back," Butler said.
When discussing the Verlander injury, Butler pointed to his own team's misfortune in losing first baseman Eric Hosmer to a fractured hand.
"Injuries are unfortunate, they're part of the game," Butler said. "Heck, we've had ours. We had one of our major offensive contributors in Hoz go down and we kept going. Every team has injuries."
As a fellow All-Star pitcher, James Shields sympathized with Verlander, regardless of possible positive implications for Kansas City going forward.
"Any time a pitcher goes down it's definitely a shame, no matter who it is, if they're in our division or not, you never want to see something like that happen to any pitcher," Shields said.
While the Royals stay devoted to blocking out things beyond their control, they do hope nothing changes with the downward spiral in which the Tigers seem caught.
"We hope they stay right where they are," said outfielder Jarrod Dyson, who punctuated Monday's win with a backflip in center field.
Jackson Alexander is an associate reporter for MLB.com. This story was not subject to the approval of Major League Baseball or its clubs.