Royals Minor League Report: Aug. 12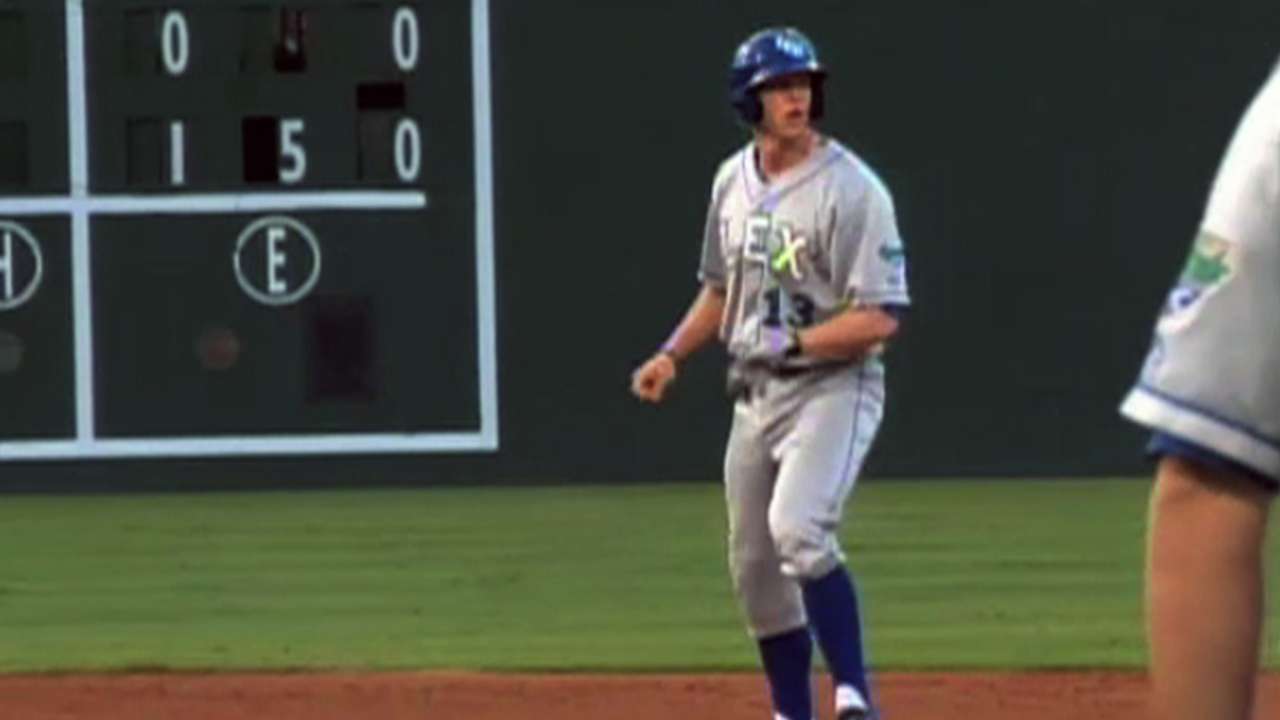 Omaha Storm Chasers (64-59)
Salt Lake 8, Omaha 1
LP: Liam Hendriks (2-1 with Omaha, 10-2 Triple-A)
HR: None
The Storm Chasers lost in their return to Werner Park. Whit Merrifield doubled in the first and scored on Johnny Giavotella's ground out. Merrifield went 2-for-4 and is batting .368 (89-for-242) with Omaha. Salt Lake plated the final eight runs. Liam Hendriks (6.0 IP, 6 H, 5 ER, 3 BB, 3 SO) lost for just the second time this year at the Triple-A level.
NW Arkansas Naturals (25-24 second half, 50-70 overall)
NW Arkansas 4, Corpus Christi 3
WP: J.C. Sulbaran (8-8)
SV: Mark Peterson (2 with NW Arkansas, 24 overall) HR: None
The Naturals built a 4-0 and held on to win game one at Corpus Christi. J.C. Sulbaran recorded eight strikeouts against just one walk, holding the Hooks to a run and four hits over 6.2 innings. Fourth-ranked Royals prospect Hunter Dozier had two hits and two runs. Twelfth-ranked prospect Orlando Calixte scored twice and Parker Morin was 2-for-4 with two RBI.
Wilmington Blue Rocks (22-25 second half, 55-60 overall)
Frederick at Wilmington - Postponed due to rain
The Blue Rocks had their 14th rainout of the year on Tuesday. A pair of seven-inning games are on tap for tonight, with the first to start at 5:05 p.m. Third-ranked Royals prospect Sean Manaea will start game one. Wilmington did not announce a starter for game two.
Lexington Legends (19-33 second half, 48-74 overall)
Kannapolis 5, Lexington 1
LP: Kevin Perez (1-3)
HR: None
Lexington lost a second straight at Kannapolis. Both teams scored in the seventh, with Kannapolis scoring four in the eighth. Alec Mills posted 6.0 scoreless innings, scattering four hits and two walks with five strikeouts. He has a 0.96 ERA since joining Lexington (3 ER in 28.0 IP). Chad Johnson's single scored Mauricio Ramos for Lexington's run.
Idaho Falls Chukars (8-7 second half, 28-25 overall)
Idaho Falls 3, Helena 1
WP: Austin Fairchild (1-1)
SV: Cruz Guevara (2)
HR: None
Idaho Falls opened a seven-game trip to Montana with a win, scoring three unearned runs. Sugar Ray Marimon made a rehab start, holding Helena to a run, five hits and a walk with three strikeouts over 4.1 innings. Wander Franco had two hits and a run.
Burlington Royals (22-28)
Burlington 3, Greeneville 0
WP: Yunior Marte (2-3)
SV: Cole Way (1)
HR: Leland Clemmons (3)
The Royals won a second straight to finish 2-1 at Greeneville. Leland Clemmons provided all of the scoring they would need with a leadoff home run. Yunior Marte (5.0 IP, 2 H, 0 ER, 4 BB, 3 SO) earned the win, with Dylan Sons and Cole Way recording 2.0 scoreless innings each.