Holland says he's ready when called for duty
Royals' closer understands if Yost decides to give him some days off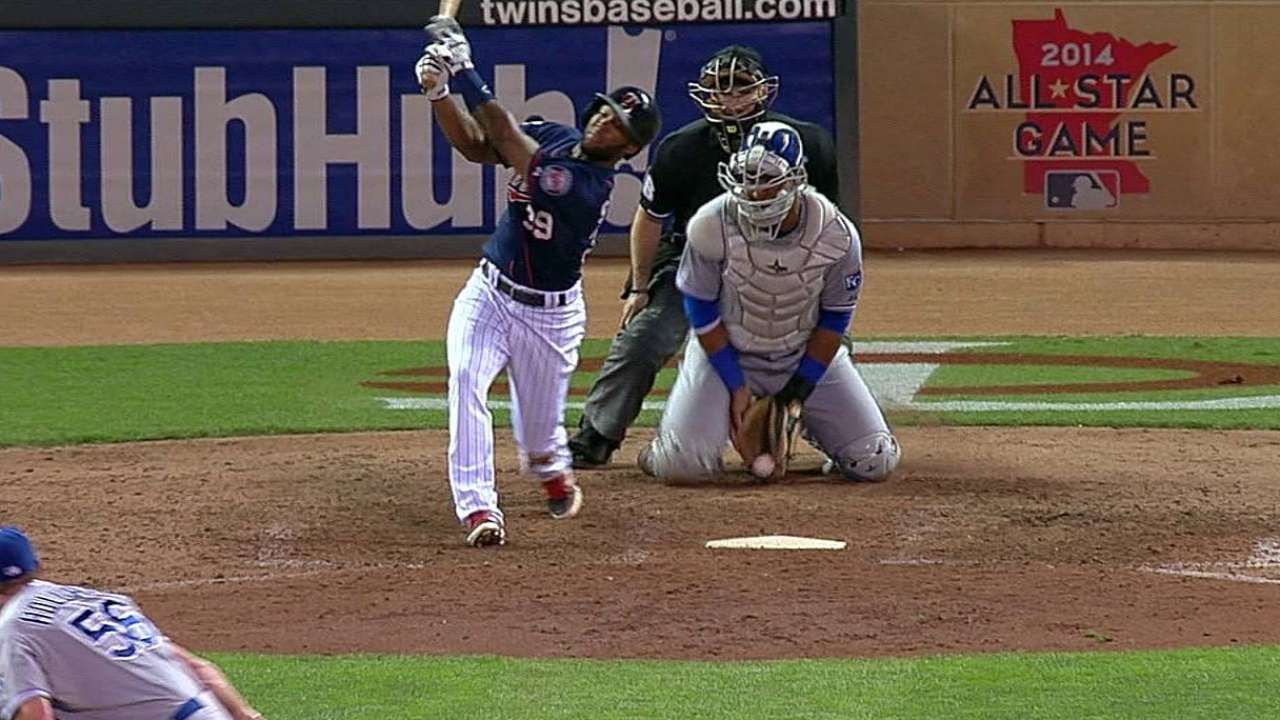 MINNEAPOLIS -- It wasn't hard to predict how the Royals' Greg Holland would react to manager Ned Yost's worries that he was wearing out his closer.
So, Holly, feeling tired? Run down?
"No, I feel good," Holland said before Saturday's game against the Twins. "Everyone starts getting a certain level of fatigue at this point of the season, regardless of how often you're used or not, just from the everyday grind of trying to get ready for a baseball game every day."
After Holland gave up two runs [one earned] before getting his 37th save in Friday night's 6-5 win, Yost expressed concern that the closer was getting weary and blamed himself for leaning on the American League's saves leader.
Holland, in his last four outings, has had to face 18 batters in 3 2/3 innings, giving up four hits and four walks. However, the Twins' two runs accounted for the only scoring in that span and he got a save every time -- really, the only thing that counts.
"I just haven't been as sharp as I want to be the last few outings, but they translate into wins. That's the good news," Holland said. "So I'm pretty confident that when get back to where I want to be, we'll win those games too."
Yost has no problem using another pitcher to get a save, say Aaron Crow or Kelvin Herrera or setup man Wade Davis, if it works out that way. Nor does Holland.
"I'm getting paid to do a job and I have no problem with someone else going in there and throwing the ninth inning, but like I always tell him, when he tells me I've got a day off: 'OK, but I'll be ready when the phone rings,' " Holland said.
"Because I don't want to be a situation where I'm not prepared to pitch. So I just go about my business and if it's my name, it's my name. If not, well, there are six or seven more guys capable of doing the same job that I do."
As Yost often says, pitchers can go through slumps as well as hitters.
"You just go through lulls where you're just not sharp," Holland said. "I'm not one to nit-pick at things because then that can turn into a two- or three-week process where you're trying to re-invent the wheel. ... Any time I cannot be as good as I want to be and we can still win the game, I take that as a plus."
So while some rest might do Holland, and Davis too, some good there's an important matter at hand.
"We don't really have time for that much rest right now, trying to get into the playoffs," Holland said.
Yost decided to rest both Holland and Davis in Saturday night's 4-1 loss to the Twins because both had worked two games in succession.
"I just can't keep pushing them like that. It has longer-term effects. You've got to find spots to rest them," he said.
But on the other hand ...
"You've got to win games," Yost said. "Guys have got to step up too. And they will."
Dick Kaegel is a reporter for MLB.com. This story was not subject to the approval of Major League Baseball or its clubs.