Guthrie weathers delays to nail down victory
Right-hander stays loose following rain interruption in fourth inning vs. Twins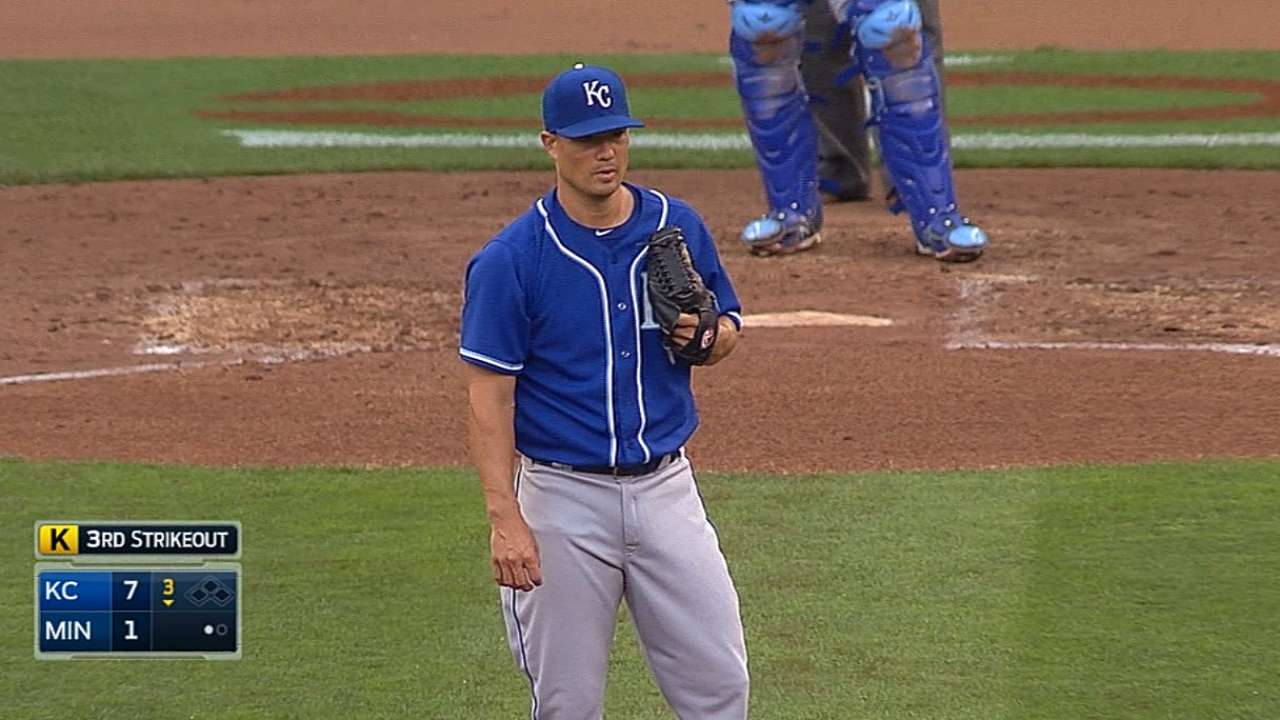 MINNEAPOLIS -- Royals starter Jeremy Guthrie had pitched through 3 1/3 innings when rain delayed Sunday's game against the Twins. Play was held up for 54 minutes, often long enough to cause a pitcher to end his day.
The veteran Guthrie, however, came back and finished seven innings to get credit for the Royals' 12-6 victory.
"He does that as well as anybody, he's done that before," manager Ned Yost said. "Our timeline with young guys is 45 minutes. With our older guys, it can be an hour to an hour and 15 minutes. But Jeremy, it just seems like anytime we have these kinds of days, he's on the mound."
Last year, Guthrie weathered a similar delay at New York, the third time he'd done it that season. He has a plan for such interruptions.
"I threw a couple of small innings, about 12 pitches. I think I did two of them," Guthrie said. "I sat down for about 20 minutes, stretched and then did seven warmups, and 12-to-15 pitches."
Guthrie remembered doing about three simulated innings last year at New York, which also resulted in a victory.
"I should be a rain delay All-Star," he said at the time in New York.
The trick is for Guthrie to throw enough to stay loose and not cool down during the delay. The warm weather in Minneapolis undoubtedly helped as well.
"I wasn't surprised he came back because he was throwing in the cage," catcher Salvador Perez said. "He was throwing every 15 minutes, keeping loose. We wanted to get him at least five innings so he'd get the win."
Guthrie did that plus two, finishing with a total of 100 pitches.
"Just to be able to maneuver through that made it a great day for us," Yost said.
Yost prides himself on tracking threatening weather on Internet sites and is rarely wrong with his predictions about playability of games. On Sunday, he kept going from the dugout to his office to check the radar "for peace of mind."
Toward the end of the game, he didn't like weather patterns he saw heading toward Minneapolis.
"All this stuff is firing up. That could be tornado-type stuff in Nebraska," Yost said, pointing to the screen after the game. "That's borderline purple. It's all firing up."
Yost didn't want another delay at the end. He wanted to wrap up the win and head back to the hotel.
"We needed to get those last three outs," he said.
Reliever Kelvin Herrera got them for him.
Dick Kaegel is a reporter for MLB.com. Jackson Alexander is an associate reporter for MLB.com. This story was not subject to the approval of Major League Baseball or its clubs.